May 9, 2016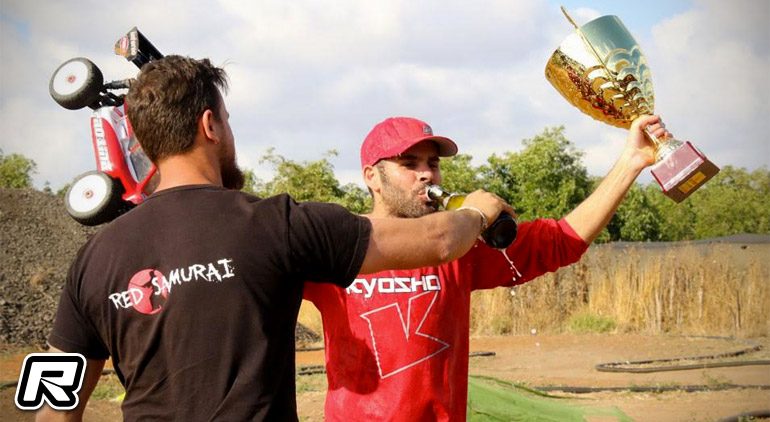 The 10th and final round of the Israeli League took place this past weekend at the Ein Vered racing track. With great weather Yaniv Sivan took the TQ spot ahead of fellow Kyosho drivers Omer Assayag and Ofir Avitan. The A final saw a big battle between Yaniv Sivan, Omer Assayag and Italy Eskenazi but after 10 minutes both Omer and Itay retired due to technical issues. Meanwhile Ofir Avitan who had a bad start took the second position with Gil Harush and Tal Siles in 4th after a flame out. After 40 minutes of thrilling battles Yaniv Sivan won with Ofir Avitan 2nd and third going to Tal Siles which managed to pass Gil in the final minutes. This would seal the title for Sivan, his 6th in total, with Ofir Avitan ending the series as runner up, while Tal Siles finished 3rd.
Final Championship top 10 results
1. Yaniv Sivan (Kyosho / Reds) – 800pts
2. Ofir Avitan (Kyosho / Reds) – 781pts
3. Tal Siles (Kyosho / Picco) – 772pts
4. Aviv Mimon (Kyosho / O.S.) – 762pts
5. Gil Harush (Kyosho /Reds) – 749pts
6. Or Balulu (Agama / Reds) – 745pts
7. Omer Assayag (Kyosho / Alpha) – 744pts
8. Itay Eskenazi (Associated / Alpha) – 739pts
9. Or Rozentsvaig (HB / O.S.) – 735pts
10.Guy Rinkevich (Kyosho / O.S.) – 735pts
Thanks to Yaniv Sivan for the report.
---