June 20, 2016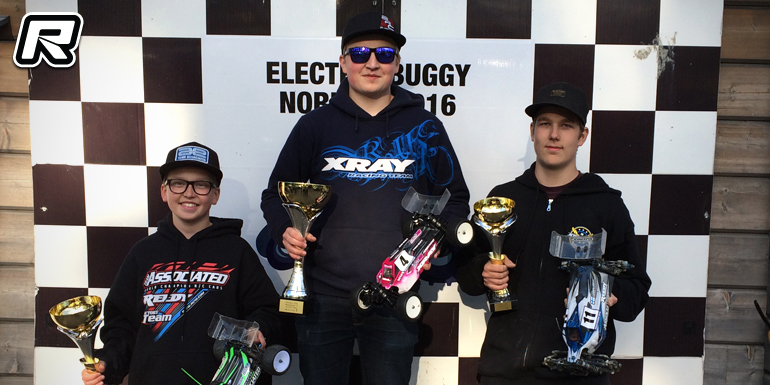 The Pitkämäki RC-Circuit in Vaasa, Finland played host to the 2016 Buggy Nordic Championships and the combined second round of the Finnish nationals. Considered to be the sunniest city of Finland, things were a bit different this weekend as rain postponed the start of the controlled practice and qualifiers on Saturday. At the end only the opening qualifier for both the 2WD and 4WD classes could be held. Sunday started off with more drizzle and moist weather. A muddy second round of qualifiers was interrupted by light rain and after another delay, round three started in dry weather conditions. The TQ in the 2WD class went to Team Associated's Joona Haatanen who won two of the three qualifiers with a clear margin on his competitors. Joel Valander would come in second while Karri Salmela rounded out the top 3 result.

The 4WD class saw Joel Valander walking away with the top qualifier position after sweeping the qualifiers. Joona Haatanen and Mikko Luopajärvi would line up in second and third. For the main events the weather started to brighten up, making for good racing conditions. A1 of the 4WD class saw a tight battle between Valander and Haatanen, both driving nose to tail from tone to tone. Ultimately Valander crossed the finish line first and with a 0.7s gap on Haatanen. A2 and Valander took an easy win to grab the overall title early while Karri Salmela took the runner-up spot, coming from 7th on the grid. Haatanen then came out on the first spot in A3 in front of Mikko Luopajärvi who finished second and secured his first Nordics podium place. "The car was good" was how the winner then summed up his race, in best Finnish race car driver manner, after being asked about the secret of his victory.
4WD final results:
1. Joel Valander
2. Joona Haatanen
3. Mikko Luopajärvi
4. Karri Salmela
5. Henry Salmén
6. Oskari Mäki
7. Toni Niinivirta
8. Antti Silvennoinen
9. Ari-Pekka Kyykkä
10.Juha Aromaa
The 2WD A-mains were a 1-man show of a 13-years old Finnish talent. In the opening A-main Haatanen lead from tone to tone and with a 1-lap margin as the fellow competitors struggled with a lot of mistakes. Haatanen then would take the second leg in the same fashion which handed him the Nordics title with one main to spare. A3 then was won by Karri Salmela as Haatanen made way for the field. Joel Valander would come in second from Karri Salmela in third.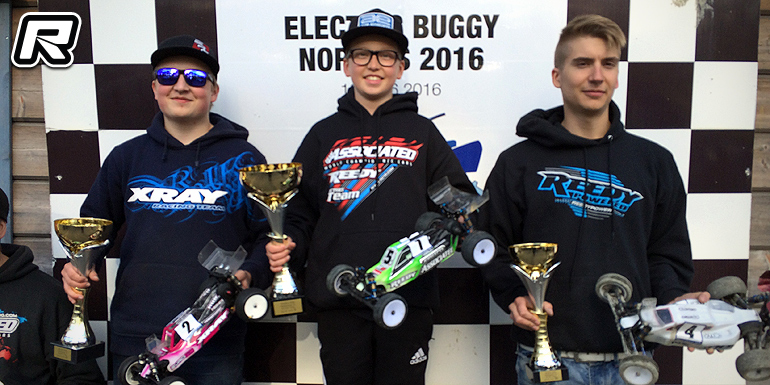 2WD final results:
1. Joona Haatanen
2. Joel Valander
3. Karri Salmela
4. Sami Salmela
5. Mikko Luopajärvi
6. Valtteri Eklund
7. Ilmari Ullakko
8. Oskari Mäki
9. Jani Hovi
10.Jussi Luopajärvi
Thanks to Juha Mäki for the report.
---