June 8, 2016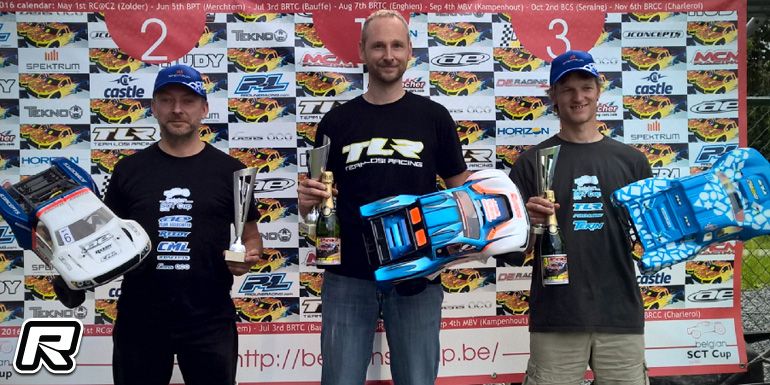 The second round of the Belgian SCT Cup was held at the BPT club's astroturf track. The drivers were greeted by a new surface and track layout with the latter being even more technical with a huge step-up sequence and nice off-camber turns while overall the grip level was lower than before. Rain the week before the race let the surface being slightly damp even on Sunday, making tyre choice crucial this time. In Pro2, Géry Ledocq (Kyosho) started off with the TQ in round one ahead of Edouard-Benoit Michez (Team Associated). Géry snatched another TQ in the second round ahead of Nicolas Evens (TLR) while in the third and final round, Géry broke his truck on the second lap, allowing Nicolas to win the qualifier ahead of Tom Pierard.

In the opening A-main Géry and Nicolas pulled away, battling for some laps until Géry struggled with his tyre choice and Nicolas was able to pass and make a gap to take the win. Sébastien Fouque (TeamC) followed in third behind Géry. In the second round, Géry and Nicolas battle for 8 laps, exchanging positions several times, until Géry's car broke down. This promoted Tom Pierard into second ahead of Philippe Hautecoeur (Team Associated). With two wins Nicolas opted to sit out the third and final A-main, and with Géry not being able to fix his truck, Philippe Hautecoeur took the win in the final leg after being pressured by Tom Pierard and Sébastien Fouque for most of the race. Philippe and Tom complete the podium.
Pro2 A-main top 3:
1. Nicolas Evens – TLR
2. Philippe Hautecoeur – Team Associated
3. Tom Pierard – TLR
In Pro4, Sam Puttevils (TLR) swept all qualification rounds with Nicolas Evens (TLR) in second despite some technical issues in Q3. Philip De Keersmaeker (Tekno) was able to put his truck on the 3 spot following some very consistent runs. The A-final was a done deal for Nicolas Evens who won the opening two legs ahead of Sam Puttevils. The first A-main was very close with Sam leading Nicolas for most of the race. Then a single mistake allowed Nicolas to sneak by and take the win. In the second leg Sam made a mistake on the first lap, finding himself dead last after the usual carnage, but he would recovered to third behind Philip. Nicolas sat out the final leg and Sam took the win ahead of Philip. Behind those three drivers, Fabio Cumps (TLR) and Sam Damman (TLR) were tie on points with a third and a fourth place each, but Sam scored the faster time to take the fourth place.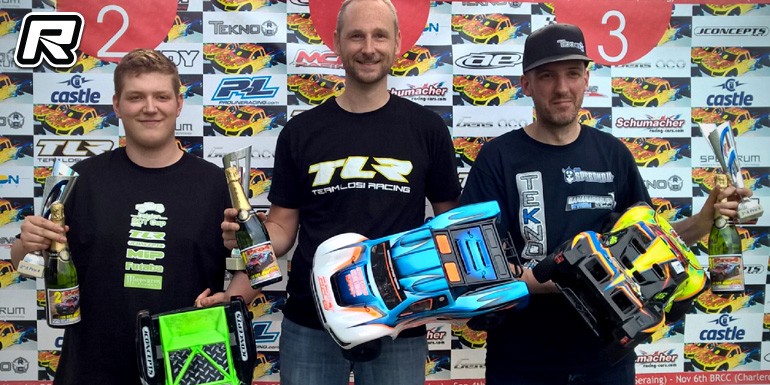 Pro4 A-main top 3:
1. Nicolas Evens – TLR
2. Sam Puttevils – TLR
3. Philip De Keersmaecker – Tekno
Source: Belgian SCT [belgiansctcup.be]
---