June 15, 2016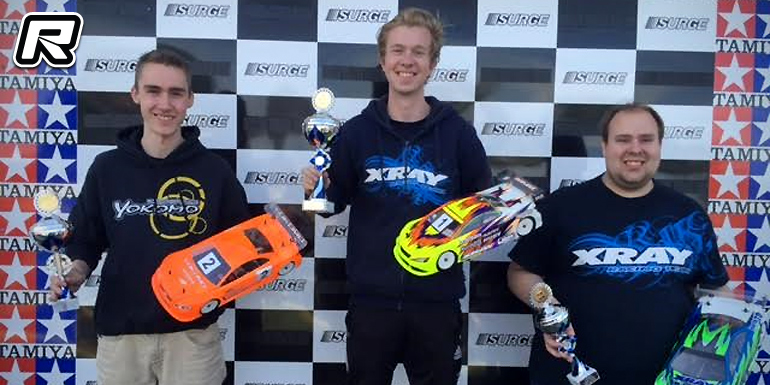 Round two of the Danish Electric On-road Nationals was held in Tollose. Originally the event was also planned as part of the Nordic Championships but in the end it was "only" a Danish national. As for the track, the traction available and the presence of loads of 180 degrees turns made for lots of understeering the competitors had to cope with. In the Touring Super Stock class Mike Gosvig would take the overall TQ from local Frederik Brolos with both swapping positions constantly. Mike would take the opening qualifiers by only 3/100 of a second while Frederik came out fastest in Q2. For the final qualifier Mike then opted for a setup change which handed him the win in Q3 and with it the overall TQ.

In the main finals the grip level decreased even more, meaning a real handful for all drivers. As in the qualifiers Mike and Frederik battled for the top spot with the better end for Mike in A1 as he came out three tenth of a second in front of Frederik. Patrick Danielsen came in third after a fantastic drive. A2 saw Mike having a good start that allowed him to instantly open a gap on the field while Frederik was joined by Steven Olsen. Later Frederik was able to pull away from Steven to grab the runner-up spot only seven tenth short of Mike. A3 then again saw Mike coming out in front to take the overall win from Frederik and Steven.
Super Stock final results:
1. Mike Gosvig – Xray
2. Frederik Broløs – Yokomo
3. Steven Olsen – XRAY T4
4. Stefan Finnich – n/a
5. Patrick Danielsen  – Xray
6. Kevin Nielsen – Yokomo
7. Søren Boy Holst – VBC Racing
8. Casper Morgen – Xray
In the Modified class Gizmo's Patrick Folman won Q1 and Q2 to grab the overall TQ from Nicolai Lindegaard (Schumacher) and Mike Gosvig with the latter experiencing weird electronics problems that cost him dearly. In the triple A-mains Patrick continued to dominate while Mike was able to get past Nicolai in every leg, securing him the overall runner-up spot while Nicolai had to settle for third.
Modified final results:
1. Patrick Folman – Gizmo
2. Mike Gosvig – Xray
3. Nicolai Lindegaard – Schumacher
4. Frederik Hovgaard – Yokomo
5. Rasmus Callesen – Serpent
6. Johnni Andersen – Schumacher
7. Micheal Ivø – Xray
8. Mike Hansen – Team Durango
Source: Xray [teamxray.com]
---