June 30, 2016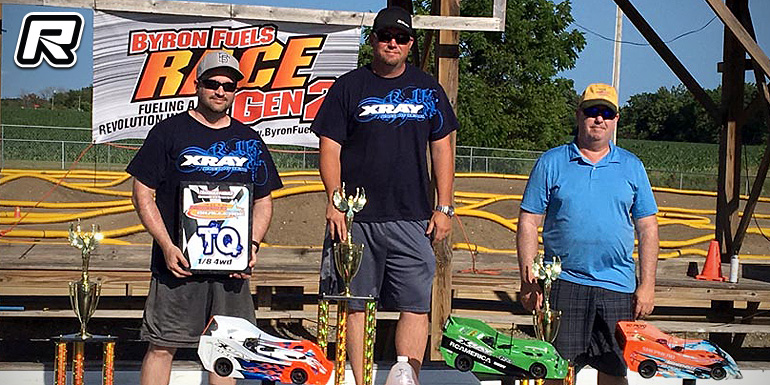 The 2016 Byron Challenge recently wrapped up at Leisure Hours Raceway with some fantastic racing among drivers from across the eastern half of the United States. While the forecast was for heavy rain on Sunday, the conditions were high temperatures and sunny skies throughout the weekend. In 1/8th Open 4WD, Xray teammates Eric Jones and Jason Conley battled all weekend for the TQ starting position with Joseph Wright (Serpent) right on their heels. With Jason and Eric both TQ'ing two of the four qualifying rounds, Eric's better tiebreaker gave him P1 for the start of the main event.

Early in the main, Eric was setting the pace as Jason had gotten shuffled back in the field. Joseph Wright and Dan Louis (Xray) were in hot pursuit. On track incidents and early flame outs put Jason four laps back of the race leader. As the field approached the half way point, Eric was leading with Joseph Wright in second and Dwight Smith (Xray) in third. Smith dropped out to make a repair and Conley was charging back through the field. Eric came in for a tire change and Conley elected to stay out on his original tires, in hopes of picking up positions.
1/8th Nitro final results:
1. Jason Conley – Xray
2. Eric Jones – Xray
3. Ted Hammer – Shepard
4. Foster Whiting – Capricorn
5. Rick Davis – Serpent
6. Dan Louis – Xray
7. Artur Curyllo – Xray
8. Ken Miller – Xray
9. Don Jones – Serpent
10.Joseph Wright – Serpent
11.Dwight Smith – Xray
12.Mike McBride – Serpent
In 1/10th Nitro Sedan Team Serpent's Paolo Morganti grabbed the TQ spot in sedan with Lon Burling (Shepard) and Demeterius Blount (Serpent) rounding out the top three on the grid for the hour long main event. At the green flag, Morganti jumped out to an early lead with number 2 Burling suffering a flame out at the start, relegating him to last position. Demeterius Blount, Jim Hulse, Rafael Angulo (Serpent) and Juan Amador rounded out the top 5 positions. The middle of the field was swapping positions in every corner. By lap 13, everyone was settling in with Morganti leading, Angulo in second and Burling storming back up to 3rd. On lap 63, just over 20 minutes in, Morganti suffered a race ending mechanical issue with a locked rear diff. The next 20 minutes saw numerous lead changes with almost the entire field taking turns leading the event. Burling had been sidelined briefly with motor issues but was able to return to competition. Ken Miller (Serpent) had driven a solid race and led most of the middle segment only to lose the rear belt ending his bid for what looked to be a sure win. Tom Esposito (Xray) had been on and off the track but was charging hard. Burling was also on a torrid pace to recover from early problems. In the closing minutes of the race, Rafael was leading with, Esposito in second and Jeff Whiting (Capricorn) rounding out the top 3. Burling had made his way back to 4th but ran out of time to contest for a podium finish. Congratulations to Rafael Angulo, Tom Esposito and Jeff Whiting on your top three finishes.
Nitro Sedan final results:
1. Rafael Angulo – Serpent
2. Tom Esposito – Xray
3. Jeff Whiting – Capricorn
4. Lon Burling II – Shepard
5. Juan Amador – n/a
6. Ken Miller – Serpent
7. Nick Altieri – Serpent
8. Demeterius Blount – Serpent
9. Richie Tores – Xray
10.Paolo Morganti – Serpent
11.Jim Hulse – n/a
12.Frank Sosebee – n/a
Source: Xray [teamxray.com]
---