June 13, 2016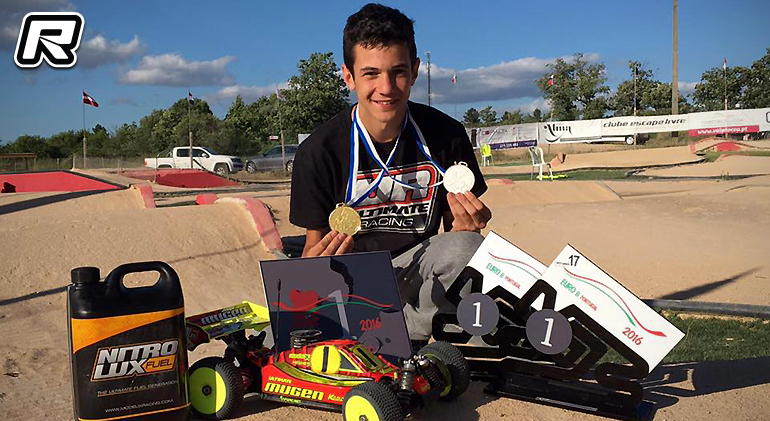 The Clube de Radiomodelismo in Freixedas, Portugal played host to the 2016 EFRA 1/8th Buggy European Championship B over the weekend. Gonçalo Melo took out the Top Qualifer honours after four rounds of high-intensity driving, just pipping fellow Junior driver Juan Carlos Canas on a tie-breaker. Both finished with 224 points after the four rounds, but a slightly better result for Melo in round four gave him the edge when dropped scores, of which each driver had two, were taken into account.

Tiago Aguiar made it a great day for the home fans by taking third overall in qualifying, followed by Joao Lopes and Zacaris Villalba rounding out the top 5. Manuel Iniesta, Thomas Musso, Alejandro Daras, Guillaume Hebert and Alberto Ruiz rounded out the top 10. On a track that was loosing grip session by session, slowly becoming more abrasive and broken up with the hot sunshine beating down upon it, keeping up with the changes in track surface session by session became a key factor, and Melo and Canas being able to log consistent 9-lap runs in the 5-minute sessions showing impressive consistency going into the finals day.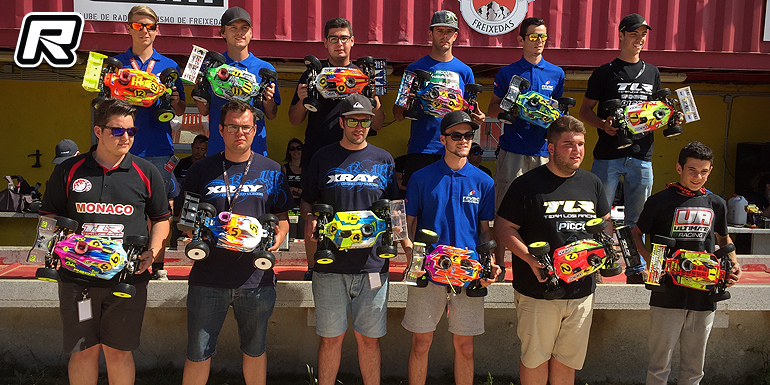 On Sunday, young Spaniard Canas was in hugely confident and impressive form, and whilst others were desperately trying to keep up with the changing track conditions and weather, Canas left his setup unchanged from final qualifying on Saturday – and reaped the rewards. Goncalo Melo may have pipped him to the TQ spot, but there was nothing Melo could do to deny Canas come final time – nor anyone else, for that matter, as Canas finished almost two laps clear of the competition.
Melo had a difficult race day, after a rough start to his semi-final left him well down the order five minutes in before having to fight back to qualify for the final leaving him starting P7 in the Main Final. Nevertheless, his strong car speed meant he was able to climb the order, and after a tough battle with Guillaume Hebert for P3 in the first 20 minutes, he was able to also pass Joao Lopes and take a satisfying second in front of a passionate home support. Lopes had been second for the first 15 minutes, but wing damage dropped him down the order for repairs; but after a flame-out for Hebert, he was able to come home to take a confident 3rd.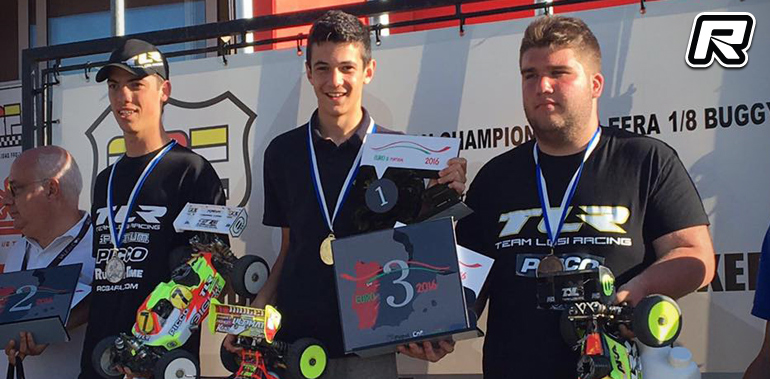 It was a long day of mixed conditions; having started in heavy fog and dampness, the track quickly had the sun beating down on it, and the rough, abrasive surface proved a challenge for the largely inexperienced and youthful roster of drivers tackling it. What made Canas' performance more remarkable was how, with so few setup changes, he was able to lap at times 0.5-1 seconds faster than the competition. It was incredible to watch, and those raving about Canas having a huge future in the class had a fair point on this basis.
Frenchmen and semi final 1 winner Baptiste Debroux battled hard to beat Manuel Iniesta home to P4, ahead of Alejandro Daras, Vincent Meertens, Nuno Rebelo, Thomas Musso and Hebert.
Source: Team Bombersports | Additional images: Mugen Seiki [mugen.eu]

---