June 2, 2016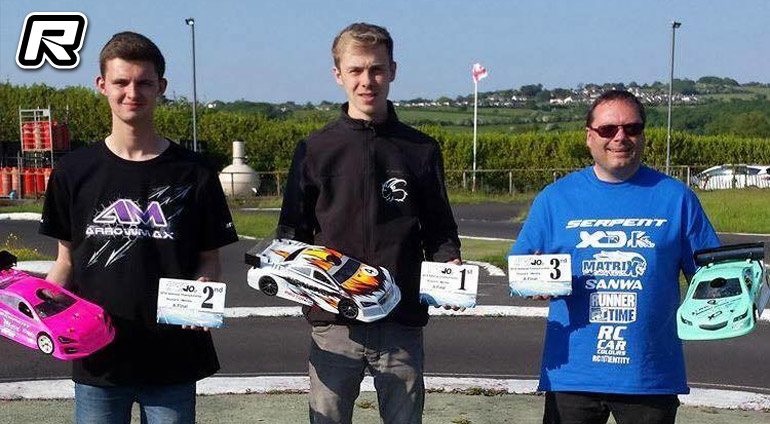 Mendip raceway played host to round four of the BRCA 1/10th 200mm National Championship. The weekend offered more competition than normal for the drivers with Kyle Branson and reigning World Champion Alexander Hagberg among the entries. Saturday practice began and it was clear to see that it would be a close weekend of racing with there being five drivers all on pretty much the same pace. It was the usual guys Alex Thurston, Joe Kerry, Mark Green and of course Kyle Branson and Alexander Hagberg. Sunday morning and there was a round of practice for all drivers in which most opted to test final size tyres. Then everyone got stuck into the proper action, due to the temperatures rising the TQ spot was pretty much decided in round 1 where Mark Green came out on top to take overall TQ as well, Alex Thurston taking 2nd and John Zottl, who was the dark horse, came through to take 3rd. Kyle Branson's round 4 time would put him 4th on the grid for the final behind Alex Thurston, Joe Kerry who was one of the only guys to improve on his time to take 2nd on the grid behind Mark Green.
Qualifying top 10:
1. Mark Green
2. Joe Kerry
3. Alex Thurston
4. Kyle Branson
5. Alexander Hagberg
6. John Zottl
7. Matthew Cook
8. Neil Wallace
9. Peter Spratley
10.Jon Withington
At the start the buzzer was slightly delayed and Mark got away cleanly with Alex Thurston and Joe having a bit of wheel to wheel action while Kyle managed to capitalise on that to take 2nd. Alex Thurston got past Joe Kerry before Joe was tagged and flipped, so it was Alex Thurston behind Mark Green and Kyle Branson with Alexander Hagberg right on Thurston's bumper. It would stay like this before and after pit stops for 25 minutes with Hagberg looking all over to get past Thurston but he always predicted his next move. Some guys were planning on doing a tyre change such as Mark Green, he had a few problems during his tyre change, so Thurston and Hagberg got into 2nd and 3rd with Branson still leading from about the 10 minute mark looking very comfortable. Thurston and Hagberg were still battling until Hagberg decided to check his tyres to see if it was necessary to change, but it wasn't. Thurston's car was still looking very good and Hagberg had dropped back after his pit stop which is where Mark would capitalise and manage to pass Hagberg. Kyle Branson (Capricorn) by this point had just eased a gap to Alex Thurston (Serpent) of around 1 lap with Mark Green (Serpent) a further 6 seconds back from Thurston.
Final results:
1. Kyle Branson
2. Alex Thurston
3. Mark Green
4. Alexander Hagberg
5. John Zottl
6. Joe Kerry
7. Matthew Cook
8. Neil Wallace
9. Jon Withington
10.Peter Spratley
Thanks to Alex Thurston for the report.
---