June 10, 2016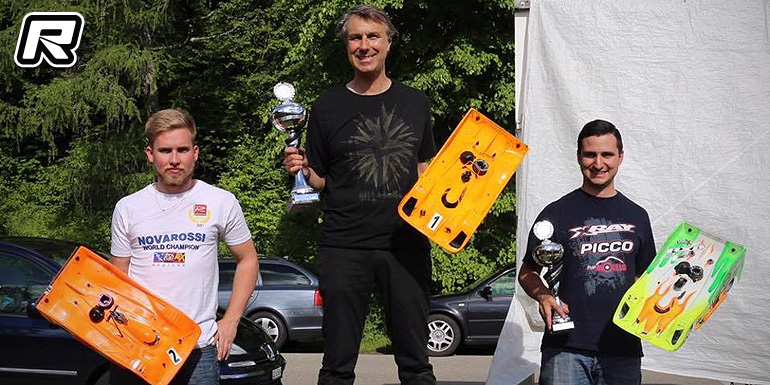 Round three of the Swiss Nitro On-road Nationals was recently held in Schaffhausen. In the premier 1/8th class Simon Kurzbuch and Silvio Hächler would lead the proceedings at first but in the semifinals things would look a bit different. The first semifinal would be held in dry conditions until the very last minute when it started to rain. Silvio would bring home the win from Mattia Pesenti. The second semi than was run on a wet track with Luca "The orange submarine" Martinelli coming in first while Simon ran into trouble that now allowed him to proceed into the A-main.

At the start of the main final a tangle between Martinelli and Hächler allowed Pesenti to move into the lead but around the 10 minute mark Mattia had to let Silvio by. Later in the race Silvio had to give the lead to Luca Martinelli (ARC) who then brought home a very narrow win with Silvio Hächler (ARC) in second and Mattia Pesenti (Xray) in third.
The 1/10th 200mm class had Traugott Schär completing the qualifiers on the first spot from Xray team mates Raphi Wicki, Roger Fasler and Nuno Santos. The semis then didn't went to plan for the TQ holder as engine cut-offs and the body coming loose meant a 10th place in the A-main grid for the Xray driver. The main final was started in wet conditions and Traugott opted to run his dry car with wet tyres. Some time into the race he then opted to go for dry tyres that at first gave him a hard time but once the track conditions were right, he was able to challenge leader Maurice Lüscher. Not sure if he would be able to end the race without another fuel stop Traugott put the throttle down as he would finish the race in second even if running out of fuel. At the end his efforts would pay out as he took the win by a narrow 0.7 seconds from Maurice Lüscher with Michael Schäfer rounding out an all-Xray podium.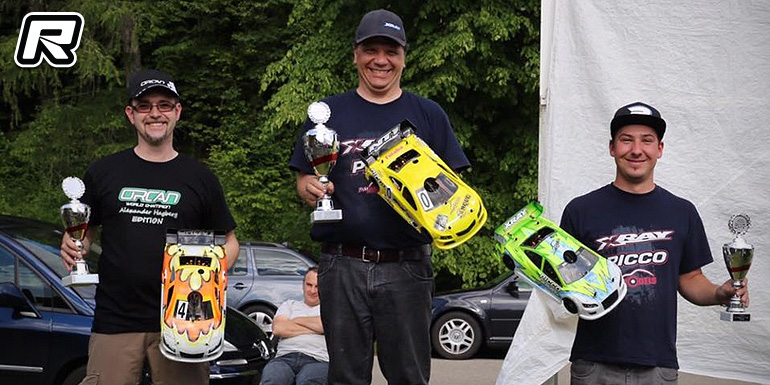 200mm final results:
1. Traugott Schär – Xray
2. Maurice Lüscher – Xray
3. Michael Schäfer – Xray
4. Philipp Bühler – Xray
5. Raphael Wicki – Xray
6. Patrick Fankhauser – Xray
7. Jakob Bühler – Xray
8. Nuno Santos – Xray
9. Roberto Alessandrelli – Capricorn
10.Theo Giannakos – Serpent
Source: Xray [teamxray.com]
---