June 30, 2016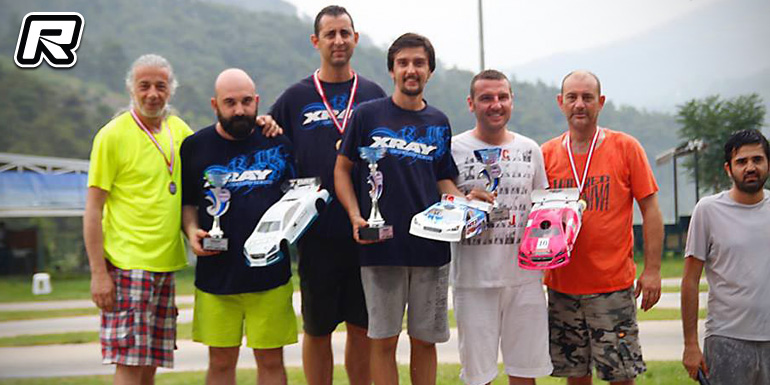 Round three of the Xray TORC series was held at Burmod Bursa last weekend. The weekend started off with very hot weather but ended – yet again – in a rain drama. In the Nitro Touring class, Mustafa Alp took round TQs in Q1 and Q2 but suffered strange car problems in the following two rounds. After an overnight car rebuild Alp was back on track in Q5, taking the final qualifier and with it the overall TQ in front of Halit, who came out fastest in Q3 and Q4.

The Nitro Touring A-main would start at about 4 pm and in cool and cloudy weather. Mustafa Alp took off with no problems and never looked back. Around the 25 minute mark he was in the lead by three laps and shortly before his scheduled tyre change it began to rain. Mustafa opted for a new set of foam tyres as he was sure the rain would stop again. Unfortunately his car's engine died during the pit stop, sending the glow plug into the orbit and after a 2-minute pit stop his lead was gone and he was about five to six metres behind new leader Halit. The latter would shortly after spin out, allowing Mustafa to get by while Halit opted to pit for tyres. Things now became a bit messy as the rain became really severe, leaving the organisers with no choice but to stop the race. After a discussion about the moment on when to score the race it was decided to count the standing at the 26 minute mark as everyone was on different tyre strategies. The decision would hand Mustafa Alp the win from Halit Körpe and Sertac Palaz.
1/10 Nitro Touring final results:
1. Mustafa Alp – Xray
2. Halit Körpe – Xray
3. Sertaç Palaz – Mugen
4. Cengiz Gökbulut – Serpent
5. Alain Sarafyan – Xray
6. Serdar Sakallıoğlu – Xray
7. Utku Kızıldağ – Xray
8. Mertcan Cakmak – Xray
9. Batuhan Özdemir – Xray
10.Haluk Soyyörük – Xray
In the 1/10th Electric Touring Stock class Mustafa Alp would grab the TQ in round one while Kagan came out fastest in Q2. Q3 was a super close affair won by Murat while Ahmet took Q4. The fifth and final qualifier, run on Sunday morning, had Mustafa posting the fastest time, some 0.8 seconds in front of Ahmet to secure the overall TQ. Ahmet then came in second from Murat and Kagan. The opening A-main was a real pleasure to watch with fights between Mustafa, Murat and Ahmet. Mustafa jumped into the lead followed by Ahmet who had a hard-charging Murat on brand new tyres in tow. Early in the race Murat got past Ahmet and he was closing on Mustafa and eventually got by, only to loose P1 by coming wide in the next corner. Mustafa tried to defend his position from Murat with both drivers showing much respect for each other. The battle between the two allowed Ahmet to close up, making it a three horse race to the chequered flag. Ultimately the trio would end the race in this order, all three covered by only 1.3 seconds. For A2 Murat again started on new tyres but in the even higher temperatures they offered less of an advantage while also fading faster and this allowed Mustafa to take a pretty easy win while Ahmet and Murat finished in the starting order. Despite having already wrapped up the win, Mustafa attended in the final A-main and with now cooler and more humid weather conditions he had a big setup advantage over his competitors, allowing him to take the win with a 4-seconds margin from Ahmet while Murat suffered from a stripped spur gear.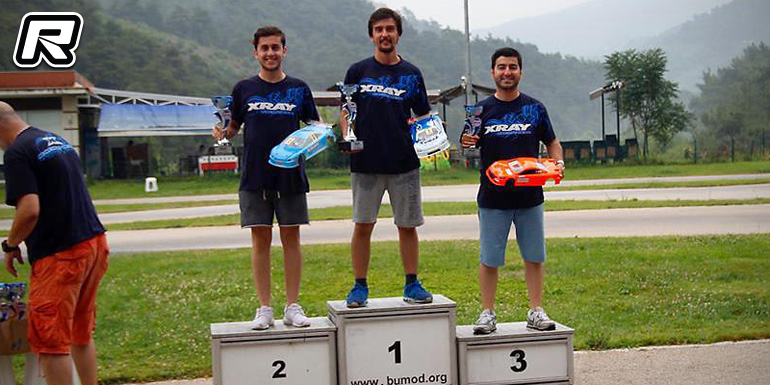 1/10th EP Stock final results:
1. Mustafa Alp – Xray
2. Ahmet Kasap – Xray
3. Murat Yazıcı – Xray
4. Kağan Aydın – Xray
5. Umut Öztümen – Xray
6. Onur Karacuhalılar – Xray
7. Kayhan Ketenci – Xray
8. Ali Çağlar – Xray
9. Murat Cağıs – Xray
10.Sefer Kursad Alalma – Xray
In the Electric Touring Modified class, Murat Yazıcı took home the win from Erol Uçar and Fatih Kaya in second and third respectively.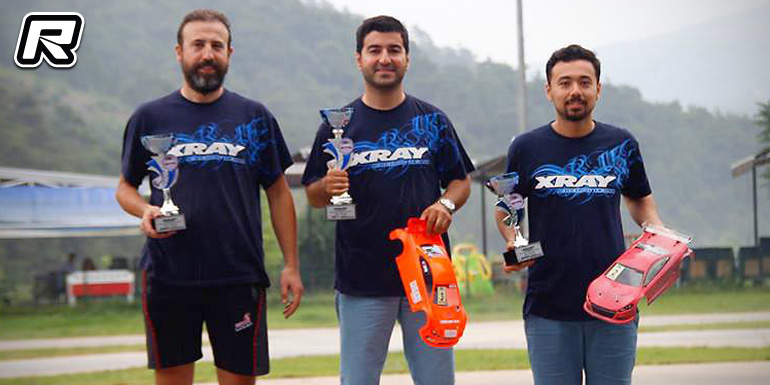 1/10th EP Modified final results:
1. Murat Yazıcı – Xray
2. Erol Uçar – Xray
3. Fatih Kaya – Xray
4. Cem Nizamoğulları – Xray
5. Kayhan Ketenci – Xray
6. Sertaç Yalım – Xray
7. Kaya Kın – Serpent
8. Erkan Akın – Serpent
Finally in the 1/8th Nitro class it was Safa Toral who took the day's win from Yusuf Ekinci and Ali Çağlar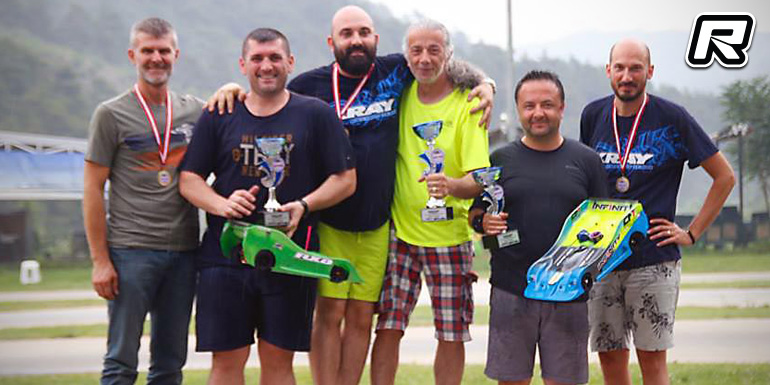 1/8th Nitro final results:
1. Safa Toral – Mugen
2. Yusuf Ekinci – Xray
3. Ali Çağlar – Infinity
4. Barış Özdemir – Serpent
5. Murat Budun – Serpent
6. Mehmet Ali Tekinsen – Xray
7. Gürol Batı – Mugen
8. Harun Ekinci – Serpent
Source: Xray [teamxray.com]
---