June 12, 2016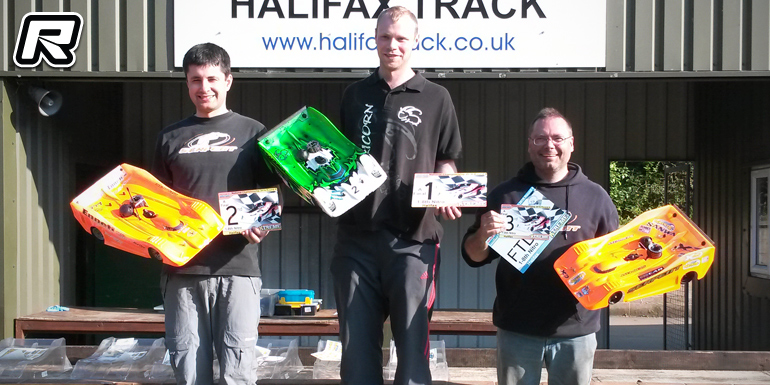 The fourth round of the BRCA 1/8 Circuit National series, took place at the Yorkshire Radio Control Model Car Racing Club, host to the 2013 1/8th scale euros, in stark contrast to round 3 at Adur, this is a fast flowing track where engine, gear box and clutch are critical to a strong performance. During Saturday's practice the usual top contenders of Mark Green, Tim Wood, Neal King and Andrew Hastings were setting lap times in the high to mid 14 second bracket, which signalled the track was unlikely to be in lap record breaking condition for qualifying and finals following day. After four rounds of qualifying the Nitro A final would line up as follows:
A–final grid:
1. Mark Green – 21/311.830
2. Neal King – 20/300.580
3. Tim Wood – 20/301.850
4. Andy Hastings – 20/302.650
5. Andrew North – 20/305.630
6. Karl Dransfield – 20/306.320
7. Michael Walton – 20/306.710
8. Richard Hicklin – 20/308.110
9. Jason Frost – 20/310.010
10.David Spashett – 20/310.570
As the final got under way Mark Green extended his lead and looked as if nobody would catch him, with Tim Wood losing position to Neal King on lap 23, it looked as if Neal was going to split the leading pair, unfortunately for Mark and much to Tim and Neal's fortune Mark was to run out of fuel just before his pit stop on lap 79, at which point Tim Wood moved into second, Neal inherited the lead and Mark dropped the to third. This would be the finishing order of the podium.
1/8th Nitro final results:
Neal King – 116/1814.910
Tim Wood – 115/1811.100
Mark Green – 115/1811.890
Andrew Hastings – 113/1804.880
Richard Hicklin – 113/1810.970
Jason Frost – 113/1811.360
David Spashett – 110/1813.550
Andrew North – 93/1805.470
Michael Walton – 46/1170.500
Karl Dransfield – 26/416.680
In the 1/8th Circuit Electric class it was Mathew Baker who took TQ honours in front of  Franck Dambrine, yet Gavin Clinch was to win both legs of each final, which means from the two round entered so far Gavin has only dropped a single point. Yet Franck Dambrine and Paul Bellinger having completed four rounds are joint on points and currently leading the electric championship, the class is slowly gaining popularity within the UK with this being the highest entry of the season so far, the final points allocated after both legs saw Gavin Clinch taking the win from Franck Dambrine on the runner-up spot and James Patton rounding out the top 3.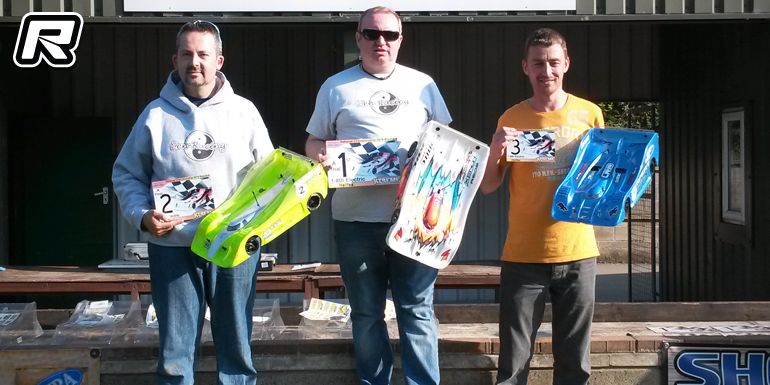 1/8th Electric final results:
1. Gavin Clinch – 2 Points
2. Franck Dambrine – 4 Points
3. James Patton – 7 Points
4. Paul Bellinger – 8 Points
5. Phil Hague – 10 Points
6. Mathew Baker – 11 Points
7. John Russell – 14 Points
8. Graham Baker – 17 Points
9. James Elice – 18 Points
Source: 8thcircuit.co.uk [8thcircuit.co.uk]
---