June 1, 2016
The Schumacher BTCC round 2 visited the Adur track on the south coast this last weekend. Practice on Saturday saw the drivers getting their cars tuned in to the unique coastal circuit, a little disruption from the weather but by the end of the day most were getting up to speed. Sunday dawned bright but extremely windy which caused quite a lot of problems, luckily the weather from Saturday stayed away and the track was dry all day. In the premier Modified class Elliott Harper (Schumacher) was on top form all day. Elliott was edging out his usual rivals Olly Jefferies (Xray) and Chris Grainger (Team Associated), taking four out of the five qualifying rounds. Elliott took a flag to flag victory in the final in the tricky windy conditions.
Modified final results:
1. Elliott Harper
2. Olly Jefferies
3. Chris Grainger
4. Matthew White
5. Colin Price
6. Zak Smith
7. Alex Gardiner
8. Merv Wignall
9. Marcus Askell
10.Chris Ashton
In the 13.5 boosted Stock class BRCA champ Zak Finlay (Xray) was out on his own for much of the day, only James Hart took a TQ round off him in round 3.  Zak took the win from James Hart (Schumacher) with Richard King (Awesomatix) third.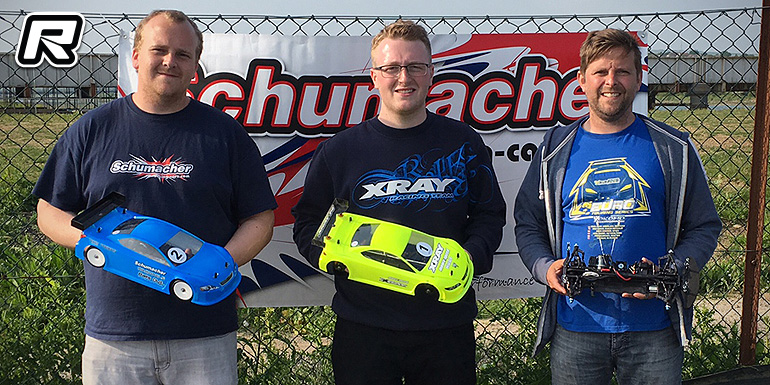 13.5T Boosted Stock final result:
1. Zak Finlay
2. James Hart
3. Richard King
4. Lee Price
5. Mark Buonaiuto
6. Liam Hendy
7. Alex Brocklebank
8. Daniel Blake
9. Tim Hancock
10.Ricky Copsey
In the 17.5 Blinky class like the two previous classes Dominic Skinner walked away with an easy TQ and win followed by Daniel Booker and Rob Sawell.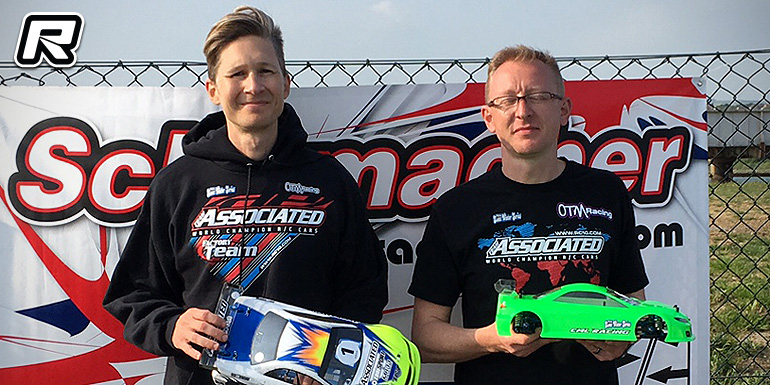 17.5T Blinky Stock final result:
1. Dominic Skinner
2. Daniel Booker
3. Rob Sawell
4. Oli Meggitt
5. Jay Westwood
6. Jay Edwards
7. David Usher
8. Malc Hall
9. Dave Ringsell
10.Michael Ball
The next round of the 2016 Schumacher BTCC is at Bedworth on 11th and 12th June.
Source: Schumacher [racing-cars.com]
---