June 15, 2016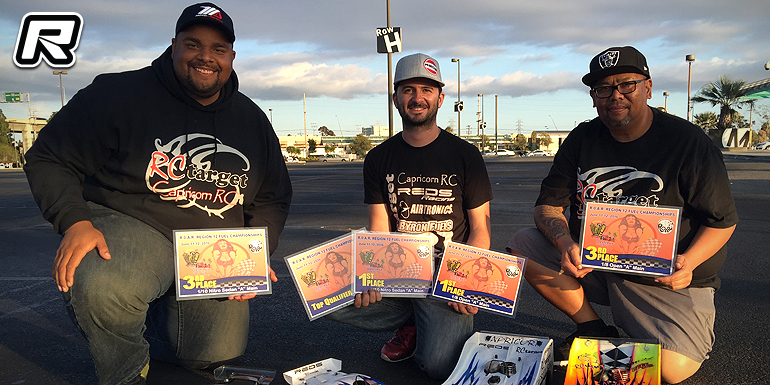 The ROAR Region 12 Championships were held in Carson, California and hosted by the Greater LA RC Club with the total number of entries topple the century mark. After an early rain delay on Saturday which pushed qualifying back 5 hours, Walter Diaz was able to take the Top Qualifying honors in 1/10 Sedan with his Capricorn, narrowly edging out his teammate and up and coming racer Bryce Butterfield by just over one second. Walter would also pilot is Capricorn car to a P3 starting position for the 45 Minute 1/8th final.

At the start of the 45-minute Sedan final Diaz made a clean get away and would never look back leading every lap. While every driver in the final made tire changes it was only Diaz and his teammate David Blakeney, who finished on the podium in 3rd, that were only ones to make the entire race distance on the same set of tires upon which they started the race. It was a bold strategy but in the end it ultimately paid off for Blakeney and Diaz while Brian Thomas (Mugen) ended the race on the runner-up spot.
The last race of the weekend was the 1/8th final which also saw a Capricorn start from pole. The pace was very fast at the beginning and it quickly became a 4-car race. However, as the race unfolded Diaz began to close the gap and apply the pressure to then race leader Chris Velez. Just after the midway point it was Walter Diaz who was able to take the lead and never look back on his way to victory he left no doubt he was fastest by logging the fastest lap and as well as top 5, 10 and 15 lap average thus cementing his victory. Kyle Goodwine (Xray) came in second and rounding out the podium was Capricorn driver Chris Verano, who worked his way back from a bad start taking advantage of a five-minute pit stop strategy.
Source: Capricorn [capricornrc.com]
---