July 21, 2016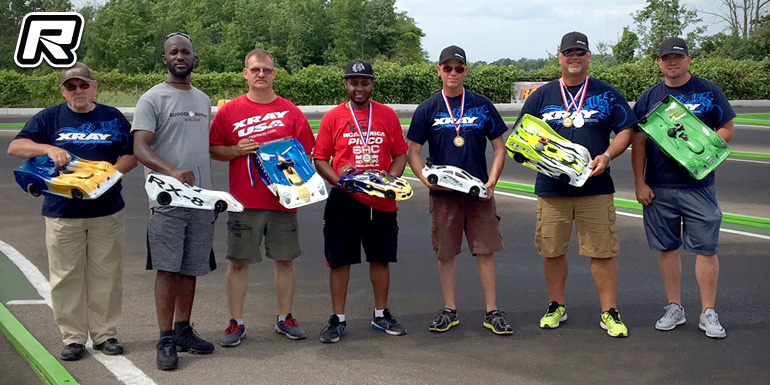 The One Eighth Scale Racers club hosted round 3 of the 2016 Midwest Series at their Toledo Ohio track. This six race series is thought to be the longest running series in the United States, having been organized back in the summer of 1970. Seventy drivers traveled to compete in the event and the racing action was exciting every class. This series features both 1/10 Sedan and 1/8 Open 4WD classes as well as Masters classes for both scales. The cars are run together by scale but scored separately by class.

Saturday's 1/10 Nitro Sedan qualifying saw Lon Burling (Shepherd) setting the pace through three rounds. The track was in prime condition Sunday for round 4 and Ted Hammer (Shepherd) took advantage to move into the top spot. Diatta Collymore (Xray) just edged out Burling to start P2 in the Main. Nick Altieri (Serpent) took the top spot in the Masters division. The start of the race saw bad luck for Ted Hammer as he got collected in turn 2 and had to sit while the field freight trained by. He pulled back in with the group, having fallen back to 12th. At the front of the field Diatta Collymore and Lon Burling were checking out on the field running a blistering pace inches apart. By the seven minute mark, Diatta had suffered engine issues, Burling had taken the lead and Ted Hammer had charged back through the field and was sitting 2nd. John Strausbaugh was 3rd, Brad Mergy 4th and Eric Jones rounded out the top five. By the midway point Burling, Hammer and Strausbaugh all had suffered mechanical issues and were off pace. Brad Mergy assumed the lead with David Dunn pushing hard to challenge. With two minutes left in the 30 minute race, Mergy had maintained a comfortable lead over now second place Dunn. Diatta had worked his way back to mount a run on Dunn but ran out of time. Congratulations to Brad Mergy, David Dunn and Diatta Collymore on your top three finish and to Nick Altieri on your 5th place overall finish and TQ/Win in Masters.
1/10 Sedan final results:
1. Brad Mergy – Xray
2. David Dunn – Serpent
3. Diatta Collymore – Xray
4. Eric Jones – n/a
5. Nick Altieri – Serpent
6. Juan Amador – n/a
7. Lon Burling II – Shepherd
8. Ted Hammer – Shepherd
9. Elliot Hart – Serpent
10.John Strausbaugh – Serpent
11.George MacDonald – Shepherd
12.Chay Blount – Serpent
1/10 Masters final results:
1. Nick Altieri – Serpent
2. Vinny Tuminaro – Xray
3. Mike Parker – Serpent
4. Mario Liberman – Serpent
5. Phillip Neiswinger – Xray
6. Karl Ennulat – n/a
In 1/8 Open 4WD Ted Hammer (Shepherd) set the early pace in qualifying in round one with a quick 17 lap run. Through four rounds, Hammer was still on top with Jason Conley (Xray), Mike McBride (Serpent), Dwight Smith (Xray) and Walo (Capricorn) making up the top five. Smith held the TQ spot for Masters. Trouble for P2 starter Conley as his car flipped at the start and cut a rear tire. Ted Hammer and Mike McBride got away clean and Walo got past Smith to move into 3rd. At the 10 minute mark, Hammer and McBride were battling back and forth for the lead while Smith had regained the 3rd position. Tight racing continued through the middle third of the event. With 20 minutes in, McBride had moved into the lead as Hammer suffered mechanical issues. Smith, Rick Davis (Serpent), Ken Miller (Xray) and Junior (Xray) filled out the top five. In the closing minutes, McBride's engine began to fall off but the running order remained with McBride, Smith and Davis finishing in that order. Congratulations to Mike McBride, Dwight Smith and Rick Davis on your podium finishes and to Dwight Smith on your 2nd place overall finish and TQ and win in Masters.
1/8 Open final results:
1. Mike McBride – Serpent
2. Dwight Smith – Xray
3. Rick Davis – Serpent
4. Ken Miller – Xray
5. Junior – Xray
6. Jason Conley – Xray
7. Ted Hammer – Shepherd
8. Don Jones – Serpent
9. Walo – Capricorn
10.Howard Bortman – Serpent
1/8 Masters final results:
1. Dwight Smith – Xray
2. Rick Davis – Serpent
3. Don Jones – Serpent
4. Bill McLean – Shepherd
5. Rich Potempa – Serpent
6. Marvin Davis – Serpent
7. Mark Unger – Serpent
8. Steve Lazarus – Capricorn
9. Dan Engelbreth – n/a
10.John Schweitzer – n/a
Source: Xray [teamxray.com]
---