July 4, 2016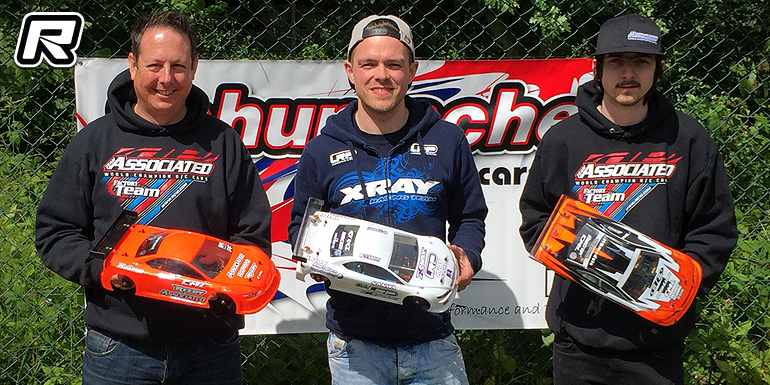 This past weekend saw the Schumacher BTCC drivers visit the super fast circuit of Halifax for the fourth round of the championship. As usual on Saturday many drivers turned up to practice, the weather was mixed and there was also the occasional heavy downpour of rain, however due to the temperature it meant that the track would dry very quickly. A few drivers braved the wet conditions but most waited for it to pass. Sunday was a totally different story, everyone woke up to bright sunshine and it would stay for most of the day. In the Modified class Elliott Harper was away at the touring car Euros in Slovakia for this event, however there were still many fast drivers in attendance. It was Olly Jefferies who took three out of the four qualifying rounds to secure himself pole position for the final. Behind Olly it was a very close battle between Chris Grainger and Kyle Branson. With Chris winning the final qualifying round, this meant he would line up 2nd on the grid and Kyle 3rd.

In the 13.5 class it was James Hart and Zak Finlay that would be very close on pace throughout the day. Zak coming out on top and therefore this meant he was on pole position for the A-final. In the 17.5 class it was a dominating performance from Daniel Booker, taking all four rounds of qualifying and securing pole position for himself. Behind him it was very close but Michael Ball would line up 2nd and Bradley Coaker 3rd.
Onto the finals, in the Modified A-main Olly would hold onto his position to take the day's win from Chris Grainger and Zak Smith.
Modified final results:
1. Olly Jefferies
2. Chris Grainger
3. Zak Smith
4. Colin Price
5. Marcus Askell
6. Stefan Chodzynski
7. Matthew White
8. Darren Lee
9. Kyle Branson
10.Richard King
In 13.5T Boosted, Zak Finlay would end the final on the top spot from Mark Wallace in second and Chris Gunther in third.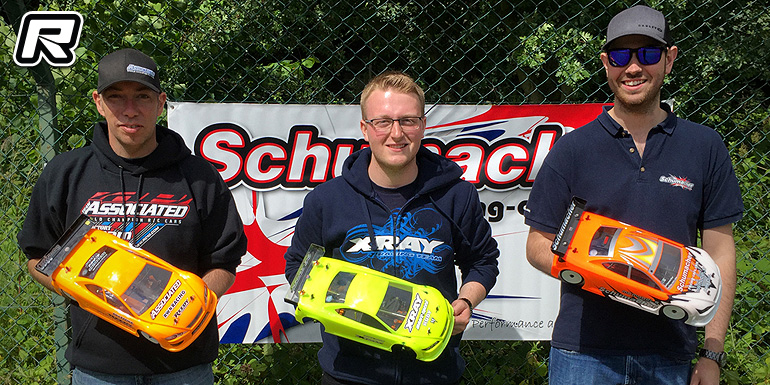 13.5T Boosted final results:
1. Zak Finlay
2. Mark Wallace
3. Chris Gunter
4. Lee Price
5. Scott Scholey
6. Michael Bolt
7. Mikey Mansell
8. James Robinson
9. Alex Brocklebank
10.James Hart
Finally in 17.5T Blinky, Daniel Booker would continue to dominate, walking away with the win from Michael Ball and James Stewart.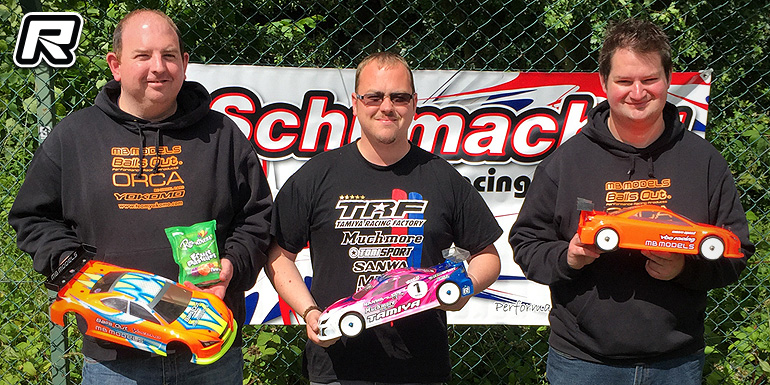 17.5T Blinky final results:
1. Daniel Booker
2. Michael Ball
3. James Stewart
4. Adrian Sully
5. Bradley Coaker
6. Steve Bessent
7. Andrew Dawson
8. Paul Hill
9. Mike Mansell
10.Keith Jenkins
The next round will be held at the fast Mendip circuit on Sunday July 31st.
Source: Schumacher [racing-cars.com]
---