July 19, 2016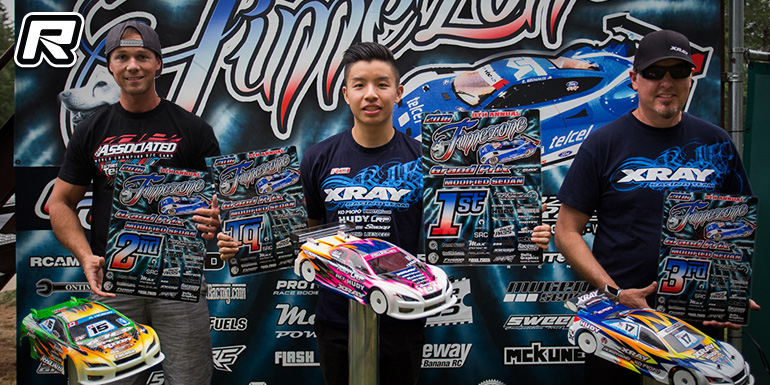 After a glorious racing weekend, the Timezone Grand Prix is quickly becoming America's favourite on-road race of the year. The 8th annual TZGP was in high demand as it was sold out months prior to the race date reaching maximum capacity at 150 entries. Arguably, the best track and race event to ever be held in a backyard, space is definitely limited to those who register and plan in advance. Making this event more accessible for travellers near and far, onsite camping and RV hookup as well as the world famous St Cyr BBQ definitely enhances the experience making this race more like a family reunion with awesome racing as a bonus. While some call it the "Woodstock of RC" and others call it "RC's best kept secret", without a doubt there is something truly special about the Timezone Grand Prix.

Race organiser, Ryan Newberry and his dedicated track crew went all out to make this year's event better than any in the past. The race director's booth was upgraded and remodelled, the track surface smoothed and sealed, fresh paint on every line and curb, and the pits were covered from the summer sun with new pit tables added for the growing number of racers. Finally, this wouldn't be world class event without the "Voice of RC" and RD extraordinaire, Scotty Ernst on the mic calling the races. The racing was unquestionably fantastic with top racers from around the US, Canada, and even as far as Shanghai competing for the right to call themselves the 2016 TZGP Champion.
Making the trip from Shanghai, China, newly signed Xray ace JJ Wang was making a return trip to the TZGP after a two year absence. Delighted to be back, Wang was looking stellar throughout practice and qualifying setting the fastest time to earn the overall TQ in Modified Sedan. A1 didn't see much action as the top 4 drivers would finish in the exact same order they qualified giving Wang his first win in Modified Touring Car. Xray's Ralph Burch would finish 2nd despite Team Associated's Keven Hebert constant, lingering pressure. Hebert would have to settle for 3rd in A1. A2 saw the young Chinese/American rise to another level as he was able to distance himself quickly from the start. Lap after lap, Wang would build his lead and deliver a near flawless performance giving Wang the only 20 lap run of the weekend and the overall win in just 2 mains. Team Associated's Keven Hebert would find his way around Burch early and finish with a strong 2nd. The 2016 Reedy Open champion Julian Wong, who made his first appearance to the TZGP this weekend, showcased his talents by finishing 3rd. Continuing where he left off, Wang was on fire once again leading A3 from tone to tone. Hebert would finish with another 2nd giving him 2nd overall. Xray's Max Kuenning would have his best finish in A3 by finishing 3rd.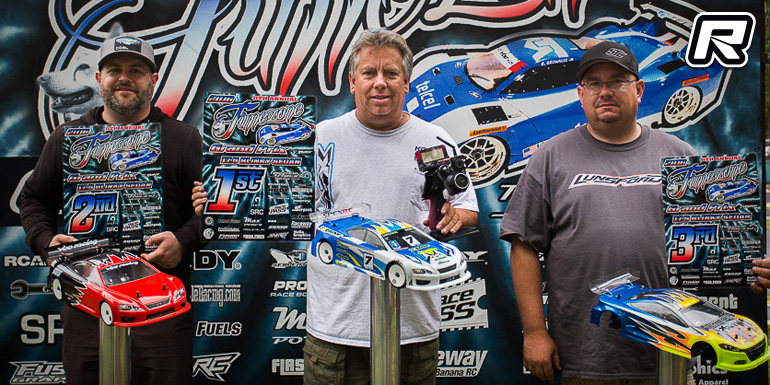 Xray's Tim Copp was a show stealer in the 17.5 Stock Sedan class by qualifying 3rd, but turned the speed on when it mattered most. With clutch driving and smoothness, Copp would find a way to win A1 and A2 resulting in Copp being able to sit out in A3. Not having a great A1, Ryan Brownlee would dig deep to finish 2nd in A2 and A3 giving Brownlee another 2nd overall for the weekend. Reigning 17.5 Stock Sedan champion, Devin Patterson didn't have the luck this year and would have to settle for 3rd overall with a terrific win in A3.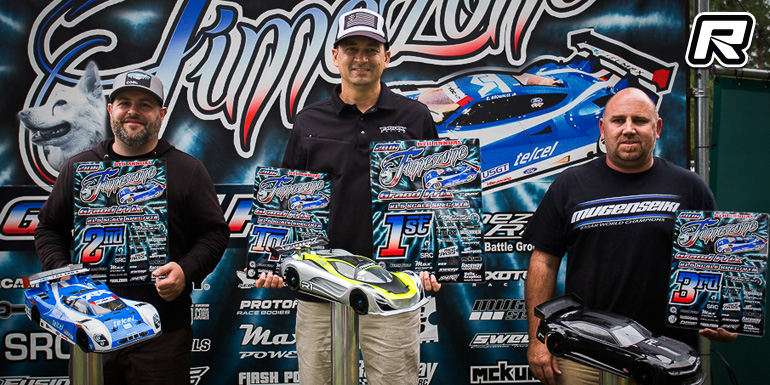 Scale Spec VTA saw Mike Rydwell earn the very important TQ position. Rydell was unable to convert the win in A1, but was able to find a way to win A2 and A3 to take the overall. Hot on Rydwell's bumper in each of the 3 mains, Ryan Brownlee was never far behind and always ready to capitalise. Brownlee would finish 2nd overall with two 2nd place finishes. Taking the win in A1 in an epic 3-car battle was Scott Barnes. Barnes had a great showing all weekend qualifying 2nd and finishing 3rd overall in Scale Spec/VTA.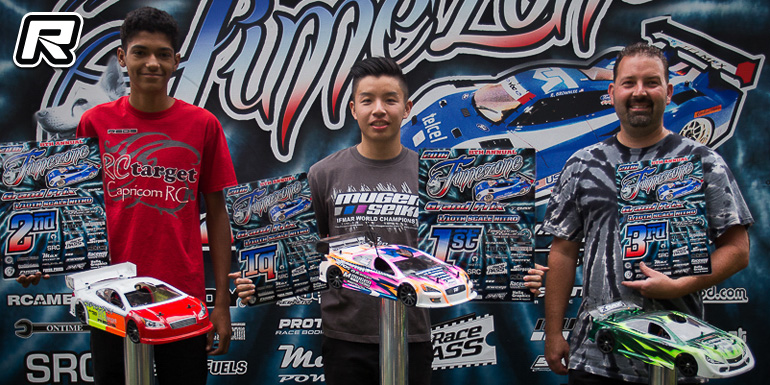 1/10th Nitro Sedan once again showcased the shear speed of JJ Wang. Confident in his Mugen cars, the young star was yet again flawless when it counted most. Unfazed by the pressure, Wang found his rhythm early and slowly disappeared from the view of his competitors and took a dominating win adding 1/10th Nitro Sedan to his weekend's accomplishments. Unfortunately for 2nd and 3rd place qualifier, Ralph Burch and Richard St Cyr would DNF leaving the podium completely open. Rising behind Wang, Bryce Butterfield would seize the opportunity and put in a fabulous drive to finish 2nd while B-main bump up, Ryan Newbury who started 10th put in the drive of a lifetime to find his way to the 3rd spot on the podium.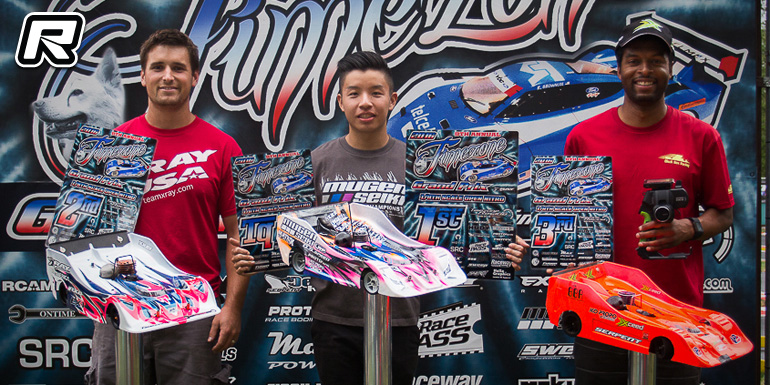 In his quest for a perfect weekend, Mugen's JJ Wang had one final feat to accomplish before completing his clean sweep. As the tone went off, Wang was quickly under attack by Joaquin Desoto Jr. By the 4th lap Desoto Jr. would find away around Wang, however it would be short lived as Wang would reclaim the lead after a mistake by Desoto Jr. Xray's Richard St Cyr would battle his way back after a bad start to his 30 minute main. Fighting till the end, St Cyr would go on to finish 2nd on the podium. Following in St Cyr's footsteps, Serpent's KJ Jones would also recover from a poor start and work his way to the 3rd step on the podium. Sweeping 3 classes and doing it in dominating fashion, JJ Wang would win the 1/8th Open Nitro class putting an exclamation mark to his weekend.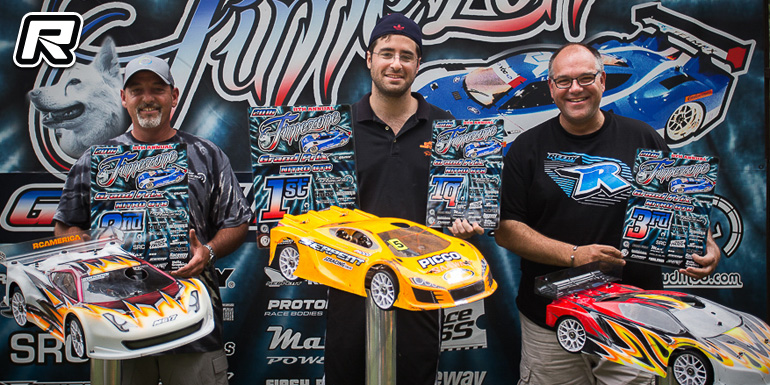 The GT8 class has gained in popularity over the years and this year, it was more competitive than ever with Serpent's Joaquin Desoto Sr/Jr both making the trip from Florida. After qualifying wrapped up, Desoto Jr. would earn the overall TQ and lead the 10-car field from the start of the race. Slowly, the Serpent ace would start to put distance between him and his competitors. However on lap 24, Desoto Jr. would flame out after a bad crash and momentarily lose the lead. With too much pace, Desoto would inch his way back and regain what was once his and cross the line winning the GT8 title. 2nd and 3rd place was decided in an intense back and forth battle between Mike Biscieglia and Wisconsin's own Scotty Ernst. After 30 minutes of racing, Ernst would chase Biscieglia to the line finishing only 0.6 seconds behind in an epic finish to the wire.
Thanks to Thomas Tran for the report.
---