July 25, 2016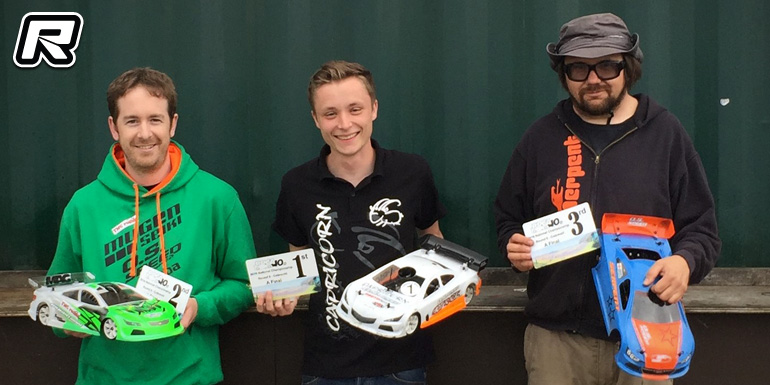 Round 6 of the BRCA 1/10th IC Nationals was held last weekend at the Cotswold track situated on Kemble Airfield. Although the sun was out in force on Saturday, Sunday was to be a more overcast affair and a total of 42 drivers took part in the three classes of 1/10th 200mm, 1/10th Sports GT and 1/8th GT. In the 200mm class, Joe Kerry would take the TQ by almost breaking the track record. Mark Green and Alex Thurston would qualify second and third with Kai Grainger and Matthew Cook completing the top half of the grid.

The 30 minute final would see problems end the races of a number of front runners allowing Joe Kerry to take an unchallenged win 3 laps ahead of James Conolly in second and John Zottl in third.
Touring 200mm final results:
1. Joe Kerry – Capricorn/O.S. Speed
2. James Conolly – Mugen Seiki/O.S. Speed MAG
3. John Zottl – Serpent/O.S. Speed
4. Peter Spratley – Xray/Orcan
5. Ollie Williams – Serpent/O.S. Speed
6. Aaron Wearn – Shepherd/Picco
7. Alex Thurston – Serpent/XRD
8. Kai Grainger – Capricorn/Capricorn
9. Matthew Cook – Shepherd/Orcan
10.Mark Green – Serpent/XRD
In Sports GT, reigning champion Glyn Beal would break the track record on his way to TQing ahead of series debutant Simon Wood with Peter Hellawell in 3rd. Championship front runner, Richard Kozakiewicz and another newcomer, Dave Miller, would complete the top five in qualifying. In the half hour final, pole sitter Glyn Beal would be knocked out of a healthy lead after troubles with back markers at the half way point allowing Simon Wood to take victory in his first ever Sports GT race. Richard Kozakiewicz would finish in second with Devendra Mahatme in third.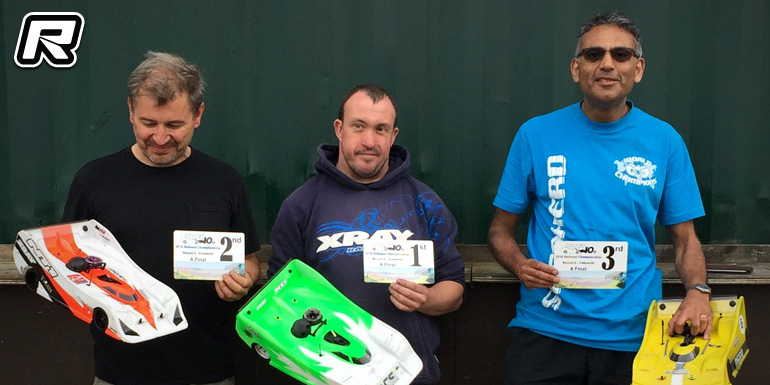 Sports GT final results:
1. Simon Wood – Xray/O.S. Speed
2. Richard Kozakiewicz – Xray/Novarossi
3. Devendra Mahatme – Shepherd/Picco
4. Mark Newby – Xray/Sonic
5. Dave Miller – Serpent/Novarossi
6. Glyn Beal – Serpent/Picco
7. Peter Hellawell – Serpent/Picco
8. Mike Manning – Mugen Seiki/O.S. Speed
9. Phil Edwards – Serpent/Novarossi
10.Jim Beesley – Serpent/XRD
In the 1/8th GT class it was again Glyn Beal that would TQ ahead of Scott Hellawell and Mark Owen. The final would see a thrilling battle between Glyn Beal and Scott Hellawell with Scott overhauling the top qualifier thanks to brilliant driving and pitstops. Mark Owen would complete the podium.
GT final results:
1. Scott Hellawell – Serpent/Picco
2. Glyn Beal – Serpent/Picco
3. Mark Owen – Serpent/Picco
4. Paul Dewsnap – Serpent/Picco
5. Anthony Dorling – Serpent/Novarossi
6. Martin Thurston – Serpent/Novarossi RTR
The next round of the championship will take place at the Adur circuit near Brighton on the 17th and 18th of September.
Thanks to Peter Hellawell for the report.
---