July 11, 2016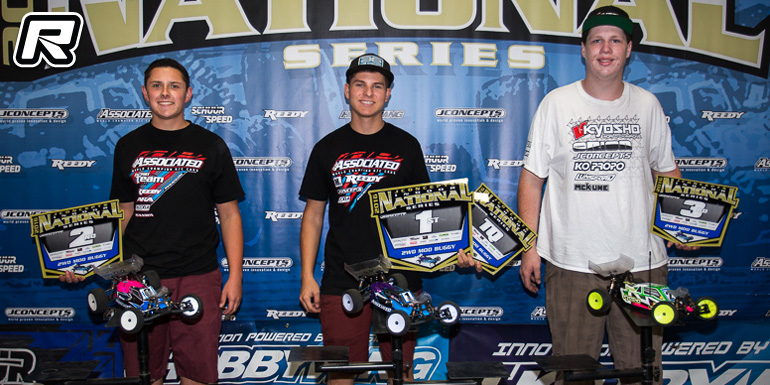 This past weekend was the last indoor race ever to be held at Outback Raceway located in the warehouse of Amain Hobbies in Chico, California. Without a doubt, this raceway will be missed as it has held countless memorable moments for many racers near and far. However, the racing in Chico won't disappear, but rather move to Amain's Silver Dollar Raceway outdoor facility that once held the IFMAR World Championships in 2013. With nearly 300 entries, the final race was a complete success and the racing top notch. In addition, world famous and the voice of RC, Scotty Ernst was on the mic bringing his unique, energetic style making this race one to remember. Master track builder, Kevin Jelich and his track crew did a fabulous job building a layout that was technical and flowy, challenging all racers of all levels.

Spencer Rivkin earned the overall TQ in the ultra competitive 2WD Modified class. The World Champion was in top form, but shortly after the start of A1 Rivkin would make an uncharacteristic mistake on the first lap allowing 2nd place qualifier, Tommy Hinz through to take over the lead. With his back against the wall the WC dug deep and applied extreme pressure, but Hinz didn't crack. Soon, it was a three horse race with Hinz leading, Rivkin 2nd and Alex Kosciuszek in 3rd. The order would remain the same until the very last lap. With the pressure on, Hinz would land the triple and turn in a bit early getting hung on the pipe. Rivkin would take the lead and Hinz would spin himself around to finish 2nd with Kosciuszek 3rd.
A2 saw Rivkin slowly pull away from Day and Hinz from the very start. Once again, slowly but surely Rivkin would find a rhythm and start to build his gap leaving Hinz and Day battling for 2nd. The two would swap positions multiple times and after 6 minutes, Hinz would finish 2nd and Day 3rd. Rivkin would get the extra lap and claim his 3rd overall win of the weekend sweeping all 3 modified classes in just 2 mains.
With the final race of the Summer Indoor Nationals and Outback's last race ever, A3 saw 2nd place qualifier Tanner Day and 3rd place qualifier Tommy Hinz go toe for toe for nearly 3 minutes. Finally, Hinz was first to blink giving Day some breathing room, but with a never give up attitude Hinz would fight his way back on Day's bumper to continue their battle. Trying to make a move, Hinz would get side by side as the two would drag race down the straightaway, but unfortunately make contact. Day would maintain his lead with Hinz close behind. The order would remain the same with Day taking 1st, Hinz 2nd and Max Flurer 3rd.
Spencer Rivkin also had a perfect weekend in the 4WD Modified division TQ'ing all three rounds of qualifying giving him pole in the 6 minute triple A-mains. Continuing his hot streak, Rivkin was gifted a huge lead from the very start as 2nd place qualifier, Tommy Hinz would botch the start causing a bit of chaos shuffling the field. With no pressure to worry about, Rivkin would cruise to a relatively easy win. Daimon Borkowicz and Flurer would swapped positions multiple times, but in the end Borkowicz would finish 2nd and Flurer 3rd in A1.
A2 saw Tommy Hinz not make the same mistake as in A1 and pressured Rivkin early in the race, but the pace was too much for Hinz. Once again, Rivkin was without pressure and was able to drive at his own pace and take his 2nd win to earn the overall. Remarkably from the 9th spot, Kyle Turner was on fire slowly dissecting the field apart and made his way to 2nd where he would finish in A2. After a lackluster A1 finishing 5th, Hinz would find a little redemption and finish 3rd in A2.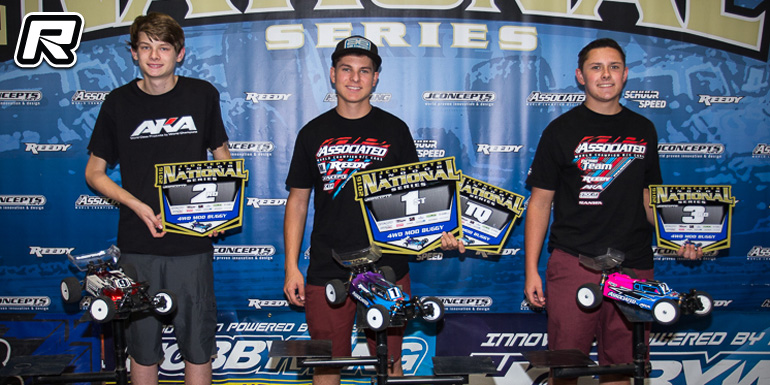 Having already wrapped up the win in 4WD, Rivkin was able to watch A3 from the sidelines. This allowed Hinz to shine in A3 taking the win from tone to tone. Once again, Kyle Turner would work the field even having issues on the first lap and finish impressively in 2nd. Borkowicz would round out the top 3 in A3. With Hinz and Tuner both having 4 points for the overall, the tie-breaker would go to Turner giving him 2nd and Hinz 3rd.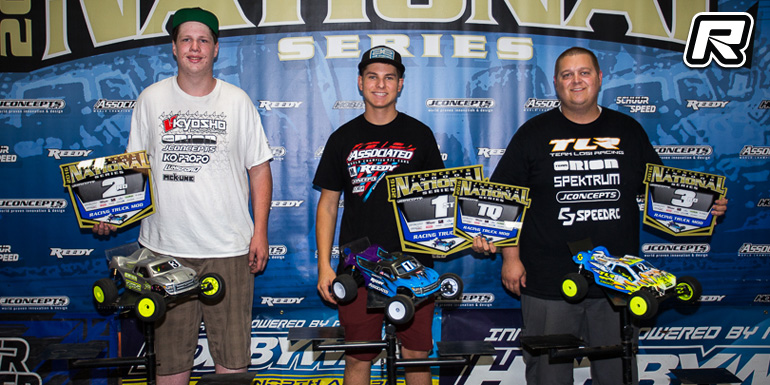 Modified Truck saw Spencer Rivkin earn the TQ spot over Max Flurer and Tanner Day. With a flawless start, Rivkin proved impossible to catch and started to check out from the field early in the race while Flurer and Day would engage in a back and forth battle throughout the 8 minutes race fighting for 2nd. On the 2nd to last lap, Day would make a mistake that would allow Flurer through for 2nd with Day chasing closely behind. With 15 seconds left, Day would make a crucial pass landing the triple perfectly forcing Flurer to give space and the position. With no time left, Day would hold off Flurer to take 2nd with Max in 3rd.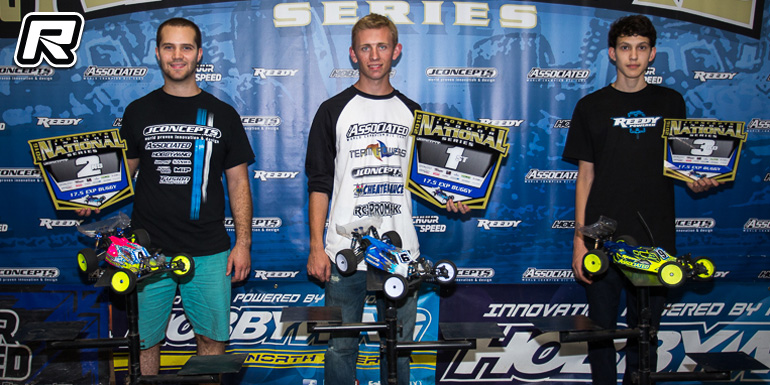 In the 17.5 Expert Stock buggy class, it was Charlie Cavalier earning a hard fought TQ over super fast Kyle Layton. As the tone went off in the single 8 minute Amain, Cavalier's car was slow off the line and Layton was quickly looking for a way around. Making his move early in the first lap, Layton was able to get around Cavalier and take over the lead and never looked back. Checked out and gone, Layton built up a substantial lead leaving the rest to battle amongst themselves. Shane Borden fought his way to 2nd in a close back and forth battle with Dujuan Moore and Martin Johnson. After the dust settled, Layton would take the win with Borden finishing 2nd and Martin Johnson rounding out the podium in 3rd.
Thanks to Thomas Tran for the report.
---