July 28, 2016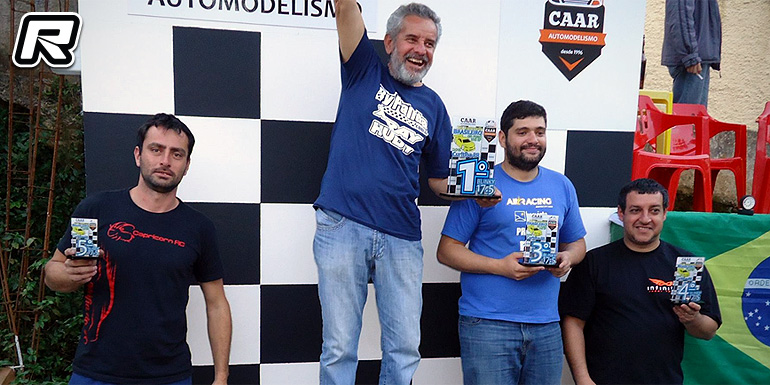 The CAAR club in Curitiba played host to the recent Brazilian Touring Stock nationals. With July being a Winter month temperatures were pretty low but no wind and with the sun coming out it was a pleasant weekend. 17.5T Stock blinky  was the most popular class with 23 entries and it was Otavio Langowski who took the title after some nice and clean fights in the A-mains. Pedro Thieme and Luiz Castori completed the podium result in second and third respectively.
17.5T blinky final results:
1. Otavio Langowski
2. Pedro Thieme
3. Luiz Castori
4. Flavio Fatinzanzi
5. Michel Franque
6. Diogo Maia
7. Eduardo Vezetti
8. Vinicius Rabello
9. Aurelio Siu Hang
10.Gustavo Zem
Although attracting a slightly lower amount of drivers 13.5T Stock still made for good and close racing between Brazil's best drivers. Ultimately all drivers were still in the same lap and it was Cesar Salvadori to take the 2016 title from Fabricio Zamperetti and Lincoln Almeida.
13.5T blinky final results:
1. Cesar Salvadori
2. Fabricio Zamperetti
3. Lincoln Almeida
4. Dennis Pickthall
5. Erich Heshiki
6. Flavio Loures Salinet
7. Willian Capitelli
8. Felipe Franceschi
9. Bruno Alvez
10.Henrique Winik
Source: Xray [teamxray.com]
---