July 2, 2016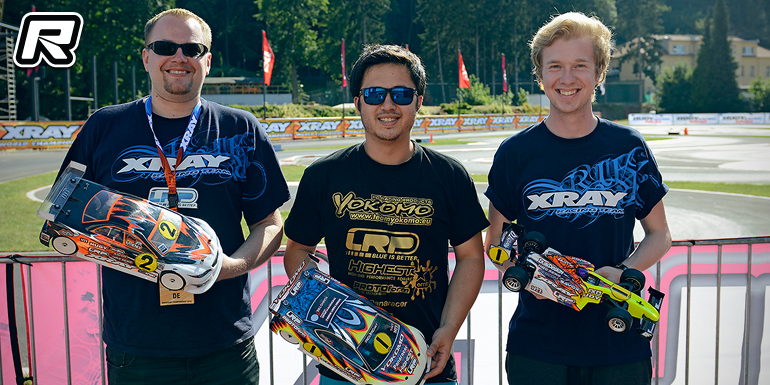 The 2016 EFRA 1/10th Electric On–road European Championships are being held this week at the Hudy Racing Arena in Trencin, Slovakia. After five rounds of qualifying in very hot weather conditions it was Yokomo's Ronald Völker who put his car on the 1 spot for the triple A–main events with Xray's Bruno Coelho coming in second. Marc Rheinard (Tamiya) rounds out the top 3 result for now.
Modified qualifying top 10:
1. Ronald Volker – Yokomo
2. Bruno Coelho – Xray
3. Marc Rheinard – Tamiya
4. Alexander Hagberg – Xray
5. Michal Orlowski – Schumacher
6. Viljami Kutvonen – Awesomatix
7. Victor Wilck – Serpent
8. Elliott Harper – Schumacher
9. Frederik Sudhoff – Awesomatix
10.Christopher Krapp – Tamiya
The Touring Stock qualifying was an all–Xray affair up front with Germany's Jan Ratheisky taking three of the five rounds to take the overall TQ from teammates Mike Gosvig and Alexandre Duchet.
Stock qualifying top 10:
1. Jan Ratheisky – Xray
2. Mike Gosvig – Xray
3. Alexandre Duchet – Xray
4. Steve Favrelle – Xray
5. Tom Kragefski – Xray
6. Mattia Collina – Xray
7. Max Machler – Awesomatix
8. Davide Bertuzzi – Xray
9. Blazej Orlowski – Yokomo
10.Noah Asendorf – Xray
In the inaugural Formula class event it was quick Dane, Mike Gosvig (Xray) who came out quickest after the qualifiers from Serpent designer David Ehrbar. Jan Ratheisky (Xray) completes the qualifying top 10.
Formula qualifying top 10:
1. Mike Gosvig – Xray
2. David Ehrbar – Serpent
3. Jan Ratheisky – Xray
4. Martin Hudy – Xray
5. Oliver Bultynck  – Roche
6. Stephen Lander – MD
7. Matteo Berlincioni – n/a
8. Hector Albarracin – MD
9. Herbert Weber – VBC Racing
10.Andrej Vnucko – Xray
Source: Xray [teamxray.com]
---