August 18, 2016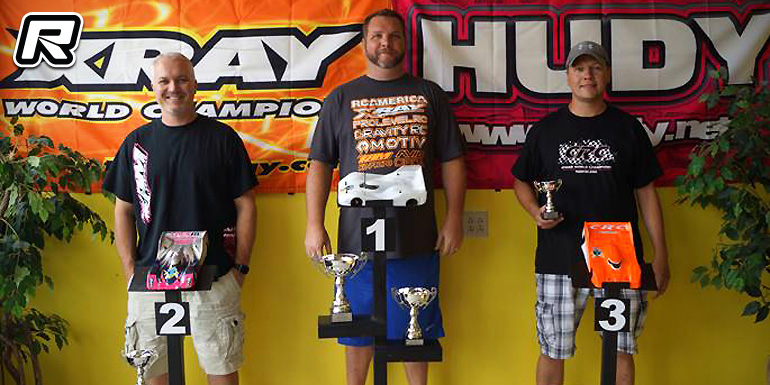 The inaugural running of the Full Throttle Champs was held at Banana RC Raceway in Dallas, Texas with the race kicking off the carpet season in the United States. The track layout was tight and technical; challenging all drivers to be smooth and avoid mistakes. The traction was high as usual on the CRC black carpet. 74 entries were in attendance between the seven classes. The event utilized a unique 3-day racing format. Day one was all open practice. Day two was three rounds of rocket round qualifying and bump-up B-mains for the last spot in the A in each class. Finally, day 3 was triple mains for everyone.

In 1/12th Modified, Drew Ellis was on his own level through-out the weekend, snatching up TQ honors over the field with a few laps advantage over the 8-minute run. Dan Hamann would run the fastest lap of the whole weekend  of any class with a 8.193 second lap during A1. In racing, Ellis continued his dominating performance by easily taking A1 and A2. With Ellis sitting out A3, John Wiita and Eric Anderson would have a solid battle for victory to determine the final steps of the over-all podium. Wiita came out on top with a 6 second lead on Anderson over the 8 minute run.
1/12th Modified top 5 results:
1. Drew Ellis – Xray
2. Eric Anderson – Xray
3. Jon Wiita – CRC
4. Kevin Van Ert – CRC
5. Andrew Doherty – RSD
The guys from Minnesota would display brilliant speed all weekend in 1/12th 17.5. John Wiita, Kevin Van Ert, Tony Block, and Dan Hamann consistently battled it out at the top. John Wiita earned TQ honors and clinched all three A-mains for the over-all title. Kevin Van Ert was forced to retire in A1, but came back strong in A2 and A3 to earned second over-all, finishing only 2-3 seconds behind Wiita over the 8-minute runs. Tony Block was extremely consistent every run, earning him third over-all.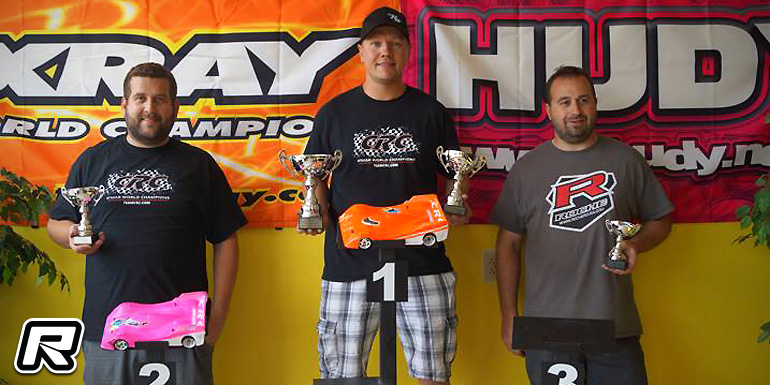 1/12th 17.5T top 5 results:
1. John Wiita – CRC
2. Kevin Van Ert – CRC
3. Tony Block – Roche
4. Dan Hamann – Xray
5. Johnee Fenimore – RSD
Hot off his Texas EOS USGT championship, Jose Moreno was again the man to beat in the USGT class. Jose put in great drives in qualifying to earn himself the all-important TQ position. Billy Land would qualify second. Ryker Scott, demonstrating incredible speed and talent for only racing on-road for 1-month, qualified third. In the main, the top 3 would finish in the same order all three rounds and thus for the over-all. Behind the top 3 was quite exciting with great battles.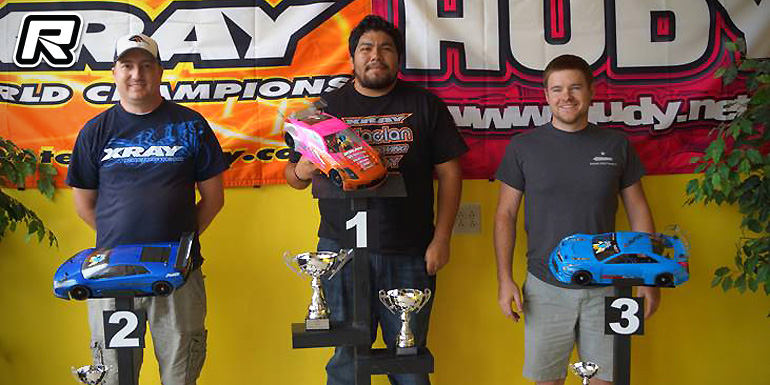 USGT top 5 results:
1. Jose Moreno – Xray
2. Billy Land – Xray
3. Ryker Scott – n/a
4. Nick Sibigtroth – n/a
5. Leo Moreno – Xray
Local racer Chris Jennings was on pace all weekend earning himself TQ honor in the Formula class. Doug Bryson found great pace to compete with Jennings by putting the fastest run of the weekend in A3, but it was all a little too late as Jennings took A1 and A2. Charlie Menord rounded out the podium.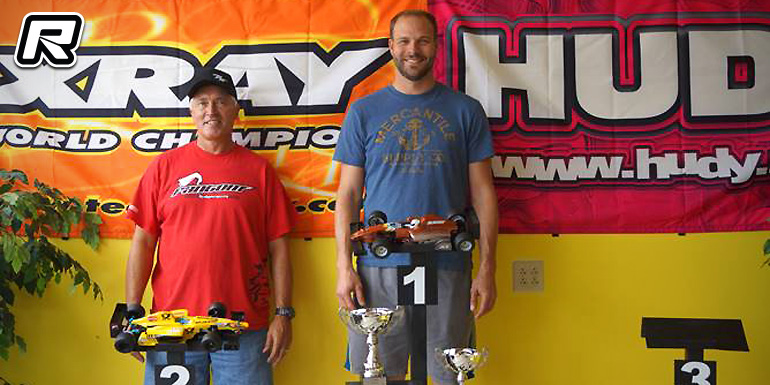 Formula overall top 5 results:
1. Chris Jennings
2. Doug Bryson
3. Charlie Menord
4. John Jennings
5. Juan Blaylock
A favorite amongst the locals at Banana RC Raceway, the Mini class was fun for everyone racing and watching. Loran Whiting, with her dad's Mini, earned TQ honors and won the main convincingly. Nick Sibigtroth was fastest in the main, but some traction-roll issues allowed Loran and Ryker to get away.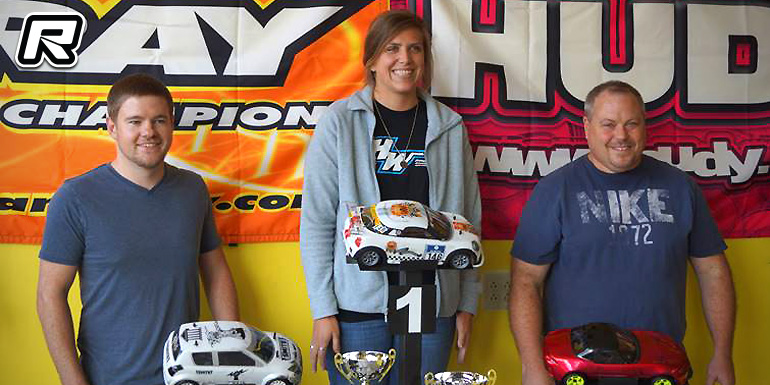 Mini top 3 results:
1. Loran Whiting
2. Ryker Scott
3. Nick Sibigtroth
In Modified Touring car, national champion Chris Adams was at ease on his home track; taking TQ in all three rocket rounds of qualifying with his Xray. Cristian Tabush qualified the new Gizmo in second, and a fast Brandon McNally (Yokomo) qualified close to Tabush in third. In the main, Chris Adams would back-up his qualifying pace with incredible race-pace. Adams led both A1 and A2 from tone-to-tone to clinch the over-all title; he then sat out A3. Cristian Tabush claimed second by finishing second in A1, A2, and then won A3. From 4th on the grid, Kyle Klingforth earned the third position overall on the podium with successful results in A2 and A3.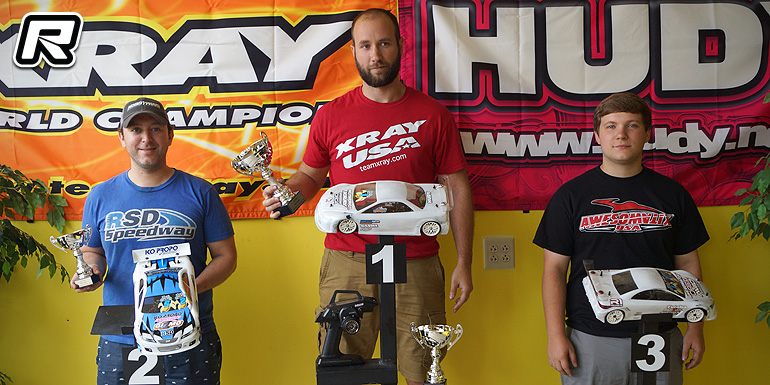 Touring Modified top 5 results:
1. Chris Adams – Xray
2. Cristian Tabush – Gizmo
3. Kyle Klingforth – Awesomatix
4. Steve Breuer – Xray
5. Brandon McNally – Yokomo
17.5 Touring Car would prove to be the largest class of the weekend with 22 entries, as well as the most competitive. It was very close in qualifying between many drivers throughout the field; Kyle Klingforth and Eric Anderson consistently battling for the TQ Honors. Kyle earned TQ over EA, with new Awesomatix driver Chris Kemper close behind in 3rd. In racing, the track proved difficult for many as small mistakes would inhibit driver's rhythm and loose time by not flowing through the next few corners. Fantastic battles were seen up and down the grid. At the top Anderson and Kyle Klingforth battled every round; A1 going to Klingforth with Anderson on his rear bumper much of the main until a bobble by Anderson gave Klingforth some breathing room. In A2 and A3, Kyle would make small mistakes allowing Anderson through to take the win in both and  the over-all title. Cristian Tabush battled his way up to third in A2 and A3 to claim the final podium position in the overall standings.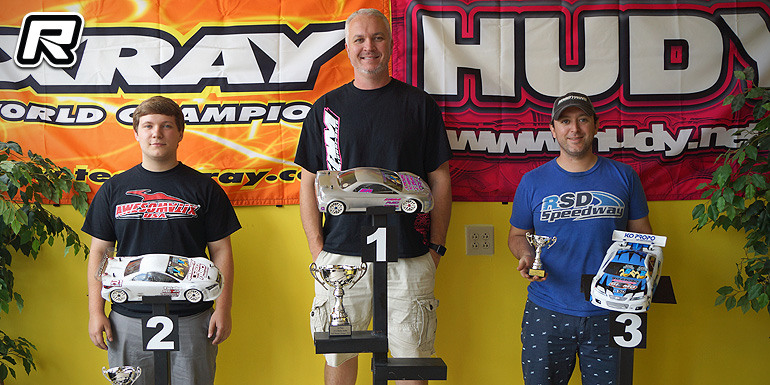 Touring 17.5 top 5 results:
1. Eric Anderson – Xray
2. Kyle Klingforth – Awesomatix
3. Cristian Tabush – Gizmo
4. Chris Kemper – Awesomatix
5. Michael Toth – Awesomatix
Thanks to Guillaume Herve for the report.
---