August 23, 2016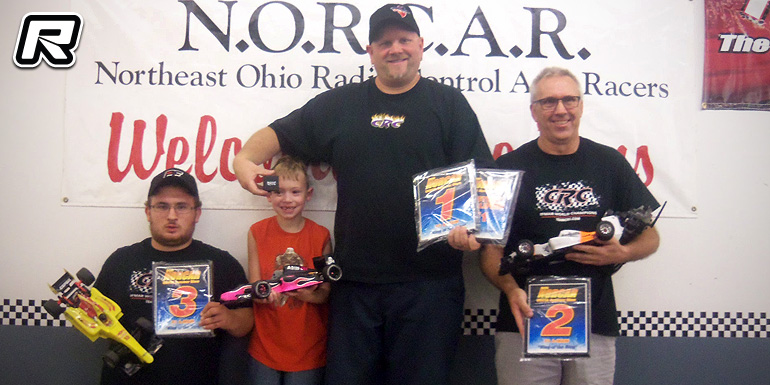 The second annual Summer Slam hosted by NORCAR at The Gate in Brunswick, Ohio not only marks the nearing of the end to Summer and the start of the indoor carpet season in the U.S. Midwest region, but also the final weekend of the popular annual USVTA National Points Series. This event only offers rubber tire chassis', this year saw Formula, VTA, USGT, GT-R, and Touring 17.5. The event saw a growth from the inaugural year due to the unique layouts that can be achieved with a rubber-tire only event. Lots of dots were used, okay … an exorbitant amount of dots were used and the Ring of Death made its reappearance. Saturday's qualifying heated up quickly in round 1. In Formula Wayne Gerber set the early TQ in front of Brian Wynn, the only two to post early 38 lap runs.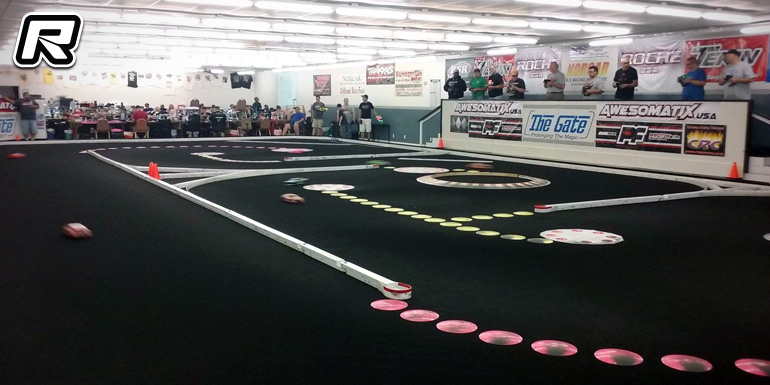 In VTA Pat Barber set TQ with Scott Windsor keeping him honest and finishing 2 seconds behind, making them the two lonely guys in the 36 lap club. USGT saw a tighter field with Josh Hohnstein setting a 38 lap pace along with Bill Sydor, Brian Wynn, Adam Hutchison, and Brian Busse finishing on the lead lap. GT-R had Brian Wynn make a statement being the only one to complete a 36 lap run. Touring 17.5, a class that was supposed to be a non-USVTA "filler" class ended up being one of the hottest contested with Nate Wagner grabbing TQ by one tenth over Bill Sydor and Chris Vogan; also with Josh Hohnstein, Brad Johnson, Brian Wynn, and Dustin Layne, and Mike Wise all in the 40-lap club.
The traction was coming up in round 2 and cars were getting dialed in as all classes saw a new TQ pace set. For Formula, Wayne Gerber was able to improve to a 37 lap run to retain the TQ spot, also going 37 were Brian Wynn, Scott Windsor, Mark Sweeney, and Rob King. VTA had Barber also hold TQ with Scott Windsor again being able to claim membership status in the 36 lap club. USGT had Hohnstein set fire to the track running a 39 lap TQ. In GT-R, Barber was finally able to join Wynn with a 36 lap run but was not able to take TQ away. Everyone was getting their touring cars tuned to the grip of the CRC black carpet, allowing four to jump into the 41 lap pace. Wagner was able to defend TQ ahead of Sydor, Hohnstein, and B. Johnson.
Round three and Gerber defended the onslaught again ahead of a growing Formula 37 lap club to include Wynn, Sweeney, Windsor, King, and now Zack Schuttenberg running a rent-a-ride. No change to VTA except that Windsor was able to close on the TQ of Barber to about a second. In USGT, Hutchison got the extra lap and secured 2nd place 6 tenths behind Hohnstein. In GT-R, Wynn continued his dominance to hold TQ. Things were still chaotic in TC as many continued to build upon the previous qualifier and saw B. Johnson grab TQ with a 37 6:03.5, Wagner finishing 2 tenths behind, also with Hohnstein and Sydor completing the 41 lap runs.
Sunday, round four and Formula sees a new TQ with Wynn posting a 37 6:01, with Gerber and Sweeney a combined 1 second behind. Barber holds his VTA TQ. Hohnstein and Hutchison remain the only ones to run 39 laps in USGT.  There are rumblings in the GT-R crowd, something about sabotaging Wynn's car were heard. In TC, B. Johnson was able to quicken his pace to secure TQ by 3 tenths ahead of Wagner, Hohnstein only 5 tenths behind in 2nd.
In the mains and after a rocky mid-race catastrophe that shook the field up, the weekend fast guys were able to climb the rungs seeing Brian Wynn take the win, with Sweeney 2nd, and Schuttenberg taking the last podium spot in 3rd.
Formula final results:
1. Brian Wynn
2. Mark Sweeney
3. Zack Schuttenberg
4. Wayne Gerber
5. Mike Wise
6. Robert Brandow
7. Geoff Ferron
8. Rob King
9. Scott Windsor
10.Mark Miller
In VTA and after the best total laps/time in a two-main event, Barber was able to complete the sweep thanks to a very strong main number 2 time that helped him come back from a 3rd place finish in main 1. Rounding out the podium was Scott Miller and Mark Miller.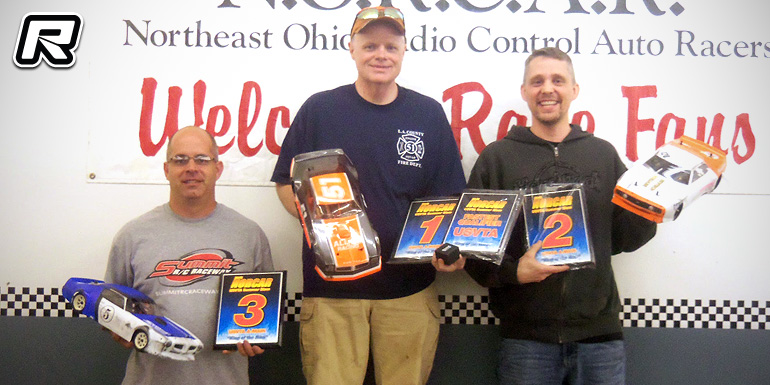 VTA final result:
1. Pat Barber
2. Scott Windsor
3. Mark Miller
4. Ken Pepe
5. Kevin Kane
6. Stu Patrick
7. Dave Hart
8. Chuck Mackin
9. Myron Kinnard
10.Zack Schuttenberg
In USGT Hohnstein was able take it wire-to-wire with the win. Sydor got caught at the line but defended 2nd by only 1 tenth ahead of Busse.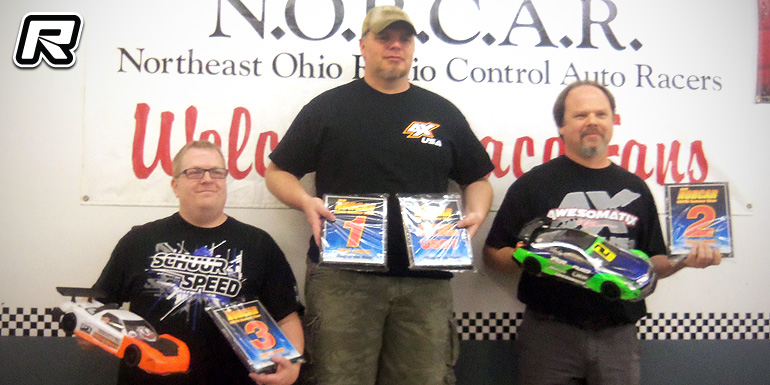 USGT final results:
1. Josh Hohnstein
2. Bill Sydor
3. Brian Busse
4. Brian Wynn
5. Adam Hutchison
6. Nate Wagner
7. Chris Vogan
8. Mike Wise
9. Pat Barber
10.Kevin Kane
The man, the myth, the legend: Brian Wynn, also posted a wire-to-wire win in GT-R with a 5 second gap to Mark Sweeney and Pat Barber.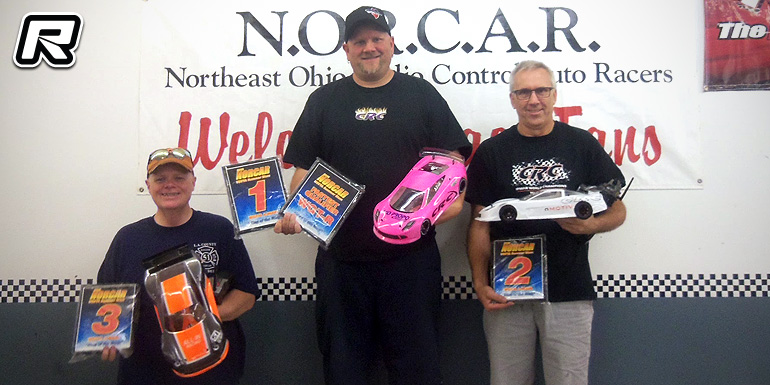 GT-R final results:
1. Brian Wynn
2. Mark Sweeney
3. Pat Barber
4. Joe Klebau
5. Dave Berry
6. Michael Elwood
7. Ron Mick
8. Max Buca
9. Steve Poppe
10.Steve Gressel
Finally in Touring 17.5 Brad Johnson was also able to win it from the front by a little over a second with Nate Wagner and Josh Hohnstein taking podium spots.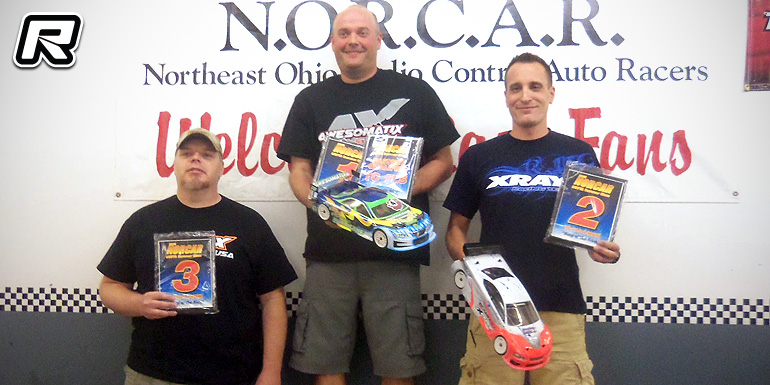 Touring 17.5 final results:
1. Brad Johnson
2. Nate Wagner
3. Josh Hohnstein
4. Bill Sydor
5. Dustin Layne
6. Chris Vogan
7. Brian Wynn
8. Mike Wise
9. Adam Hutchison
10.Brian Busse
Thanks to Nate Wagner for the report.
---