August 16, 2016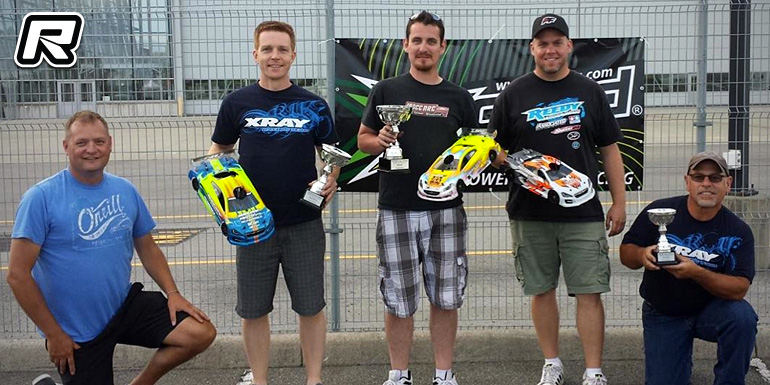 The 8th Annual Ready to Run Raceway Summer Challenge Trophy Race and Enduro was hosted by the Ready to Run Raceway club in scenic Vancouver, Canada. The track was just five minutes away from the Vancouver International Airport making it very accessible out of town participants looking for fun, close and exciting racing. As pre-entries came in, the Summer Challenge was shaping up to be the largest outdoor on-road event in Canada of 2016, and those entries did not disappoint as RRR set a new high in 2016. A special element to this event is the amount of track time for all racers. Saturday was open practice for Electric and Nitro followed by three rounds of qualifying, additional practice and single mains for all Electric and Nitro classes with just one bump spot per main.

And as if this wasn't enough track time the circuit was open after Saturday's Trophy Racing for the back to back three Hour Enduros to be run on Sunday. Electric Sedan 17.5T and Nitro Sedan vehicles were prepared as teams prepared their cars, drivers and strategies for the Sunday racing, a total of six hours of racing. In a field of 30 Touring Nitro cars with the A-main consisting of just eight, Nick Keown took the lead with his sport engine powered Xray NT1 and kept the car steady enough to claim the victory. Blake Bell and Luke Pittman would work their way up to 2nd and 3rd as TQ John Tsang and second qualifier KJ Jones suffered mechanical failures early in the race. In this race of 30 minutes, Nick with the least horsepower, proved power isn't all you need to win a race.
Touring Nitro top 3 result:
1. Nick Keown – Xray
2. Blake Bell – Xray
3. Like Pittmann – Xray
Touring Modified TQ Keith Yu would lead tone to tone claiming the Winner trophy as the rest of the field would swap positions until the finishing tone. John Tsang made his way to 2nd spot as 2nd to 5th would tangle mid race, closing the gap to Keith, without enough time to plan a move up. Logan Ruck hangs on to 3rd position despite a pass attempt at the line by Blake Bell.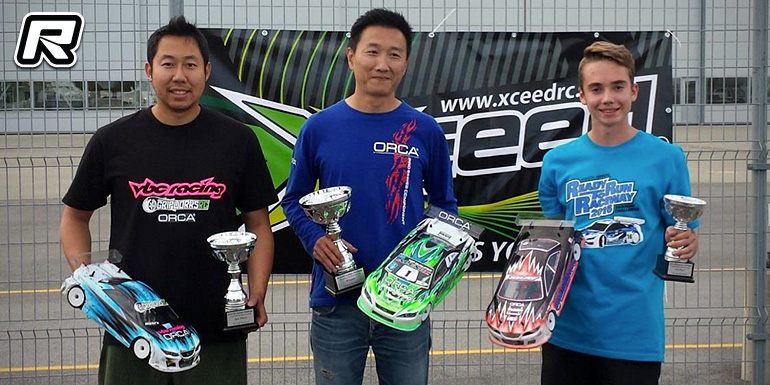 Touring Modified top 3 result:
1. Keith Yu – Xray
2. John Tsang – VBC Racing
3. Logan Ruck – Xray
In Touring Stock Luke Pittman mounted a charge from the tone, taking the lead in lap 2. TQ Ryan "Tiny" Welch would fall to 6th spot as the train goes by after Luke's pass. Through the traffic, Chris Lim and Logan Ruck would move to 2nd and 3rd, with Ryan pulling up to within 1.5 seconds of Logan as the race finished.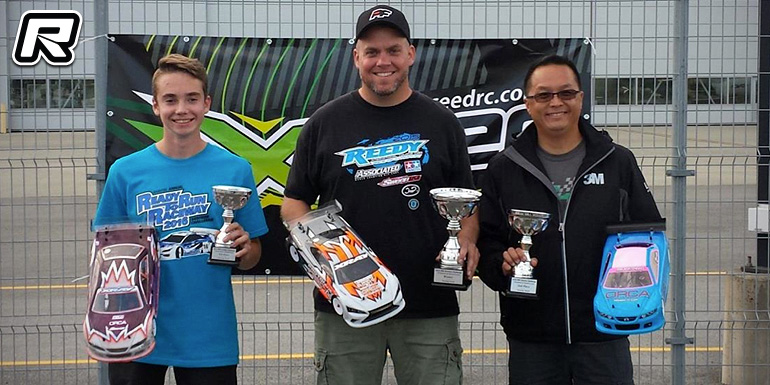 Touring Stock top 3 result:
1. Luke Pittman – Xray
2. Chris Lim – Awesomatix
3. Logan Ruck – Xray
The open wheel race of the Formula class started with Alex Pate getting the holeshot and pass into the sweeper turn, but a mistake would allow Justin Gilkeson to take the lead followed by TQ Ed Mardones. The top three would swap positions for most of the race and finish with just a 2 second gap between each driver.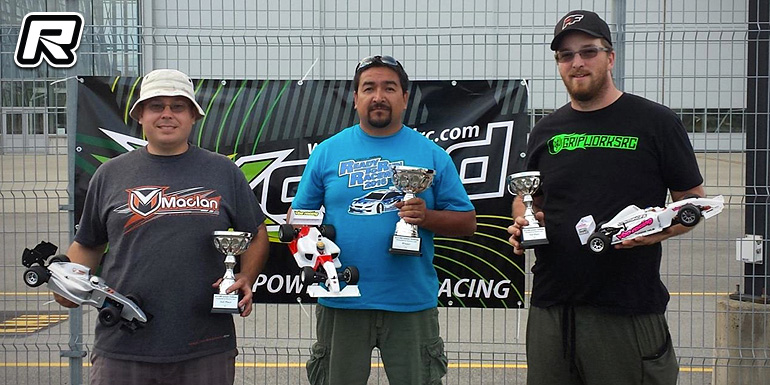 Formula top 3 result:
1. Ed Mardones
2. Justin Gilkison
3. Alex Pate
In a field of scale bodies, spoked rims, and proper looking spoilers, Scale Spec TQ Ken Ho would lead a train of cars through the race. Swapping positions with Franko Roberts throughout the race, it came down to the last three laps where Ken would take the lead and run to the line, just 0.6 seconds ahead. The top five cars would all finish on the same lap. Jason Lee would lead the second pack of cars on the lead lap to the finish line and claim 3rd Place.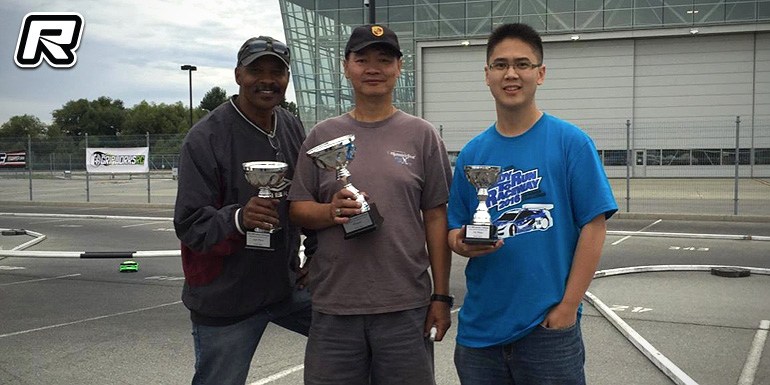 Scale Spec top 3 result:
1. Ken Ho – CSO
2. Franko Roberts – Tamiya
3. Jason Lee – Tamiya
In Nitro Enduro a field of six cars would start the race, but only three would finish. This associates with a lot of nitro mains where cars would suffer breakages and failures. Car owners worn and tired from the previous days racing would richen the engines up slightly, and plan pitting and tire change strategies during the electric enduro. The pit strategies would hover around the five to six minute mark for fuel stops, 1.5 hours for the receiver batteries, and around 50 to 70 minutes for a set of almost full size tires. Team Red Necks would take the early lead, but the hounding from Team Serpent and VBC Xray RRR would have them in 3rd spot by the 30th lap. Team OGRe originally was an electric only team, but a car fronted to one of its electric members joined by other last minute racers would allow them to enter a car minutes from the start of the race. This team braved it all: chunked tires, a dismounted body, running out of fuel and having to switch brands. JTFB with their consistent laps take over the lead shortly after the 1 hour mark. They would hold it until the last 20 laps of the race where VBC XRAY RRR had been working down the gap, and both cars were under control of the cars owners. John Tsang would take over the lead but for not more than a lap or two as pressure from Nick Keown would display a show of checking up and braking for the lead car. With only minutes to go, John would go for a final pass and lead both cars to the finish line, only 0.5 seconds apart after three hours.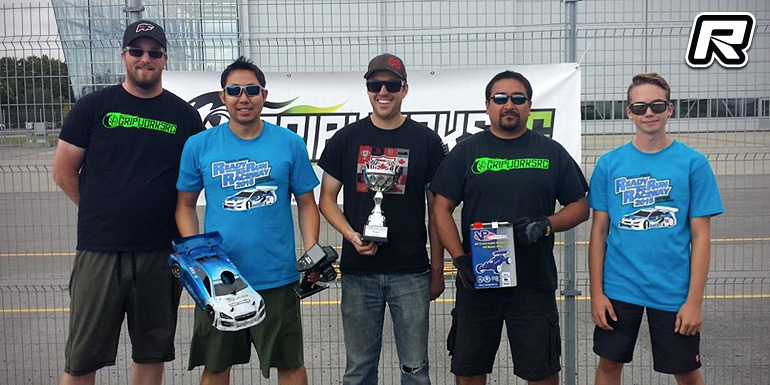 Nitro Enduro top 3 results:
1. VBC XRAY RRR – Xray – 609L 180:02.1
2. John Tsang Fan Bus – Xray – 609L 180:02.6
3. OverGearedRacing Electric – Xray – 545L 180:10.1
Take a Touring Stock car that is prepped for a 5 minute heat. Now throw it on the track and race it for three hours? Right, that doesn't work. Out of the six Electric Enduro teams of four to six drivers, five would manage to finish, against all breakages and friendly bumps from the other cars throughout. This electric enduro was the waking of all the racers from the day prior and to get the adrenaline going. All cars were slightly de-tuned from their paces the previous race day, as the wear, heat, and fatigue of three hours would begin to show around the two hour mark. Teams mostly stuck to 20 to 25 minute battery swaps, with the John-Tsang-Fan-Bus team opting 10 to 15 minute swaps a few times for catching up – it would pay off for them as they got the lead one hour into the race. VBC-XRAY-RRR team would retrieve the lead at the second hour, and keep it to the finish, noting a very quick 20 second tire swap. Team OverGearedRacing-electric would be frustrated as they had the early lead, but suffered multiple parts failure. They managed to keep their 3rd place above the other teams with a healthy lead above Team Serpent in 4th place, whom also had multiple pitstops for repairs.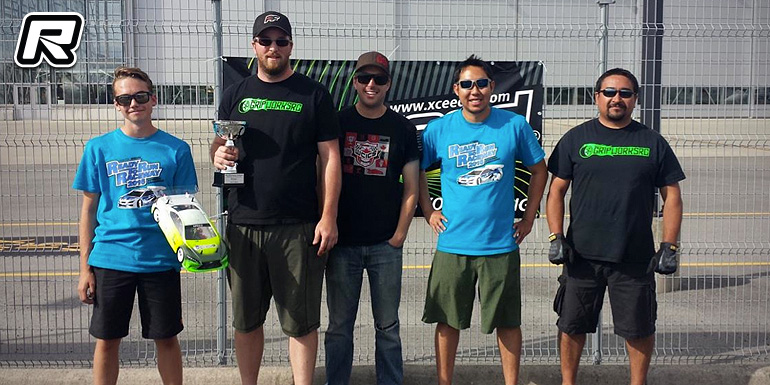 Electric Enduro top 3 results:
1. VBC XRAY RRR – VBC Racing – 564L 180:04.9
2. John Tsang Fan Bus – Xray – 563L 180:06.2
3. OverGearedRacing Electric – VBC Racing – 497L 180:13.7
Source: Ready to Run Raceway [facebook.com]
---