August 18, 2016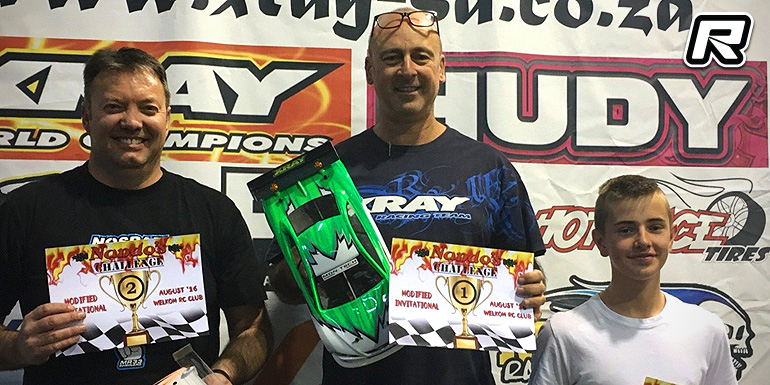 The Nandos RC Challenge was held at the high-grip indoor asphalt track at Welkom RC Club in South Africa. The drivers were seeded according to their 2015 National results and the current national standings and then divided into the Invitational, Cup and Plate groups in Touring modified. The challenge took on the Reedy-style heads-up racing over five rounds. In Modified Invitational local driver and track owner Antonio Caroli had an excellent day at the track and won all the races with fast and consistent runs. He was however kept honest by youngsters Jacques Myburg and Ashley Hurley and the experienced Anderton Smith also pushed hard to beat Antonio. The other drivers Willie du Plooy, Shaun Schutte and Andre Greeff showed good pace and used this event for preparation of the upcoming Nationals in September.
Invitational top 3 results:
1. Antonio Caroli – Xray
2. Anderton Smith – Xray
3. Jacques Myburg – Xray
The next group was the Modified Cup where young Dillon du Plooy showed that he belongs in the Invitational group at the next Nandos by dominating the five races with some quick laps. Willie Noortman and young Pedro de Guiveia also had good and consistent runs which guaranteed their podium finish.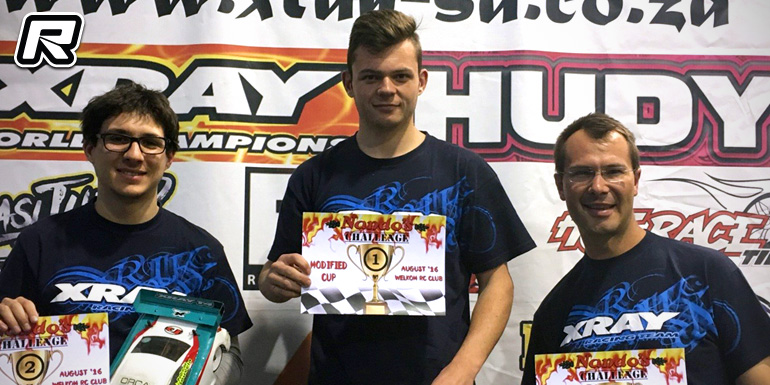 Cup top 3 results:
1. Dillon du Plooy – Xray
2. Pedro de Gouveia – Xray
3. Willie Noordman – Xray
The third group in the Modified class consisted mostly of club mates from Secunda and another young and fast driver, Juan Landman. It was a great battled between Xray drivers Pieter de Villiers, Hannes Kruger and Gustav Engelbrecht for the remaining podium positions with Juan Landman showing more consistent and fast runs in his Xray to take the win.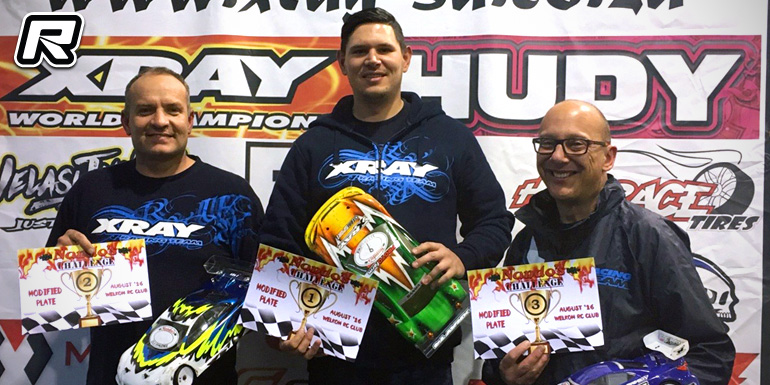 Plate top 3 results:
1. Juan Landman – Xray
2. Hannes Kruger – Xray
3. Pieter de Villiers – Xray
In the Pro-Stock class and with some of the top drivers not able to attend, it was a great battle for the win between Bianka Landman, Jean Wessels, Johan Wilters, Christopher Dolphin and Jacques Albrecht. One of the strong contenders for the 2016 national title Alex Ribeiro showed his great pace but some dependability issues meant that he could not compete in all the races. Jean Wessels grabbed the opportunity and won enough races with consistent runs to win the Pro-Stock class. Johan Wilters and Bianka Landman completed the podium.
Pro-Stock Results:
1. Jean Wessels
2. Johan Wilters
3. Bianka Landman
Source: Xray [teamxray.com]
---