August 16, 2016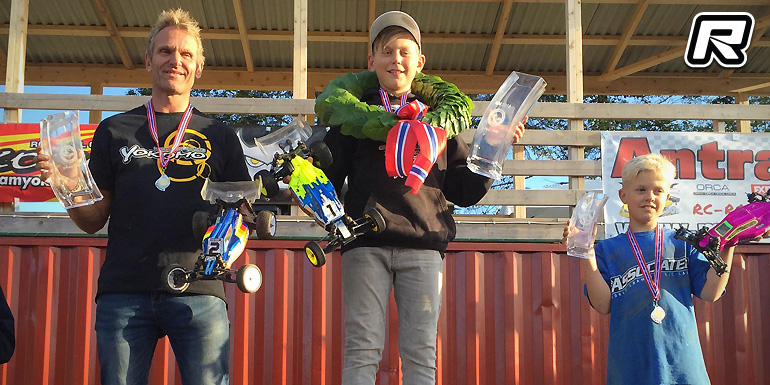 The Norwegian Electric Off-road Nationals, run in 2WD Modified and 4WD Modified Buggy classes, were held this part weekend at the Innherred RC Klubb in Levanger. The weather forecast wasn't too promising but after some hard work of the club and some volunteers the clay track was ready for the weekend of racing. The weather limited practice before the event so at first it looked like the local drivers would be on top. Yokomo's Daniel Kobbevik had a good start into the event as he showed a very fast pace from early on. Behind him, Roy Gemble also was very quick but electrics gizmos later on meant the BQ for the unlucky driver. The 2WD top 3 after the qualifiers would then read Daniel Kobbevik on the TQ from Eirik Andreassen (Yokomo) and Torbjorn Doler (Team Associated).

When the finals started it was clear that only technical issues could hold Daniel back so the race for the remainder of the podium spots was on between Eirik and the other top drivers and out of the blue it was Alexander Gemble (Team Associated) to grab the final podium spot after some swift driving in the finals.
2WD Modified Buggy final results:
1. Daniel Kobbevik – Yokomo
2. Eirik Andreassen – Yokomo
3. Alexander Gemble – Team Associated
4. Thorbjorn Doler – Team Associated
5. Arne P. Flesvik – Yokomo
6. Niclas B. Roos – Team Associated
7. Sindre Reitan – Schumacher
8. Oysten Doler – Team Associated
9. Steffen Hjortshoy – Schumacher
10.Marius Kristensen – Serpent
The 4WD class, run on Sunday, also started with a bad weather forecast as some really heavy rain hit the track that looked more like something a boat race could be held on. But after some again great work of club and volunteers the organisers gave it a try. The track proved to be slippery but drivable and after skipping the reseeding it was decided to run one practice round and to start with the qualifiers. As in 2WD Daniel Kobbevik was the driver to beat and the bumpier the track got the fast Daniel got. After the four rounds Daniel took the TQ as expected with Roy Gemble in second and Eirik Andreassen third.
Before the finals the track got maintained but it was still very bumpy, meaning a lot could happen in the triple A-final legs. But Daniel had other plans and deciding this would be his weekend he was hunting for track records despite the track conditions, taking the second title of the weekend in front of Roy Gemble (Schumacher) who came out good after the electronic problems on Saturday. Eirik though struggled a bit with his buggy's setup but with routine and driving skills he still managed to maintain a podium spot.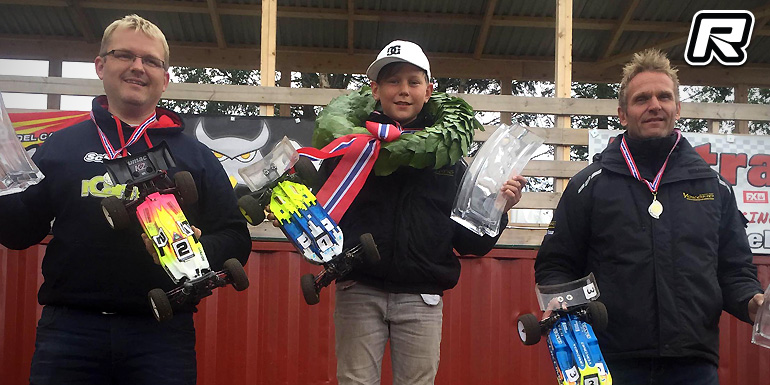 4WD Modified Buggy final results:
1. Daniel Kobbevik – Yokomo
2. Roy Gemble – Schumacher
3. Eirik Andreassen – Yokomo
4. Arne P. Flesvik – Yokomo
5. Niclas B. Roos – Team Associtaed
6. Marius Kristensen – Serpent
7. Sindre Reitan – Schumacher
8. Stefffen Hjortshoy – Schumacher
9. Alexander Gjemble – Team Associated
10.Jan Arild Orahaug – Xray
Source: WayToWin
---