August 22, 2016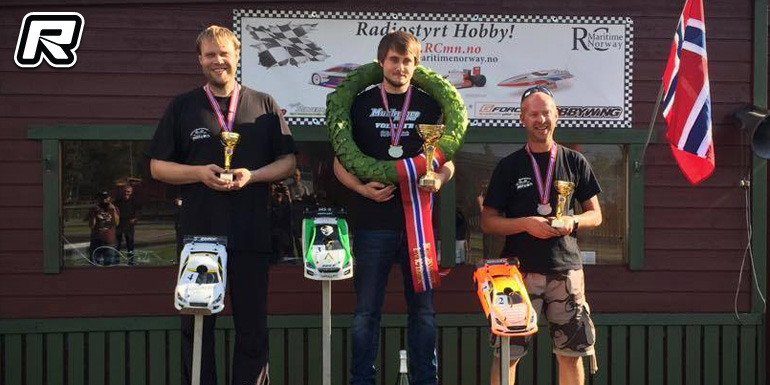 The Norwegian Nitro Touring Championship was held this past weekend at the Lorenskog Modellbilklubb in Norway. With several pre-event favourites this year's championship was considered to be one of the most exciting in years and it was local driver Trygve Bull Freng who took the TQ and the pole position for the A-main final, followed by André Roine, Jonas Ramsrud, Espen Myhre and Anders Mikkelsen who made up the top 5 on the starting grid. The reigning champion, Trygve Bull Freng has already shown his go-fast ability, but the other drivers has also had a very high pace meaning they would be a real threat for Trygve's title ambitions.

And so Bull Freng jumped into the lead at the sound of the tone while the others swapped places, trying to chase him as best as possible. After the third round of pit stops, Mikkelsen, sitting in 3rd place, was out after having no teeth left on his rear belt, missing his chance to be on the podium. On lap 69, Trygve Bull Freng lost the 1st gear on his car which had him drop down to 5th place, and for the first time Jonas Ramsrud took the lead. Picking up in pace, Bull Freng managed to climb up to 2nd place, but an unfortunate engine stop on lap 132 made sure he would miss the podium, eventually ending the race in 4th place. On lap 145, André Roine, currently 2nd, also lost his 1st gear, and he was passed by Espen Myhre while installing the new gear. Up front Espen Myhre kept chasing Jonas Ramsrud, but ultimately Ramsrud had both the higher speed and more foam left on the tyres and so he would take the win some 8 laps ahead of Espen Myhre while Andre Roine completed the podium in third, another lap down.
Final results:
1. Jonas Ramsrud
2. Espen Myhre
3. Andre Roine
4. Trygve Bull Feng
5. Hand Nikolaisen
6. Brede Isaksen
7. Anders Fleischer
8. Anders Mikkelsen
9. Kai Hogden
10.Stian Engen
Thanks to Anders Mikkelsen for the report.
---