August 23, 2016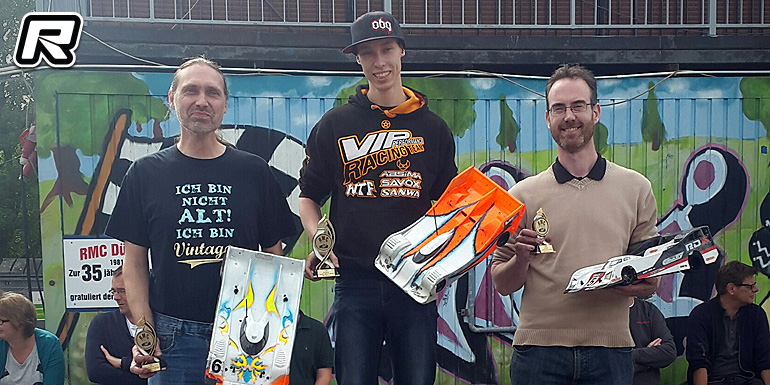 After an 8-week break the 2016 RC-Lemans Series continued with round six held at the RMC Düren track. The weather forecast for the weekend promised unsteady weather with Saturday's practice underwent in cold but dry conditions. The opening round of qualifiers on Sunday morning would then be held on a dry track but in time for round 2 it started to get wet meaning all drivers would opt to sit out the remainder of the morning. Thankfully in time for the finals the weather cleared up and the mains would be run on a dry track.

In the LMP1 Modified class it was newly crowned 2016 RC-Lemans champion, Tim Altmann who took the TQ from his brother Kai and Tobias Weist in third. All three drivers scored 20-laps runs. Reinder Wilms, Christian Fischer, Peter Plümacher, Ben Voorhaar and Uli Steinkau came close behind with all hoping for issues of the top drivers on the tight and technical track. LMP2 Stock had Timo Schad taking the TQ a lap ahead of his father Rainer and championship leader Mathiijs Hermens. Franz-Jakob Reinartz, Jörn Bauer and Andreas Dick completed the top 6.
The finals were held in difficult conditions as the rain had washed away all of the traction but this did not hold Timo from winning all three A-mains in style. Rainer Schad took the runner-up spot with two second place finishes while Mathijs Hermens had to settle for third.
While the LMP2 class was a pretty straight forward affair for the winner, the LMP1 class had a bit more drama to offer. In the opening A-main Tobias took profit of driver issues in front of him and so he took the win from Tim and Kai Altmann. Tim though stroke back in A2, taking the win from Tobias and Kai. This meant the decision for the day's win would be shifted to the third and final A-main that saw Tobias having a moment on the straight, taking him out of the equation. Up front the family fight between Kai and Tim ended with Kai on top, but due to a different scoring system this round, with the combined times of the fastest legs used to determine the overall score, it handed Tim the overall victory from Kai in second and Tobias in third.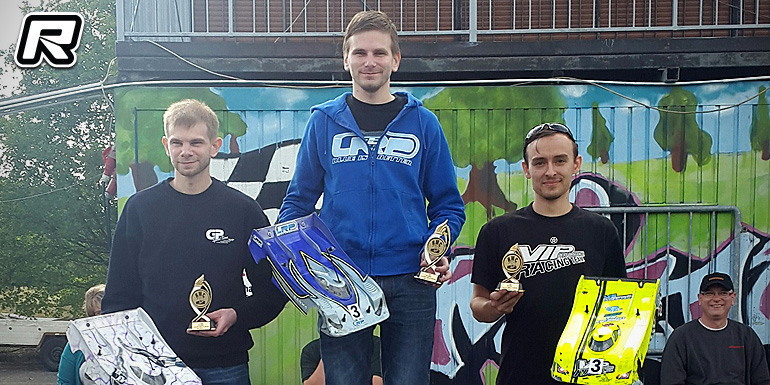 The final round will be held early October with Timo and Mathijs battling it out for the LMP2 championship while in LMP1 the race for the runner-up spot is on between Kai, Tobias and Reinder.
Source: RC-Lemans [rc-lemans.de]
---