August 1, 2016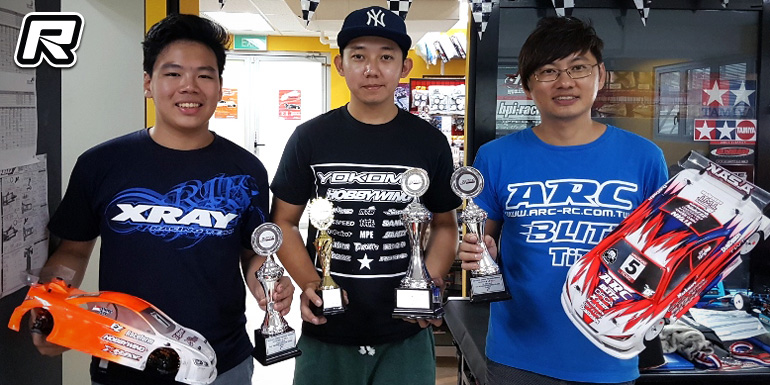 The recent 8th round of the Singapore Urban Touring Series welcomed its largest race turnout at the weekend with a total of 40 entries thanks to the newly added Formula class. Most of Singapore's top EP racers were in attendance, ensuring a super competitive field. In the Touring Open class a total of 16 racers took the start and at the end of qualifying, it would be Yokomo's factory driver Nicholas Lee who would dominate, winning all four rounds of qualifying. Despite an absence of eight months from racing, Xray's Daryl Thong would qualify second, while Destiny's Esmail Apandi ended up third.

Due to rain, only two of the scheduled three legs of the finals would be run. Nicholas took the win in A-main leg 1, with ARC's PY Tang in second, while Xray's Dominic Quek came home third. In leg 2, Nicholas led before becoming involved in a racing incident, handing the lead to PY Tang. PY would just about hang on to take the win from a hard charging Nicholas. Yokomo's Eugene Goh would finish third in leg 2. With one of the two legs to count Nicholas would take the day's win from PY with Dominic in third.
Touring Open final results:
1. Nicholas Lee – Yokomo
2. PY Tang – ARC
3. Dominic Quek – Xray
4. Eugene Goh – Yokomo
5. Daryl Thong – Xray
6. Ng Wei Jian – Tamiya
7. Hasron Robana – Xray
8. Esmail Apandi – Destiny
In the 17.5T Non-Boost class the first three rounds of qualifying saw three different racers topping the time sheets, Tamiya's Ng Wei Quan would ultimately prevail and grab overall the TQ with a storming run in Q4. Ng Wei Jian (Tamiya), the younger brother to Wei Quan, qualified second on a tie-break from Leonard Sim (Awesomatix). In the finals, Leonard Sim broke through to win in leg 1 by a narrow 0.5 seconds from Wei Jian, while Wei Quan finished third. In leg 2, Leonard Sim hit the track's tire wall which then required some trackside repairs. This gave the lead over to the Ng brothers, who engaged in a fierce sibling battle. After a couple of contacts between the pair, Wei Quan secure the win by a very slim 0.2 seconds from Wei Jian. Hasron Robana finished third. With the final results tabulated, Leonard Sim was declared the overall winner on a tie break by 1.4 seconds over Wei Quan, while Wei Jian would finish 3rd.
Touring 17.5T final results:
1. Leonard Sim – Awesomatix
2. Ng Wei Quan – Tamiya
3. Ng Wei Jian – Tamiya
4. Hasron Robana – Tamiya
5. Tony Neo – Awesomatix
6. Scott Pettet – Yokomo
7. Joe Hwee – HB Racing
8. Danial Miswan – VBC
Ten racers took the start in the first Formula class run as part of the series. Qualifying was based on the best 2-consecutive laps over a 15-min session. Leonard Sim (Tamiya) secured TQ, followed by Joe Hwee (Exotek) and Allister Lim (Xray). In the finals, Leonard Sim stamped his authority with relatively easy wins in both legs. Xray's pair of Allister Lim and Charles Lim took home overall 2nd and 3rd respectively.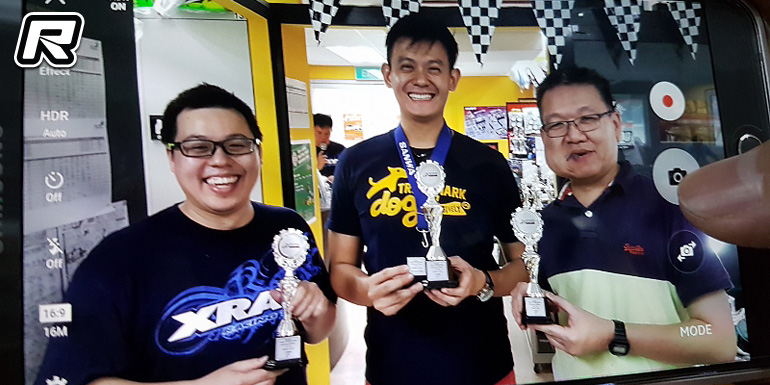 Formula final results:
1. Leonard Sim – Tamiya
2. Allister Lim – Xray
3. Charles Lim – Xray
4. Joe Hwee – Exotek
5. Smith Kek – Shepherd
6. Chhua Joo Kiah – Tamiya
7. Andrew Law – Tamiya
8. Pason Phua – Serpent
9. Michael Siow – Capricorn
10.HJ Quek – Xray
Source: Xray [teamxray.com]
---