September 12, 2016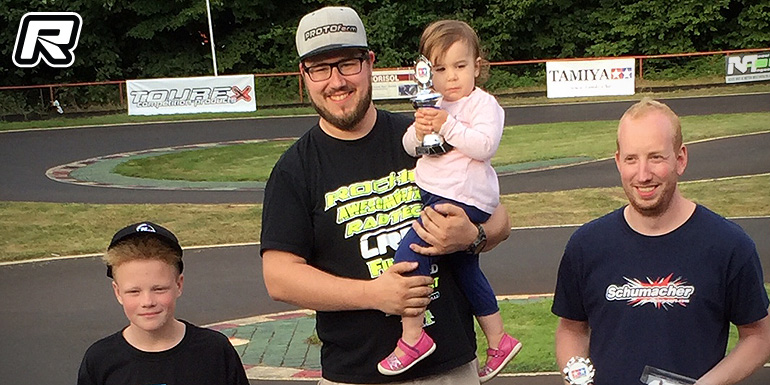 For the sixth year running, the Tamiya Benelux finals were held at the fast and flowing track of MAC de Baanbrekers in Rucphen. Bringing together the best Tamiya drivers from The Netherlands and Belgium the event had a record attendance of 116 driver that raced in several classes including a Porsche 997 GT3 endurance race that was held on Saturday evening. The 2-day event saw timed practice and the opening qualifiers on Saturday followed by another qualifier and triple 7-minute A-mains on Sunday. Euro GT was the fastest class of the championship and it attracted the strongest field ever that included multi-Belgian champion Bart Vervloessem and his brother Jan Vervloessem, 2004 Tamiya F1 European Champion, Michael Lepelaer, Belgium's former Stock Champion Stefan Rommens, 2006 Tamiya World Championship finalist Rob Chaldecott, Dutch Open Stock and Tamiya 2016 Champion Robert Krens as well as young Florian Joos. 10-times Belgian Champion and ETS winner Olivier Buytinck made a shock return to the Tamiya Cup races and set a very high benchmark for the other drivers.

Ollie took a commanding TQ and won the first A-main with a record 27 lapper. Tyre issues though made his car very difficult to drive in A2 and this handed the win to Florian Joos, ahead of Stefan Rommens, Bart Vervloessem and Cees Lagerwaard. The third A-main would decide the overall win between Ollie and Florian. Robert had to finish in second position to get the last podium spot and had saved a last set of tyres. The leg started off with a very close race between Ollie, Florian, Robert and Bart. Bart had an issue and dropped out of this battle, so the three off them raced nose to tail to the finish line and the final ranking was Ollie from Florian, Robert, Stefan Rommers and Bart Vervloessem.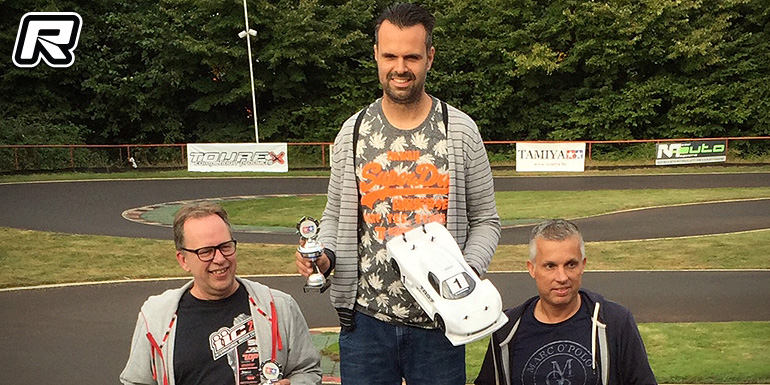 The Euro TC class was run with Tamiya TA07, TA06 or TA05 "plastic" chassis kits. This class was completely dominated by Dutch drivers and with his new TA07, Eric Bresser was a class of his own and the only driver to set 25 laps in the final. Eric Mulder took his TA07 to second spot while Jan Kraanen finished in a great third position. First Belgian driver was Philip De Keersmaecker, who qualified in second position. He was followed by André Heskamp. A special mention goes to Matthieu Lecutier who drives his racing car from a wheel chair. He is the reigning 2016 Belgian Champion and qualified in third position but was a bit unlucky in the finals.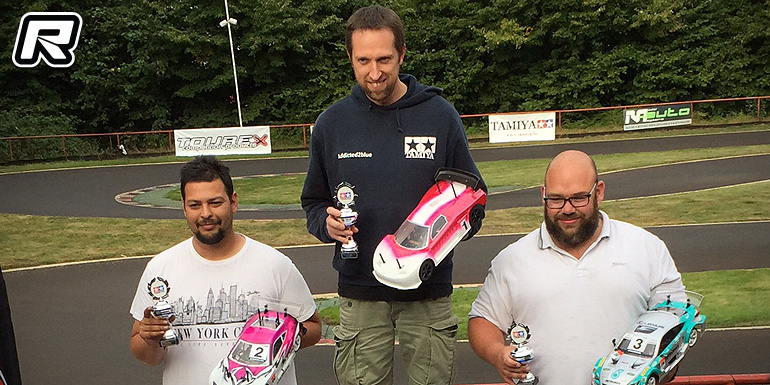 Tamiya Top Stock proved to be the most popular category with 27 entries. Because the racers all use TT01 or TT02 chassis powered by the Carson Cup motor the speeds were evenly matched. Being successful came down to car preparation and driving neat lines. Belgian Tamiya guru Dirk De Ceularde took a commanding TQ and win in front of Dutch drivers Ruud Knoester and Kevin van Leent. Young and talented local driver Roel Jongenelis took a great fourth place overall using a rental car and Dennis Van der Wagt completed the top 5.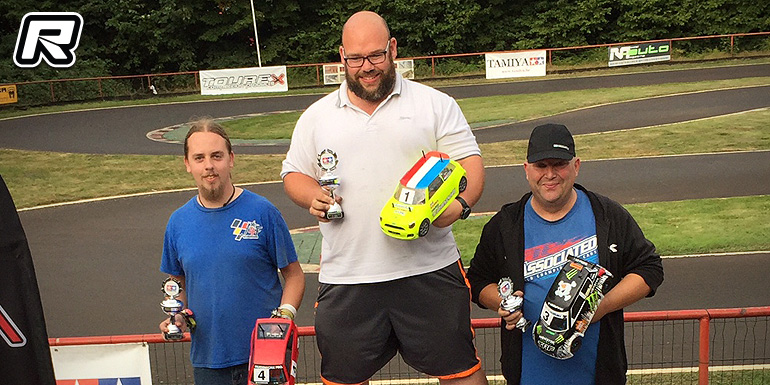 Perhaps the most fun class to watch was M-Chassis. People can choose from a wide selection of FWD or RWD cars and different bodies. Yannick Rommens even had the guts to drive a vintage and expensive Toyota Celica Group B bodyshell on his M06, which was a great sight on the track. The race was a hard battle between the Belgian Champion Karl Van Camp and the Dutch Champion Kevin Van Leent with each splitting the win in A1 and A2. When Karl made a small mistake in A3, Kevin got by and never looked back to take the win and the Benelux title. Karl finished second in front of Dutch driver Alex Kleingeld. Arnold Bijl finished in fourth ahead of Jannick Rommens with his RWD M06.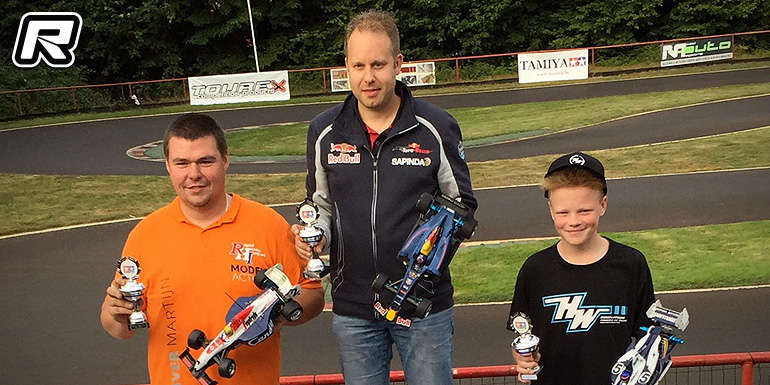 The Formula class, run with 21.5T Hobbywing or Team Orion motors saw a variety of different chassis with the F104 Pro, TRF101, TRF102 and F104 V2 all being in use. Some drivers had great bodies and it seems that Max Verstappen made Red Bull very popular in Holland. The first two finals were pretty much a battle between the Dutch 2016 Tamiya Champion Marco Sakko and Formula specialist Martijn Van der Heijden. After two 7-minute battles, both took a win with a 0.7 second advantage over the other. Florian Joos finished both leg in third, some 3 seconds back. Martijn was very unlucky in the third final when he had a coming together with Robin Van Gog. Martijn waited for Robin to recover but that gave the win and the title to Marco who did not look back. In the end it was Marco from Martijn and Florian who was the only Belgian driver. Rob Kuijper and Robin Van Gog finished in fourth and fifth respectively.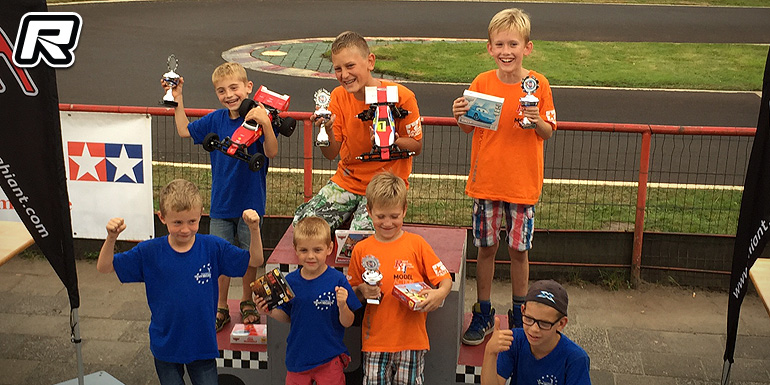 Tamiya has a heritage of bringing a lot of youngsters into the hobby, and this event showed it has a great recipe to do so with the popular Fighter Buggy race. Ten young drivers competed with the Tamiya DT03 buggies for the win. Dutch driver Lorenzo Van Leeuwen took a commanding TQ and victory over Belgium's 6-years old Arno Damiaens. Maarten Wouters completed the top 3. Meijndert Wouters and Jonas Damiaens finished in fourth and fifth respectively.
Source: T2M [t2m-rc.fr]
---