September 12, 2016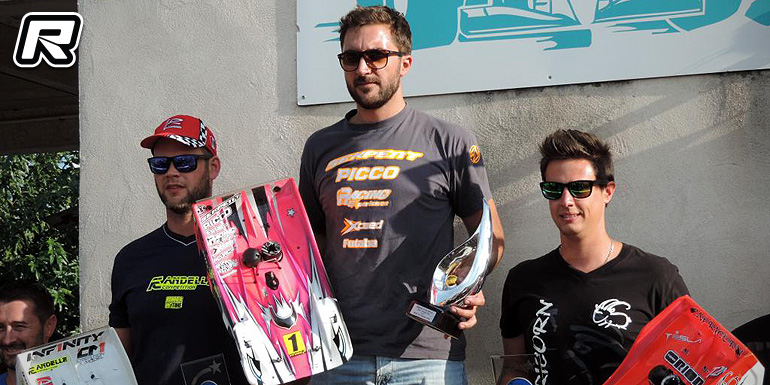 The final round of the 2016 French 1/8th On-road Championship was held at the Beaumont-Monteux track last weekend. The weather was perfect with warm temperatures and bright sunshine. Leading the championship going into the final round Arnaud Mathieu (Capricorn) would only need a fifth place finish to take the overall Elite class title. The qualifiers saw Christophe Louis (Mugen) taking the top spot in front of Leo Arnold (Xray), one of the title contenders, while Arnaud Mathieu rounded out the top 3.

On Sunday, it was Anthony Abisset (Serpent) who took the pole position on his home track after the semifinals in front of Arnaud Mathieu and Richard Volta (Infinity). Leading the race from the beginning to the end, Anthony secured the victory in front of Richard while Arnaud managed to take the last spot on the podium which was enough to allow him to claim his second French 1/8th Elite title in front of Anthony Abisset and Léo Arnold, 2nd and 3rd overall.
Full results:
1. Anthony Abisset – Serpent/Picco
2. Richard Volta – Infinity/Novarossi
3. Arnaud Mathieu – Capricorn/Team Orion
4. Romain Delaunay – ARC/O.S.
5. Antoine Gaschet – Mugen/Reds Racing
6. Stephane Bouche – Shepherd/Novarossi
7. Damien Thirion – Serpent/Picco
8. Léo Arnold – Xray/Team Orion
9. Thomas Eytard – Xray/Max
10.Jérome Papaconstantinos – Mugen/O.S.
Source: Capricorn [capricornrc.com]
---