September 15, 2016
The fourth round of the 2016 South-African ORE National Championship was hosted by the Welkom RC Club, home of the 2018 IFMAR ISTC 1/12 world championships. The track had great traction with a technical but fast layout for the event. As a result of the 2018 IFMAR Worlds being hosted in South Africa, some of the young talented drivers came out of "retirement" to start their qualifying quest for the worlds. The Touring Modified class is steadily growing, and the drivers needed to be at their best to qualify for the A-mains. Alexander Hagberg participated as invitational pro driver, and his presence motivated the local drivers to push hard and go faster. Alexander showed his world class talent and pace, and dominated the event from practise through qualifying, and also the A-finals. The battle for the podium was intense, with great runs from Anderton Smith, Antonio Caroli, Ashley Hurley and Shaun Schutte. Youngster Ashley Hurley showed great pace and consolidated the second place with Shaun Schutte taking the third podium spot. On Sunday Alex grabbed the overall win early courtesy of wins in A1 and A2, and then took some more risks in A3 and set a new lap record of 12.8s. With only one round remaining in the South African championship, Jason Hillcoat is on the brink of winning the SA Championship Title for 2016, after winning round 1 and 3.
Modified Touring final results:
1. Alexander Hagberg – Xray
2. Ashley Hurley – Xray
3. Shaun Schutte – Xray
4. Anderton Smith – Xray
5. Jacques Myburgh – Xray
6. Hein Kotze – Xray
7. Antonio Caroli – Xray
8. Deon Gove – Xray
9. Willie du Plooy – Xray
10.Jason Hillcoat – Xray
The Touring Pro-stock 13.5T blinky class was very competitive, with very fast laps recorded by these drivers. Shaun Schutte and Deon Gove, as well as championship leader Alexander Ribeiro, all ran sub 14s laps which was super-fast and faster than some of the Modified drivers. Shaun Schutte managed to take TQ and it was a great battle between him, Deon Gove and Jonathan Wilken in all three finals. Deon eventually managed to win the event with wins in two of the three finals.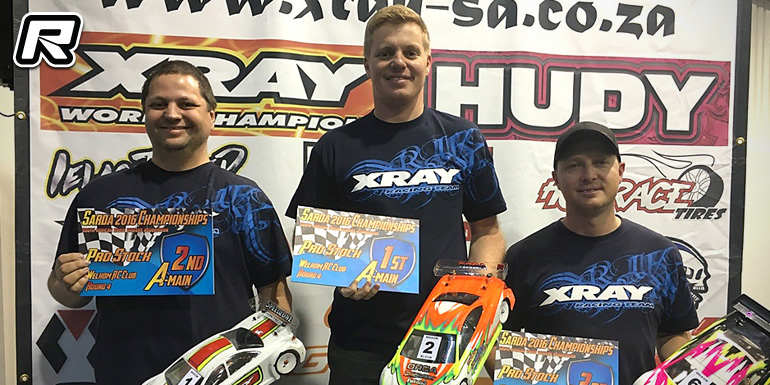 Pro-Stock final results:
1. Deon Gove – Xray
2. Shaun Schutte – Xray
3. Jonathan Wilken – Xray
4. Alex Ribeiro – Team Magic
5. Charles Hollander – Xray
6. Marius van Niekerk – Xray
7. Juan Wessels – HPI
8. Willem Janse van Rensburg – VBC Racing
9. Hennie Viljoen – VBC Racing
10.Danie Delport – Xray
The 13.5T FWD class was dominated by Eugene Wessels during the weekend, and he eventually took the TQ and win with great consistency throughout his runs. There was a great battle for second and third between Christopher Dolphin, Hennie Viljoen and Fanie Viljoen Sr.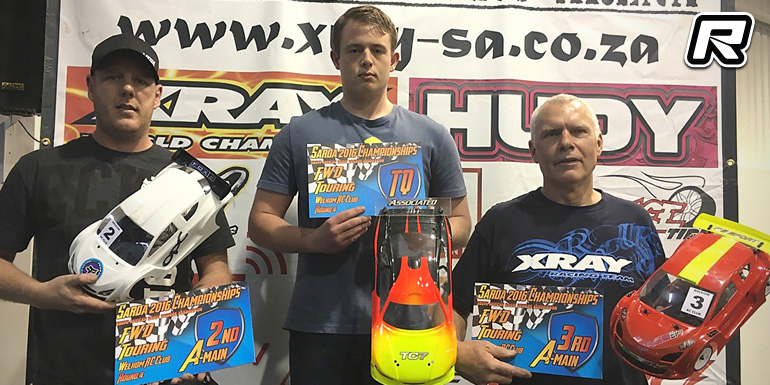 FWD final results:
1. Eugene Wessels – TOP Racing
2. Hennie Viljoen – VBC Racing
3. Christopher Dolphin – TOP Racing
4. Fanie Viljoen Sr – VBC Racing
5. Paul van der Westhuizen – VBC Racing
6. Ben Kriegler – Team Powers
7. Fanie Viljoen Jr – TOP Racing
8. Sarel Pretorius – n/a
The 1/12th Modified class was spectacular to watch with multi-European Champion and Worlds A-finalist Alexander Hagberg leading the field. During practice and racing, Alexander showed his world class skills, talent and speed and dominated the event with super fast and consistent laps. Alexander's 2015 lap record was set at 12.1s but with great traction and conditions Alex pushed fast laps and managed to improve his own record to 11.7s. It was up to Xray team mates Willie du Plooy, Shaun Schutte and André Greeff to battle for the remaining podium positions.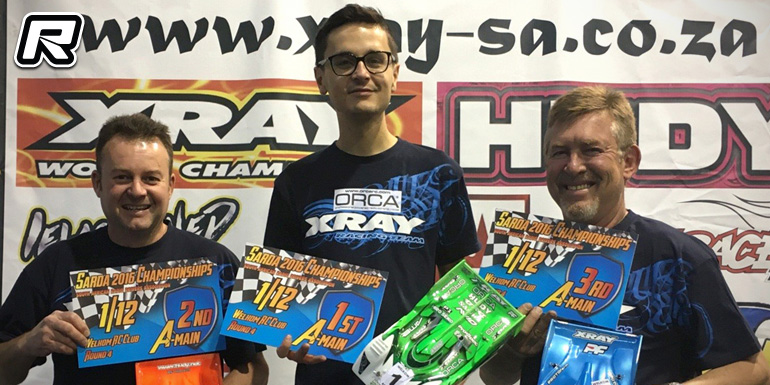 1/12th Modified final results:
1. Alexander Hagberg – Xray
2. Willie du Plooy – Xray
3. André Greeff – Xray
4. Shaun Schutte – Xray
5. Willie Noordman – Xray
6. Charles Hollander – Yokomo
The popularity of the Formula class is increasing and it were the usual fast guys Jonathan Wilken, Pedro de Gouveia and Tyronne Wilken, who showed great pace right from the start. Pedro managed to take the TQ, and eventually went on to win A1 and 2, with fast and consistent laps, and also fending back a hard charging Jonathan Wilken. These drivers were closely followed by the youngsters Marius van Niekerk and Tyronne Wilken, with Marius eventually finishing third.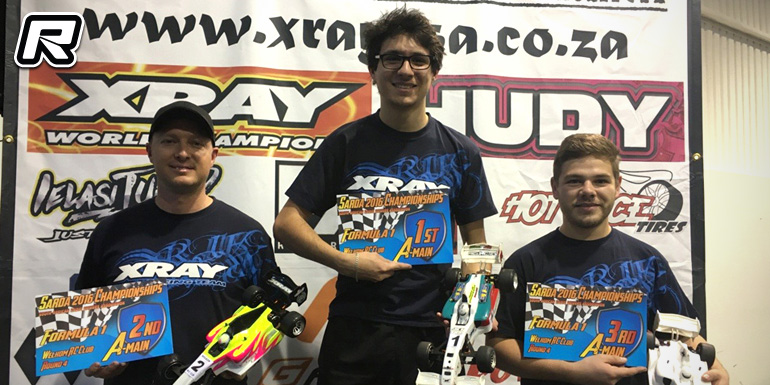 Formula final results:
1. Pedro de Gouveia – Xray
2. Jonathan Wilken – Xray
3. Marius van Niekerk – Xray
4. Tyronne Wilken – Xray
5. Jared Rabe – Xray
6. Michael Rabe – Xray
7. Diederik Kruger – Xray
8. Riaan Truscott – Xray
Source: Xray [teamxray.com]
---