September 28, 2016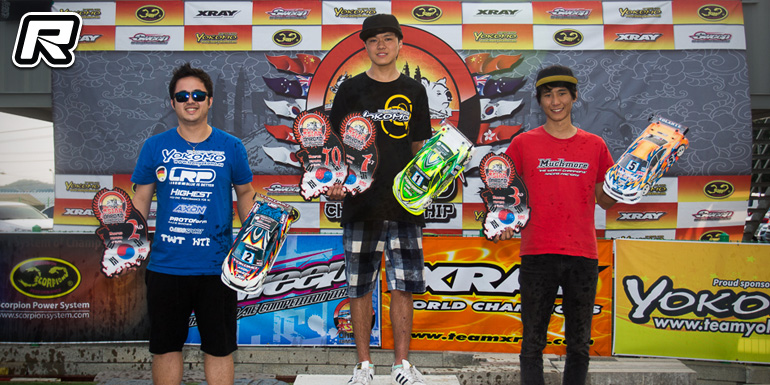 The Asian Onroad Championship made its first ever appearance in South Korea at the GRC Circuit in Gimpo City, which is just a few minutes outside of Seoul, for round three of the series. The anticipation was high along with the excitement and enthusiasm as Korean racers were treated to the special appearance of some of the best racers from around the world including newly crowned IFMAR ISTC World Champion Ronald Volker, Worlds A-main finalist Naoki Akiyama, Worlds B-main finalist Ryosuke Yamamoto, and Worlds third place finisher Viktor Wilck. The stage was set for another fantastic AOC as the vibe and energy of the atmosphere was addictively electric.
GRC track owner, Kim Yun Tak did a fantastic job with focused efforts on presentation, hospitality, and organization and it showed. From the moment the cars hit the track for practice to the awards ceremony, the program was flawless and the weekend was absolutely brilliant. For those who haven't been able to visit GRC yet, GRC Circuit has three tracks built onsite to cater to indoor on-road, indoor off-road, and of course an outdoor Touring Car track. In some ways it could be considered the "Yatabe Arena" of Seoul, Korea. Since the facility was only started in 2012; there is still a long way to go, but with the right guidance and support, perhaps one day it will become something similar to the modern day RC megaplex of Yatabe.

The layout consisted of a long tricky sweeper coming on and off the far side straightaway that was very tricky because of the island mounds that inhibited real estate space on the highest speed sections of the track. This caused the lanes to narrow down and resulted in drivers having to be ultra precise and confident not to drift too wide and send their cars on a horrible path of destruction. The infield was tight and required cars to have the perfect balance between high speed steering and stability along with low speed steering and traction to get quickly through the infield. The perfect fast lap was hard to execute as the window of high traction was greatly dependent on the life of the tire. New tires were definitely faster, but the max tire count was four sets and each racer had to devise their own tire strategy for four qualifying runs along with triple A-mains for all classes.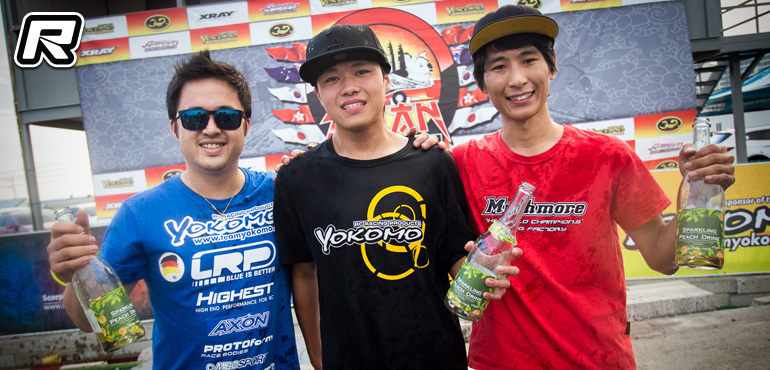 The Modified Sedan class saw two teammates go head to head for the AOC round 3 Championship. It was an intense showdown between World Champion and protege that stole the show South Korea. Yokomo's Ronald Volker and 17 year old teammate Naoki Akiyama put on a brilliant show from start to finish. Unfortunately for the newly crowned World Champ, Volker was on his back foot from the very beginning as he would encounter back marker incidents in Q1 and Q3, which resulted in two DNFs. Flawless and fast, Akiyama would set quickest time in Q1 and Q2, which forced Volker on new tires in Q3. After earning top honors, Akiyama had saved two new sets for the mains along with grid position, which he would use to his advantage.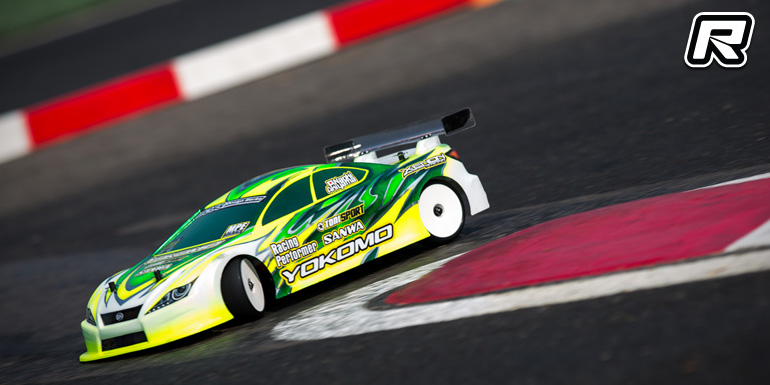 A1 saw the two Yokomo teammates work together for a majority of the race until they built a comfortable cushion from the field. With 1 minute left, Volker went on the attack trying to find any small gap, but Akiyama was defending perfectly. Small gaps would appear, but Volker was unable to get by cleanly resulting in touch resets. Finally, the field would start to close back in and Volker would have to concede A1 to his young teammate. Akiyama would put in a magical performance to take a crucial win in A1 as the tire strategy would play into his favor with a new set of tires for A2 while Volker had zero. Serpent's Viktor Wilck would move up a spot from his 4th place qualifying position to finish A1 in third and giving him a strong chance at making the overall podium.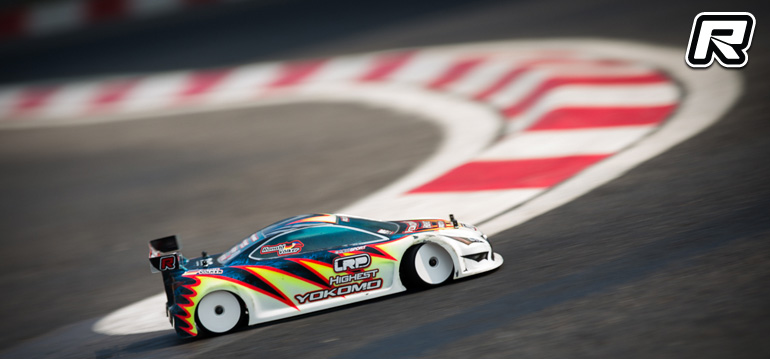 The start of A2 looked very similar to A1, but this time the World Champ was unable to attack and only had pace to hold on to the back of Akiyama's car. Young Akiyama was unshaken and showed no signs of nerves as he delivered an almost identical flawless run to A1. With no mistakes, Akiyama would cross the line to take his second win along with it the overall Championship in one of his best performances to date. Volker would have to settle for second in A2 with Yokomo's Ryosuke Yamamoto finishing third. Yamamoto is another 17 year old Japanese phenomenon that is just starting to emerge onto the international racing scene and is sure to become a household name in years to come.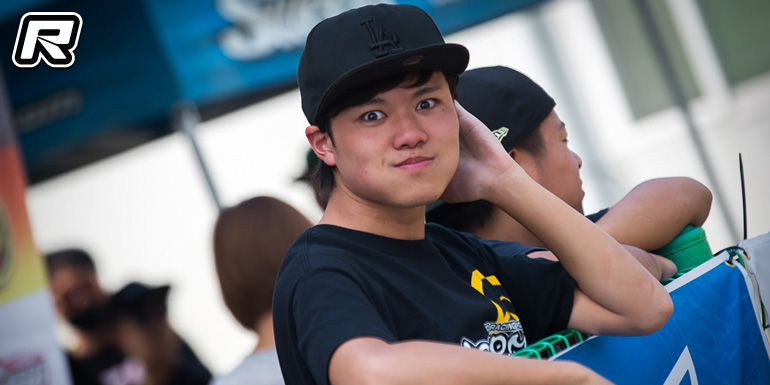 After winning A1 and A2, Akiyama was able to sit on the sidelines and cheer on his teammates. From the start of A3, Volker was quickly under pressure from Korean superstar, EC Kim as Kim used one set of tires throughout qualifying saving three new sets for the mains. The pressure was immense, but Volker was able to defend EC Kim's attacks and hold onto 1st. Kim would finish second in A3 giving him the points he needed to take over third on the podium. Ryosuke Yamamoto would finish third in A3, but lose to EC Kim on the tie-breaker giving Yamamoto a fourth overall. Wilck would round out the top 5 in the overall standings.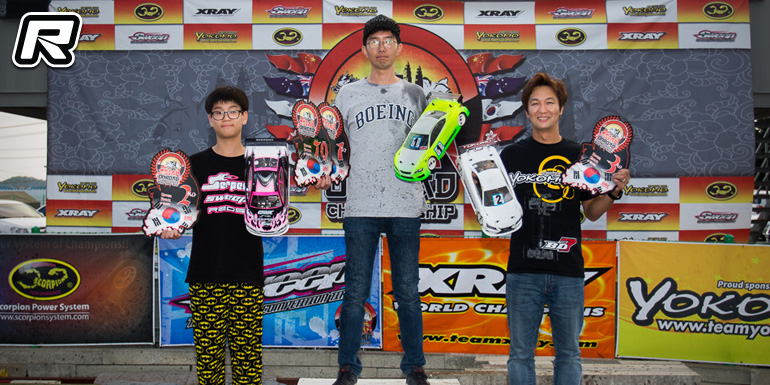 The talent in the 13.5 boosted Sedan class was deep. Local hero and track manager, In-Mo Kang found the fast groove late in qualifying and would go on to TQ rounds three and four to earn the overall TQ position. With grid position being a factor here, Kang was able to control the pace during the mains and let the battle ensue behind him in A1 and A2. With minimal pressure to deal with, Kang checked out and took the win with relative ease. Another young racer to look out for in the future was young star, Kim Kim Seung Min, who was able to lock onto second overall with runner-ups in A1 and A3. Making a return to racing after a 6 year absence was Team Yokomo designer and world renown mechanic, Yukijiro Umino. Umino spiced up the incredible field and delivered an amazing win in A3 to jump Umino up to third on the podium with a win and fourth place finish. The former Japanese National Champion had flashes of brilliance setting fastest time in Q2 and A3 showing the world the speed is still there. Look for Umino to make another race appearance at the IIC in a couple of weeks.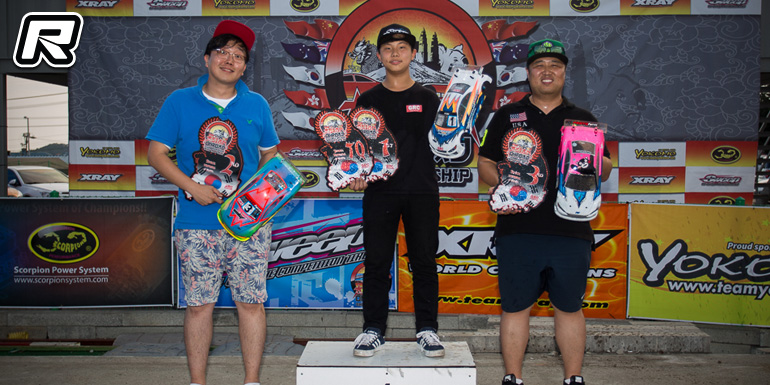 The 21.5 blinky Sedan class saw one young and incredible racer dominate the weekend with a flawless performance in qualifying and go on to win A1 and A2 with authority. Sweep's Jang Dong Uk was unquestionably on another level and his pace and performance clearly showed. Kim Ji Hoon would put in a great effort to finish second overall behind Jang with a 2nd in A2 and a win in A3 to. Park Byoung Wook would round out the podium with a great second place finish in A1 and a third in A2.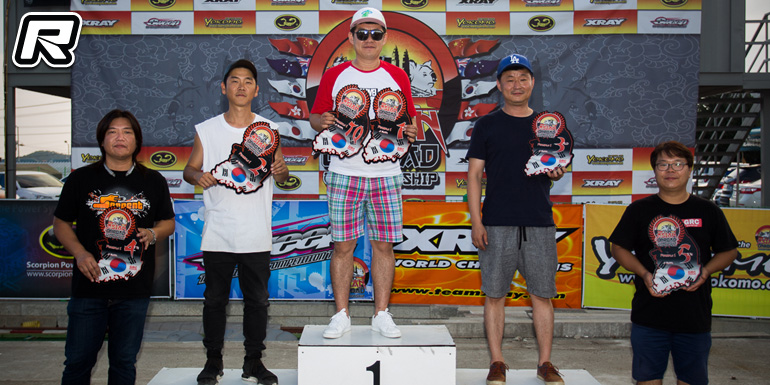 In the 21.5 blinky Abeoji "Father" class saw many cheers from the crowd as it was a favorite amongst the racers this weekend. From children shouting and coaching to mothers cheering and applauding, the Abeoji class was all about smiles and fun. Super dad, Kim Baekwan was able to secure TQ after setting the fastest times in two of the four heats and carrying his momentum through to the triple A-mains by winning A1 and A3 giving him the overall. Track owner Kim Yun Tak also had a great time by winning A2, which would catapult him into 2nd with Joung Nam Moon finishing third overall with a 2nd in A3 and 3rd in A2.
Thanks to Thomas Tran for the report.
---