September 16, 2016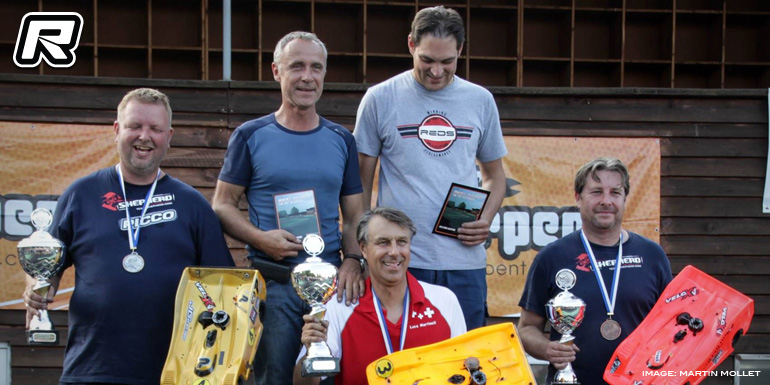 The EFRA 40+ On-roaad European Championships were recently held in Hamm, Germany. In the 1/8th scale class it was last year's winner Luca Martinelli (ARC) who saw the checkered flag in first position after delivering a flawless performance. The battle for the remaining podium spots was wide open between Shepherd colleagues Arie Manten, Andreas Giesa and Frank Schewiola. A few minutes before the end Andreas had a crash at the end of the straight caused by a piece of chunked tyre that saw him dropping him down the order. In the closing stages Frank tried to hunt down Arie but he ran out of time. Arie took the runner-up spot with Frank completing the podium. TQ Michael Salven had to retire early after he had a moment and damaged his car.
1/8th nitro final results:
1. Luca Martinelli – ARC
2. Arie Manten – Shepherd
3. Frank Schewiola – Shepherd
4. Remy Hasler – ARC
5. Michael Pätz – Shepherd
6. Andreas Giesa – Shepherd
7. Peter Poldvere – Xray
8. Tamás Sági – Serpent
9. Michael Salven – Serpent
10.Armin Baier – Capricorn
In the 1/10th 200mm class it was Austria's Gerhard Kandelhart who took the win the from Arndt Bernhardt and Bernd Hasselbring. After winning the super pole in front of fellow Shepherd racers Andreas Weyhoven, Arndt Bernhardt and Mirco Thalheimer, Gerhard also showed an outstanding performance in the main final. He opted not to do a tyre change in the 45-minute main final and the strategy would pay out as he crossed the finish line about 5 seconds in front of Arndt Bernhardt who changed the outside tyres. Bernd Hasselbring claimed the third spot about 5 laps down making it an all-Shepherd podium. TQ Traugott Schär had to retire due to technical problems.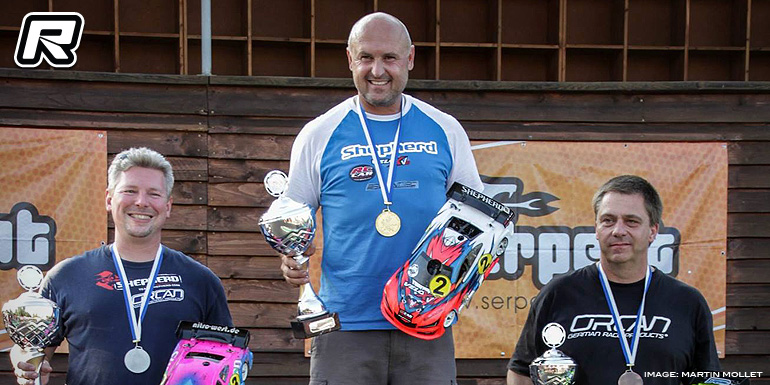 200mm nitro final results:
1. Gerhard Kandelhart – Shepherd
2. Arndt Bernhardt – Shepherd
3. Bernd Hasselbring – Shepherd
4. Andreas Weyhoven – Shepherd
5. Marcus May – Serpent
6. Hartmut Rose – Xray
7. Mirco Thalheimer –  Shepherd
8. Stefan Heisterkamp – KM
9. Traugott Schär – Xray
10.Manfred Ebener – Shepherd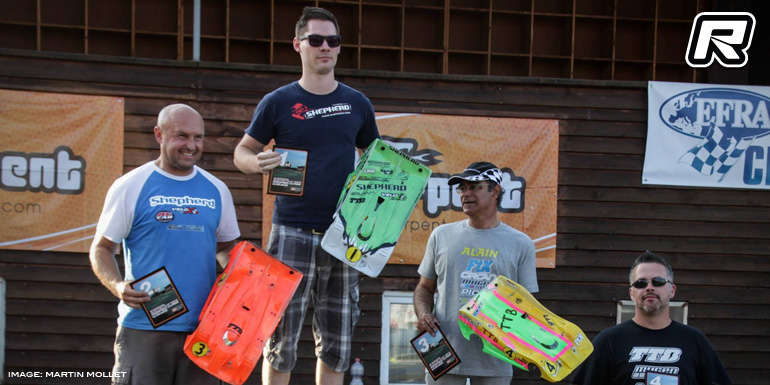 In the 1/8the electric promotion class it was Patrick Nähr who took the victory in front of Gerhard Kandelhart with Alain Levy completing the podium.
Source: Shepherd [team-shepherd.com]
---