September 19, 2016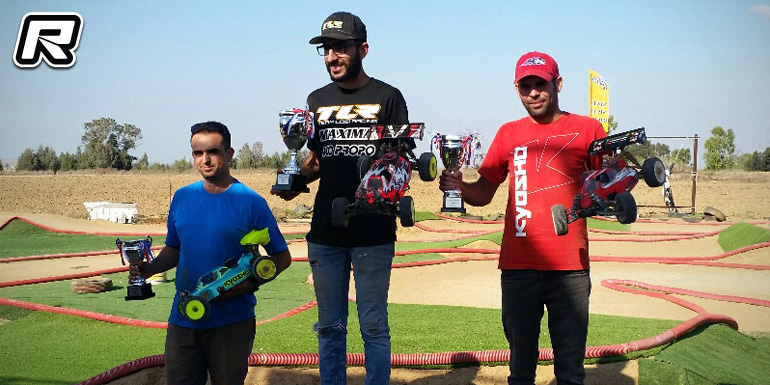 The opening round of the 2016/17 Israeli National Championship "Memory of Omer London" was held at the Negev Speed Racing track. Fantastic weather made for perfect racing conditions with racers gathering from all over the country. When the four qualifying rounds were completed it was Yaniv Sivan who took the TQ and in the main final he would jump into the lead instantly, opening a gap on Ofir Avitan right away while Tal Siles and Meir Azulay battled for the third place. At about halftime Yaniv was in a pretty comfortable lead until he ran into tyre issues with the additional pitstop costing him dearly as he lost the lead to Ofir Avitan (TLR/Reds Racing) who would ultimately bring home the win in the 40-minute encounter from a recovered Yaniv Sivan (Kyosho/Reds Racing) while Meir Azulay (Kyosho/Bullitt) rounded out the podium in third after finding a way past Tal Siles.
Final results:
1. Ofir Avitan – TLR/Reds Racing/Pro-Line
2. Yaniv Sivan – Kyosho/Reds Racing/Pro-Line
3. Meir Azulay – Kyosho/Bullitt/Pro-Line
4. Or Balulu – Agama/Reds Racing/Pro-Line
5. Tal Siles – TLR/Triton/AKA
6. Aviv Mimon – Kyosho/Bullett/Pro-Line
7. Yossi Arbel – HB Racing/Alpha/Pro-Line
8. Ido Carmon – Kyosho/RC Concept/Sweep
9. Paul Price – HB Racing/HB Racing/HB Racing
10.Gil Harush – Kyosho/Reds Racing/Pro-line
Thanks to Yaniv Sivan for the report.
---