September 26, 2016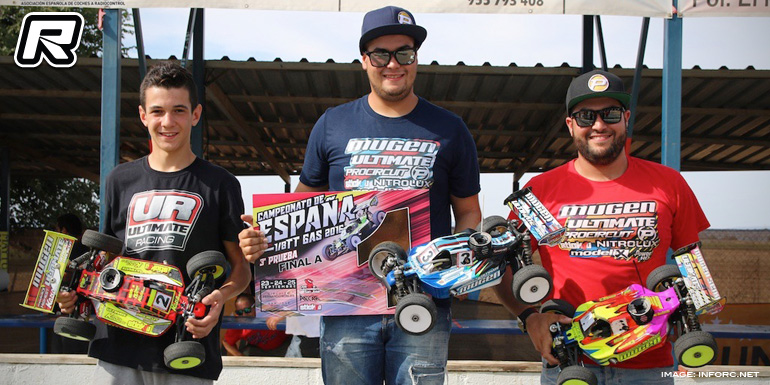 Round three of the Spanish Nitro Buggy National Championship was held this past weekend at the San Jose track in Sevilla, Spain. A small and technical track with laptimes in the 30 seconds range and very little space to overtake made things interesting in the semis and the main final. The weekend started off with a dominating Robert Batlle that brought to everybody's attention why he is a 10-times national champion. He absolutely smashed the qualifiers and took the overall TQ with one round to go, posting the exact same time in Q1 an Q2 to show his World-class skills and precision. Juan Carlos Canas, winner of the second round of the Nationals and reigning 1/8th Buggy Euro B champion, was the only driver that could almost-match Robert's rhythm and consistency, although finishing 3 to 5 seconds off Batlle's pace.

The semifinals were also dominated by Robert with him being the only driver to score a 28-laps run meaning he would have the speed to lap everyone once or twice in the 45 minute main final. Juan again was the only driver to come "close" to Robert. At the start of the main, Robert took things slow as recovering from a mistake would be hard to achieve due to the track layout preventing easy overtaking. Some time into the final Batlle's Mugen showed some erratic driving and one lap later his car failed completely, moving in an uncontrolled manner, thankfully at low speeds. The reason was a died battery and once he got it replaced by his pit crew he started to make up lost ground but it was too late to end up with a podium finish. Up front Juan Carlos Canas and Oscar Baldo battled for the top spot and after some position changes Oscar managed to bring home the win thanks to more precise and consistent driving while Juan committed some mistakes. At the end Juan also got under pressure of Bryan Baldo who showed some very strong overtaking skill in the carpet jump zones.
Final results:
1. Oscar Baldo – Mugen/Ultimate/Procircuit
2. Juan Carlos Canas – Mugen/Ultimate/Procircuit
3. Bryan Baldo – Mugen/Ultimate/Procircuit
4. Zacarias Villalba – Mugen/Ultimate/Procircuit
5. Jorge Soler – HB Racing/O.S./JConcepts
6. Oscar Navarro – Serpent/Ultimate/Procircuit
7. Dani Batlle – Mugen/Ultimate/Procircuit
8. Agustin Illanes – Mugen/Ultimate/Procircuit
9. Robert Batlle – Mugen/Ultimate/Procircuit
10.Joan Espasa – Agama/Reds Racing/6Mik
11.Juan Manuel Guillen – Mugen/Alpha/Procircuit
12.Daniel Bernabe – SOAR/O.S./GQ
13.Ignacio Candel – Xray/Novarossi/Pro-Line
With the win at round three Oscar is the third individual winner this year, meaning the fourth and final round, held on Robert's home soil near Montjuic, Barcelona, will bring the title decision between Batlle, Canas and Baldo.
Source: InfoRC [inforc.net]
---