September 12, 2016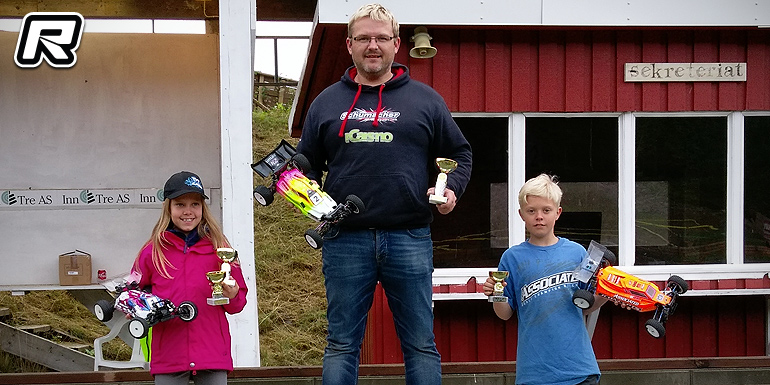 The fourth and final round of the Norwegian National 1/10th was held this past weekend and hosted by the Trondheim RC Car Club at the astroturf track in Skogn. Unfortunately the weather, that was warm and sunny during the 2WD portion of the event, changed over night and turned into heavy rain so the 4WD race was definitely a wet race event as it rained throughout all four qualifiers. Malin Karlsen was unbeatable in qualifying and took the TQ honours after winning the two first rounds. Her buggy looked really good in the wet and in what was a switch of roles from from the 2WD event, Roy Gjemble and his Schumacher took the second spot on the A-main grid while another Schumacher driver, talented Steffen Hjortshøj, completed the top 3.

In the opening A-main Malin was off for a good start but was pushed early on by Roy. With just over a minute left the positions were still the same but just before one of the design elements of the track, the four meters high wall of death, Malin overshot on the double, getting out of shape at the landing. Roy took advantage and made a pass. Disciplined driving from both drivers the last few laps allowed Roy to take A1 in front of Malin. A2 then saw a brilliant drive and a win from tone-to-tone of Malin, meaning the decision for the overall win would be shifted to the third and final A-main. For the final main the rain had stopped and the track was slowly drying with some crucial parts being still wet. Most drivers opted to go out on wet tyre though, knowing the cars would be a bit edgy in the dry corners. A3 then started almost the same way as the opening two legs but this time Roy was able to stay in Malin's slipstream in the opening legs. On lap two Malin overshot the landing after one of the doubles and this again allowed Roy to get past. What followed were a couple of bobbles by Malin as she tried to recover and this was all Roy needed to get some room to breathe and to bring home the win with the fastest run of the day, some three seconds in front of Malin. So overall Roy would bring home the win from Malin with young Alexander Gjemble (Team Associated) completing the top 3. As for the overall championship, Roy Gjemble took the title from Sindre Reitan (Schumacher) and Frode Skauen (TLR).
Thanks to Roy Gjemble for the report.
---