September 15, 2016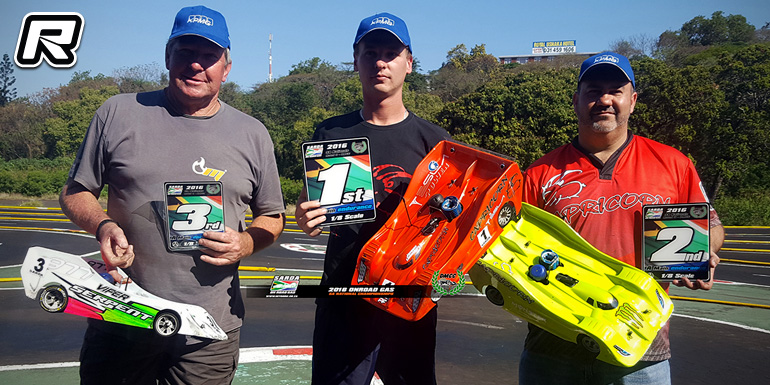 The third round of the South African Gas On-road National Championships was held at the long and testing DMCC race track in Durban, Kwazulu-Natal.  Conditions for the weekend would prove a little bit unpredictable with rain for most of official practice on Friday. Driver's setups made in open practice would need to be tweaked with very little time to get ready for Saturday qualifiers. 1/8 Scale would see the battle between Jacques Liebenberg (Capricorn) and Wayne Joelson (Mugen) be hotly contested. With both drivers equal on qualifying points, the decider would come down to last round with Liebenberg taking it to a tie breaker and the TQ with only 0.3 seconds ahead of Joelson. Harold van Eeden (Capricorn) who has been showing his metal this year would claim the last top 3 spot.

TQ for 200mm Nitro Touring would go to reigning South African Champion, Conrad Liebenberg (Capricorn) who without rival Rowan Bower to contend with would dominate the qualifying rounds. Marius Stols (Capricorn) would easily fill in the second spot, a driver who was not due to attend the event, but managed to enter at the last minute. With a borrowed chassis and motor, he still proved his pace. 3rd place would go to local favourite and DMCC stalwart Dave Wiseman (Serpent). Qualifiers would not be without some contention from Patrick Lester (Mugen) and Ivan Fergusan (Serpent) who would take the tie breaker for 4th to 0.02 of a second, handing 4th to Lester.
GT8 would see some new names coming into this event with Nico Venter and his new Serpent Cobra and Lourens Badenhorst in his Mugen MGT7. Nico would prove to have the pace in the GT class securing a TQ in his debut event. Followed closely by Lourens Badenhorst (2nd) and Peter Plint (Hong Nor) in 3rd.
The 1/8th scale A-mains would not reflect the previous rounds with the top three contenders, Jacques Liebenberg (Capricorn), Wayne Joelson (Mugen) and Antonio Cairoli (Xray) all with the pace to win. Joelson would not be able to compete in the A-final due to his early flight for his ENS Austria campaign and Cairoli would not be attending the event as a whole. This left a lot of space for reigning champion Jacques Liebenberg to solidify his 2016 season, with only one round left and a clean sweep of all previous rounds, Jacques sealed the season with a clean drive from start to finish. 3rd place qualifier Harold van Eeden (Capricorn) would follow suit and keep it clean to bring in a well-deserved second. Dave Wiseman (Serpent) would still prove his metal as one of SA's top drivers and veterans to the sport claiming the third spot only two laps behind Van Eeden. fourth place was of notable mention with Sheldon van Heerden (who qualified eleventh) keeping his times consistent to finish over the 100-lap mark.
1/8th final results:
1. Jacques Liebenberg – 112 laps 45m12.617
2. Harold Van Eeden – 107 laps 45m20.375
3. Dave Wiseman – 105 laps 45m13.331
4. Sheldon van Heerden – 101 laps 45m16.986
5. Michael Meyers – 92 laps 45m01.452
6. Peter Plint – 90 laps 45m27.343
7. Joseph Schauerte – 84 laps 45m24.191
8. Errol Warner – 71 laps 35m16.735
9. Beyers Hattingh – 66 laps 30m40.799
10.Tony George – 64 laps 35m46.795
11.Steven Smit – 55 laps 27m40.660
12.Wayne Sayers – 28 laps 15m13.824
The 200mm A-main was full of talent across the entire grid. The race however would be missing championship contender Rowan Bower (Mugen) and Willie du Plooy (Xray) who both bring that little bit extra to the field. This gave Conrad Liebenberg (Capricorn) the breathing room to put the lid on his 2016 championship campaign with a great drive and great win to secure his season. Without Bower, Maris Stols (Capricorn) was also able to put in the laps to secure second in his borrowed car. Dave Wiseman (Serpent) would have a good start to the race in leading the first few laps. His race in would be halted due to a run away and his hopes of a top 3 finish were ended. Lower down saw a great start for Brent Alexander in his new Capricorn C03 taking third into the first corner, but this would be short-lived after an exhaust failure on lap 5. The battle for third spot would be between qualifying rivals Pat Lester (Mugen) and Ivan Ferguson (Serpent). Pat would be running on rims in the last few laps of the 30 minute main with Ferguson hot on his tail and putting in consistent lap times. Lester would hold out and claim third five seconds ahead of Ferguson.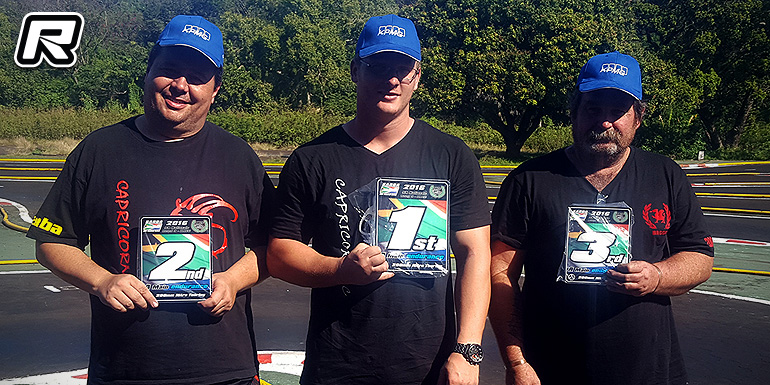 200mm final results:
1. Conrad Liebenberg – 68 laps 30m23.097
2. Marius Stols – 64 laps 30m19.725
3. Patrick Lester – 61 laps 30m01.192
4. Ivan Ferguson – 61 laps 30m06.768
5. Errol Warner – 50 laps 30m28.808
6. Bjorn Boogaard – 46 laps 23m22.738
7. Dave Wiseman – 41 laps 19m09.958
8. Brent Alexander – 41 laps 22m58.221
9. Nico Venter – 32 laps 30m27.811
10.Trevor Smit – 28 laps 30m16.947
The GT8 main race would see some good racing from the two new names in the class, Lourens Badenhorst (Mugen) and Nico Venter (Serpent). Venter definitely had that little bit of extra pace over Badenhorts consistency, but a tucked exhaust stinger and stop-go penalty would hand the lead to Badenhorst and inevitably the victory. Nico would have to settle for 2nd followed by Wayne Breytenbach (Mugen).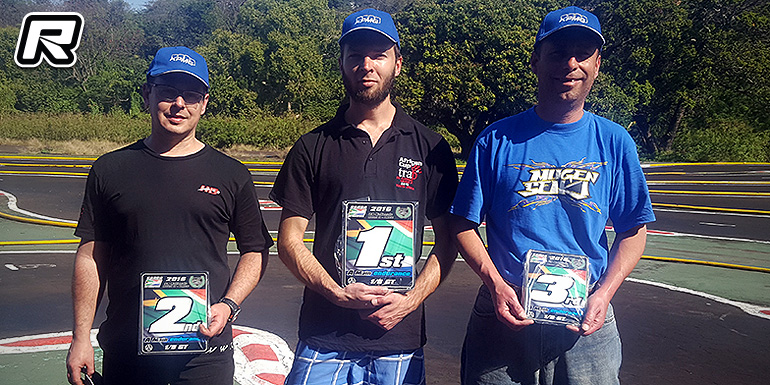 GT8 final results:
1. Lourens Badenhorst – 60 laps  30m20.155
2. Nico Venter – 58 laps 30m00.432
3. Wayne Breytenbach – 56 laps 30m03.129
4. Peter Plint – 52 laps 30m17.722
With most of the champions already decided going into the final round in Middleburg on the 12th and 13th of November, the other two spots will be down to the wire.
Source: Nitro RC [nitrorc.co.za]
---