September 22, 2016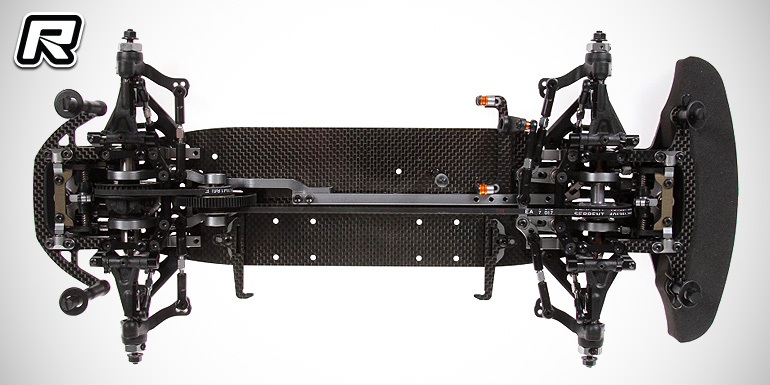 Serpent's long-awaited Project 4X 1/10th 4WD electric touring car kit is finally ready for release. The revolutionary car that finished third overall in the hands of Serpent's Viktor Wilck at this year's IFMAR Electric On-road World Championships utilises many unique features that make for a very low centre of gravity while being easy to work on and reliable at the same time. The car makes use of a new suspension design that allows to adjust chassis roll and pitch independently for increased corner speeds and exceptional bump track handling. Sporting only one heave/pitch damper in the front and rear, the pull-rod actuated units are very small and thus light of weight while their mounting position just above the chassis makes for a low centre of gravity. The heave dampers affect mainly bump and on/off-throttle handling and they are easy to reach from the bottom of the chassis for convenient setup and maintenance tasks. The ride height settings are performed using a simple one-screw setup. The rocker and pull-rod system is ball-raced for highly precise damper action and a low wear.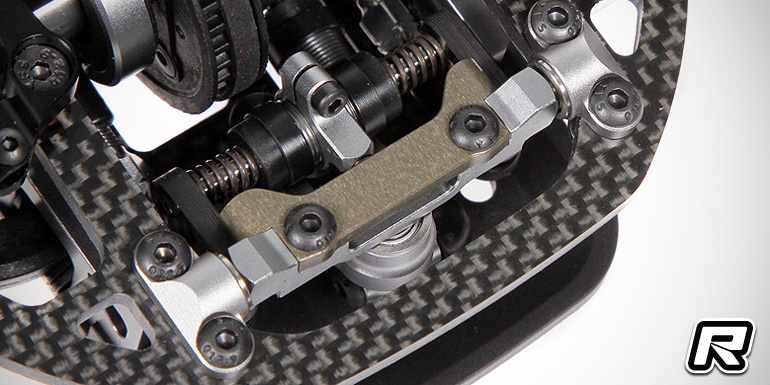 As for the roll dampers, these act as anti-roll bars and utilise two small side springs. Different springs and oils allow for full body roll control with the units being easily extractable from the chassis using two screws, allowing for the easy swap of pre-configured roll damper assemblies. The suspension components with moulded upper and lower arms are widely interchangeable front and rear, reducing spare parts to carry around. The chassis is made of high-quality 2.0mm carbon fibre with a sturdy 7075 aluminium backbone doing away with the need to use a separate top deck. The design makes for more natural flex and thus improved traction and handling.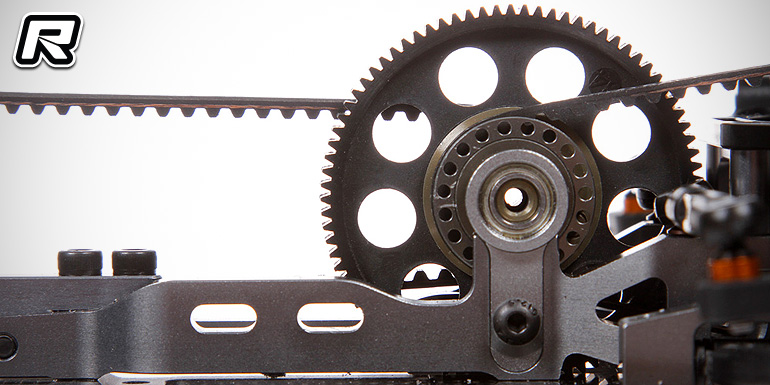 Part of the chassis backbone assembly is also the 7075 alloy motor mount that also acts as middle layshaft holder, base for the RRS rear suspension system and the connector for the centre brace.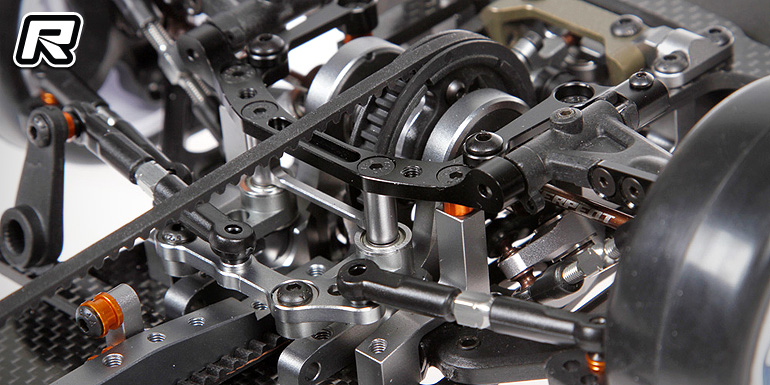 The transmission is made up using a front spool and rear gear differential with the diff internals being revised for an even smoother diff action while large belt pulleys and low-friction belts make for a very efficient drivertain.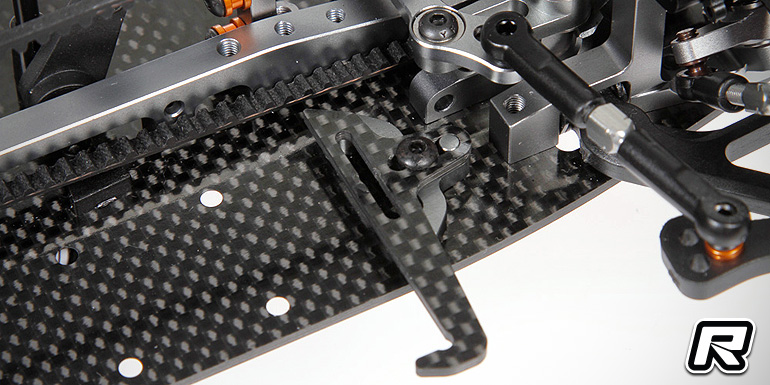 The hybrid carbon fibre and aluminium battery mounts allow the use of standard and shorty LiPo backs and the floating servo mount is also of a hybrid design to reduce overall weight without sacrificing strength. Also part of the steering system are reverse steering bellcranks whose steering posts sit towards the front end for better Ackermann angle control and a more linear steering feeling. Part of the drivetrain are also double joint driveshafts with spring steel dogbone up front and anodised alloy CVD bones up rear. Both use spring steel wheel axles and aluminium wheel hex adapters. The first batch of kits is already shipped and should hit stores as we type.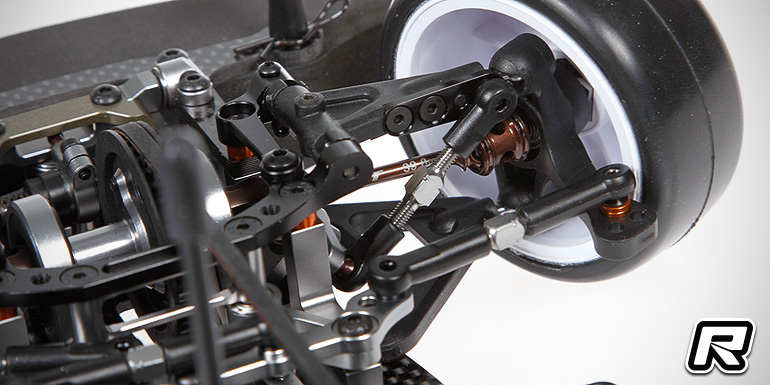 Features:
– Separate roll and heave motion control
– Pullrod activated system with rockers to actuate the shocks
– Same heave damper front and rear mounted below the diff/spool just above the chassis for lowest possible CG
– Small roll and heave damper units
– Dampers include machined pistons for best possible consistency
– All dampers are through-rod piston systems
– Optional of heave and roll springs
– Anti-roll bar function integrated in roll damper/springs
– Easy and fast damper access
– One screw ride-height adjustment from chassis side
– Pivot ball suspension for simplicity and free movement
– Easy diff and spool removal
– Extremely low centre of gravity
– Reversed steering system for improved Ackermann geometry
– Top-deck-less design with optional top deck available
– Centre stiffener made of 7075 T6 aluminium
– One piece motor mount
– Re-Active rear steering RRS system as standard
– New differential using new gears for even smoother functioning
– Battery mounting system allows reposition the battery more front or rear
– Three mounting LiPo shorty mounting positions
– Lightweight front aluminium spool with hardened steel outdrives to use
blades
– 2.0mm carbon fibre chassis
– DJC system in the front, regular CVDs in the rear
– Optional CF top deck for wide chassis flex adjustments with or without centre brace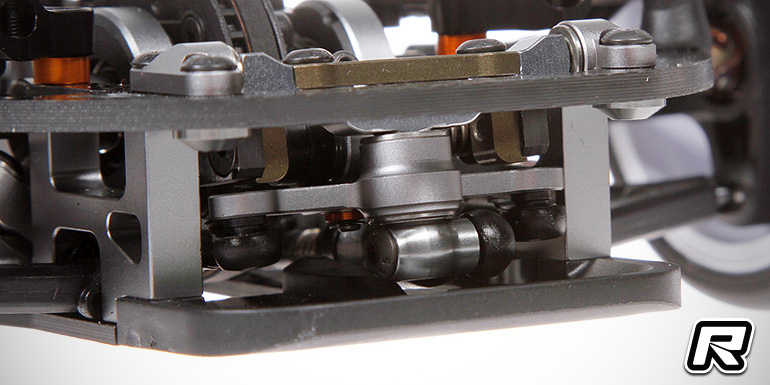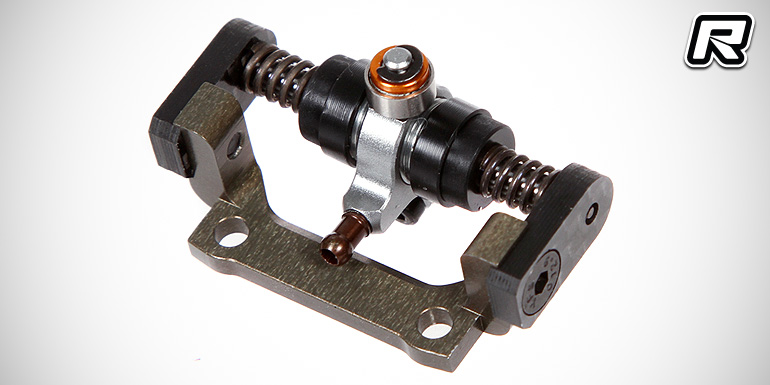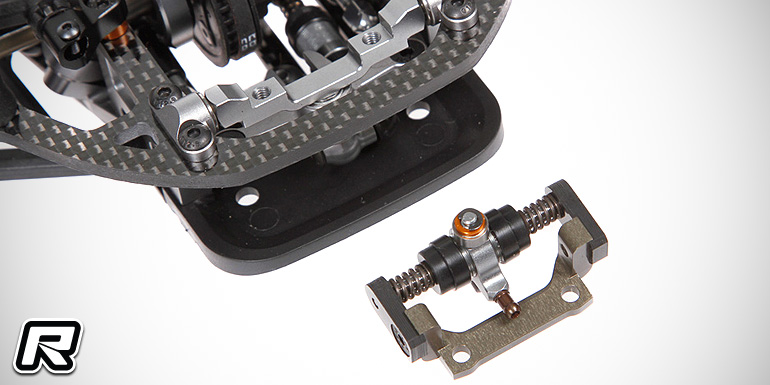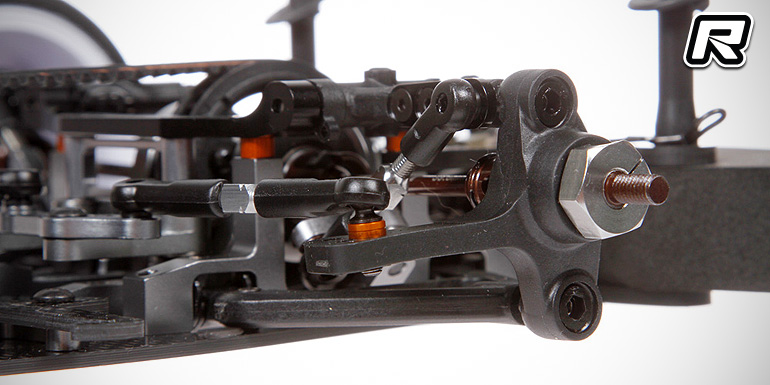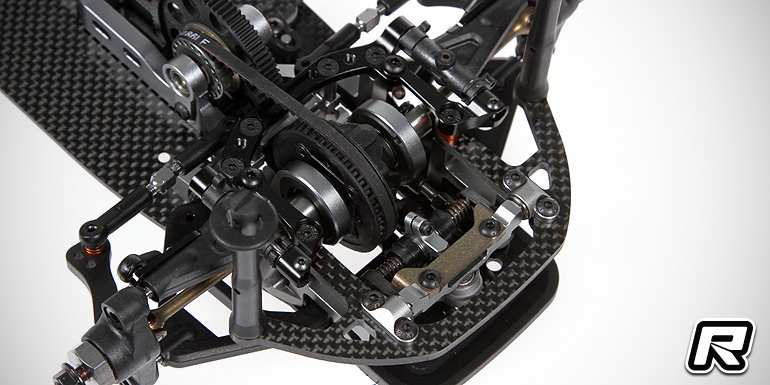 Source: Serpent [serpent.com]
---