September 20, 2016
This past Sunday saw the start of the Traction 2016 race series at Swifts Raceway. The revamped Autumn Shootout was back to sort the winners from the wannabes. Like last year the championship had attracted some of the UK's top drivers such as National champions Adam Catchpole, Darren Newton and Andy Murray. Also joining the field was newly crowned Formula Clubman champion Luke Lee. Once again the pit lane was full of activity and great banter before the track wars begun. The track layout seem to favour the GT10's and Formula classes with a lot of fast flowing corners. It was going to make it a very close meeting for the smaller GT12's.

The earlier stages of qualifying saw Luke Lee quickly settle into indoor racing as he shot to the top of the Formula time sheets. James Wright just missed out on taking pole by 0.17 while Lee Carter made an impress debut in 3rd. In GT10 Kevin Creaser was fastest and closely shadowed by Mark Deacon and Lee Stokes. As expected the main battle in GT12 was between National Pro's Catchpole and Murray with Catchpole taking the initial advantage. By the end of qualifying it was a dead heat between them. Murray claiming pole by 0.01 of a second. The pair also shared identical fastest lap times to add to the excitement. Kieren Manders was the only other racer who managed to achieve 30 laps out of the Swifts track.
After the fun break it was back to business. The Formula final was first with a full grid of ten cars. Lee and Wright made a clean start while a few incidents occurred in the midfield. It allowed last year's GT10 champion David Underwood to leap from seventh to third and start pressuring Wright. The trio stayed in formation pressuring each other for most of the race. There was only an incident with a back marker in the closing few laps which nearly mixed up the order, but it was not enough to stop Lee from claiming the round 1 victory.
Formula top 3 results:
1. Luke Lee – Xray
2. James Wright – MD Racing
3. David Underwood – Xray
In GT10 it was a lights to flag victory for Creaser, Deacon had a bad start and was pushed down the order. Adrian Parkes emerged from a clean start in second but was soon caught up by a recovering Deacon. Parkes then went on the defensive holding him back to the point when the pair crashed on lap six. Parkes was again lucky from the incident which then bunched up the field. The battle continued for a further six laps until Deacon got a perfect run through the corkscrew to sweep past Parkes into second. Parkes luck had then truly run out as he was caught and passed on the same corner by Stokes. The race concluded shortly after that with Creaser taking the opening GT10 win.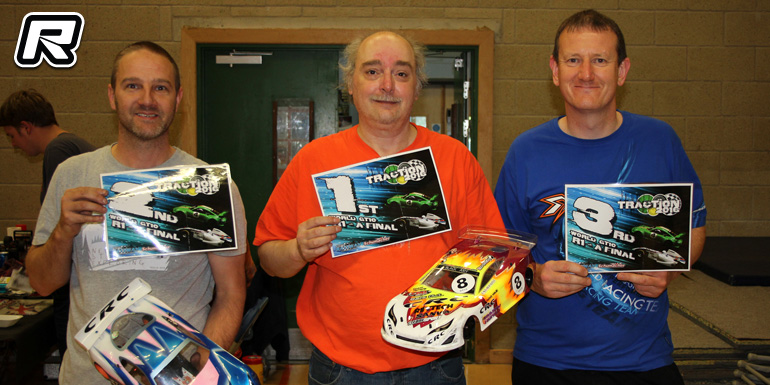 GT10 top 3 results:
1. Kevin Creaser – CRC
2. Mark Deacon – n/a
3. Lee Stokes – n/a
After a great GT12 B-final the event was ready for the feature race and anticipated battle between Catchpole and Murray. The race set off with a generally clean start, it was the second lap which saw Barry Lynch make a mistake into turn two forcing him to retire with steering damage. Shortly after that came an even bigger shock as Catchpole's car appear to suffer a failure coming out of the corkscrew. The car just didn't seem to turn and hit the track markers hard. After a quick inspection by the National champ he returned his new Zen RXGT back to the track to try and work out what the problem was. As Murray stretched out a massive lead the battle was on for second with Manders, Craig Nutting and Ripley all matching each other's pace. Ripley was the one to force a change but didn't quite time his pass right on Nutting and was order to return the place to Nutting. This allowed Nutting some breathing room where he appeared to have his race back under control. However there were eight other races going on which he got tangled up with, allowing Ripley to get past. After that there was no more position changes, which saw Murray collect the elusive win he tried so hard for last year. Manders and Ripley completed the podium.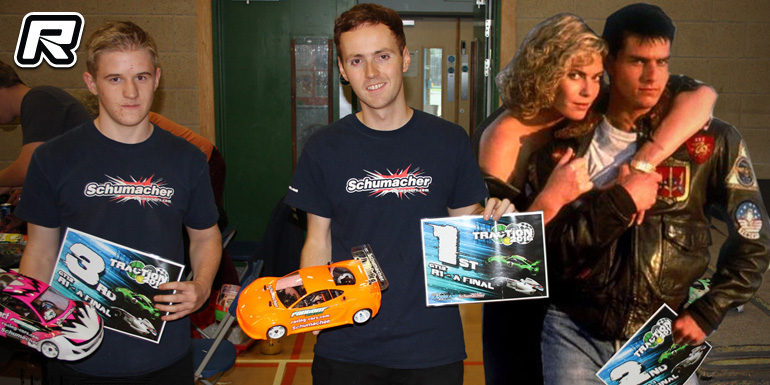 GT12 final results:
1. Andy Murray – Schumacher
2. Kieren Manders – Zen Racing
3. Aidan Ripley  – Schumacher
4. Craig Nutting – Zen Racing
5. Rob Jackson – n/a
6. Pete Stockton – n/a
7. Daniel Mountford – n/a
8. Tony Wade – Mardave
9. Adam Catchpole – Zen Racing
10.Barry Lynch – Zen Racing
Thanks to Stephen Baggley for the report.
---