September 21, 2016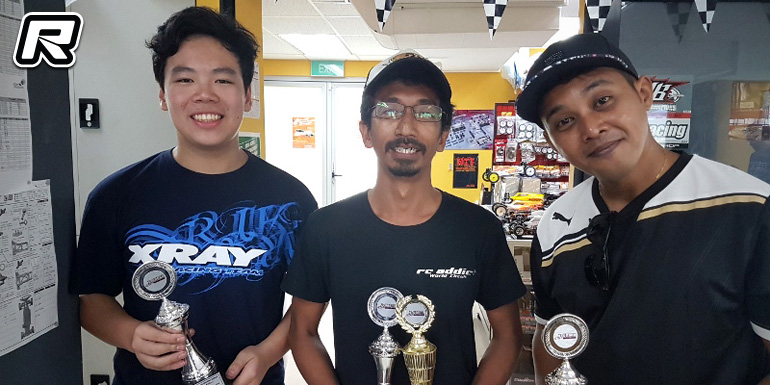 Singapore's Urban Touring Series returned this past weekend with round 9, which was concurrently a national championship points scoring round. In Touring Open only a small grid registered and it was decided that a Reedy Race format would be run over five legs. Both Esmail Apandi and Dominic Quek had two wins and one second place but it was Esmail who would secure the top step of the podium by virtue of a faster winning time in the last leg, which was run in much cooler conditions. Hasron Robana would round out the podium in third.
Touring Open final results:
1. Esmail Apandi – Destiny
2. Dominic Quek – Xray
3. Hasron Robana – Xray
4. Allister Lim – Xray
5. Tony Neo – Awesomatix
The 17.5T non-boost class had a 10-car grid and it was also run on a Reedy Race format. Joe Hwee would take the overall win with three wins out of five, followed by Hasron Robana and Danial Miswan.
Touring 17.5T final results:
1. Joe Hwee – HB Racing
2. Hasron Robana – Tamiya
3. Danial Miswan – VBC
4. Stephen Tsao – ARC
5. Bobby Chan – Tamiya
6. Daniel Sim – Awesomatix
7. Tony Neo – Awesomatix
8. T Chzin Loh – Tamiya
9. Daniel Foo – Destiny
10. HJ Quek – Xray
14 racers took the start in the increasingly popular Formula class. Dominic Quek grabbed the pole position after the qualifying session based on the 3-best consecutive laps. Winning the first two legs of the A-Main, Dominic would go on to secure the overall win from Jo Hwee and Allister Lim.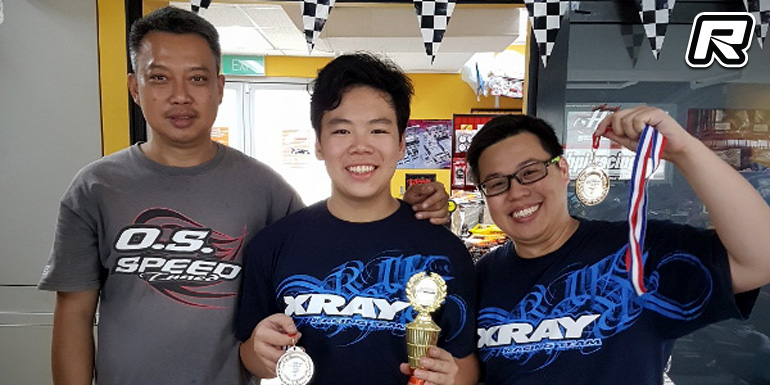 Formula final results:
1. Dominic Quek – Xray
2. Joe Hwee – VBC
3. Allister Lim – Xray
4. Charles Lim – Xray
5. Smith Kek – Capricorn
6. Edgardo – Xray
7. Ah Moy – Xray
8. Michael Siow – Serpent
Source: Xray [teamxray.com]
---