October 25, 2016
The 2016 Halloween Classic once again brought in racers from around the U.S. to The Gate in Brunswick, Ohio. The limited space available makes a pitting area a coveted badge of honor as it once again sold out, this year in only about 1 hour after going live for sign ups. Even with the extreme pressure all weekend everybody was having a blast, making new friends, and enjoying the announcing by the fabulous Mr. Chris Goetz. Having fun is the priority at The Gate, which is what helps make this race popular every year. Qualifying was hot and heavy as previous TQs fell in many classes from round 1 to round 4, keeping everyone on their toes and wrenching in the pits to find that something extra. Many former Stock class winners also jumped into the Mod arena in Touring Car while trying the test class of 12th 6.5 blinky.

In Touring Modified many of the Stock guys performed brilliantly, showing that they have the ability to belong there. Ultimately Sam Isaacs trailed TQ holder Keven Hebert closely throughout the main and finishing 0.1s behind.
Touring Modified final results:
1. Keven Hebert
2. Sam Issacs
3. Josh Cyrul
4. Larry Fairtrace
5. Chris Adams
6. Dustin Layne
7. Nate Wagner
8. Mike Hanulec
9. Brad Johnson
10.Sal Amato
In Touring 17.5 Larry Fairtrace put down a smoking round 1 and 2 qualifiers, holding TQ to the near end until Brad Johnson put out a near flawless round 4 run to take the top spot. Brad was able to take the win with Larry dogging him the entire race, finishing 0.1 behind.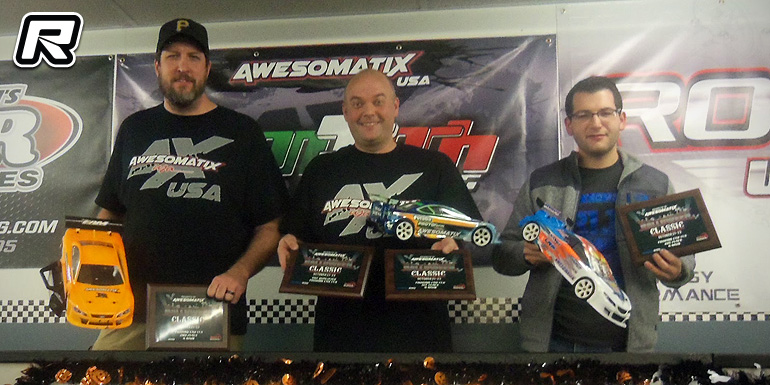 Touring 17.5 final results:
1. Brad Johnson
2. Larry Fairtrace
3. Sam Issacs
4. Bill Sydor
5. Nate Wagner
6. Mike Wise
7. Jeff Dayger
8. Sal Amato
9. Manny Flores
10.Mike Hanulec
One of the more hotly contested classes this weekend, USGT, saw Bill Sydor able to hold TQ every round into the main. The main had lots of action, rubbing, and lead changes. Danny Jenkins was able to take the win with consistent driving, a little bit of luck, and impressive accident avoidance.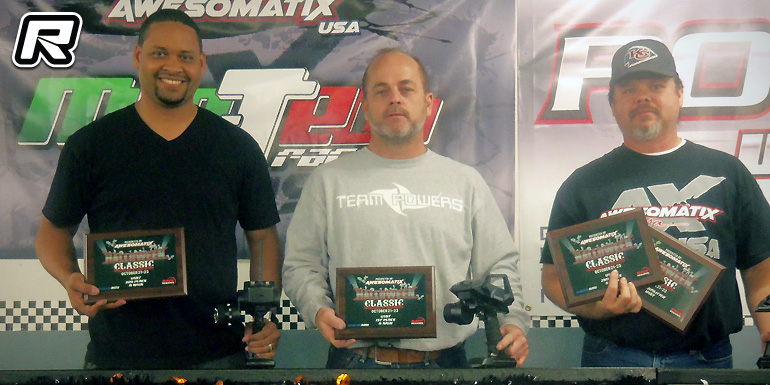 USGT final results:
1. Danny Jenkins
2. Bill Sydor
3. Dave Johnson
4. Manny Flores
5. Johnee Fenimore
6. Scott Jakes
7. Pat Barber
8. Kevin Kane
9. Joe Klebau
10.Chris Vogan
In one of the smaller classes at the event, USVTA, drivers still put on a good show with 12 cars in the main on a tight track. TQ Pat Barber would come out on top from Todd Bigelow and Stu Patrick.
USVTA final results:
1. Pat Barber
2. Todd Bigelow
3. Stu Patrick
4. Dave Hart
5. Larry Gross
6. Robert Shuchman
7. Chuck Mackin
8. Brandon Lemmerman
9. Mike Buca
10.Ken Pepe
11.Brankica Ferron
12.Jimmy McKinley
GTR, a relatively newer 10th scale pan car class has been building in popularity in the region with its realistic bodies, controllable speeds, and long lasting rubber tires. Brian Wynn put on a clinic and showed how it is done, holding TQ every round and taking the top spot home.
GTR final results:
1. Brian Wynn
2. Tom Firsching
3. Scott Jakes
4. Jeff Dayger
5. Joe Klebau
6. Ron Mick
7. Pat Barber
8. Dave Berry
9. Kevin Nestor
10.Mike Elwood
Realistic open-wheeled racing is one of the more spectator friendly classes to watch, and this weekend's Formula 25.5 group didn't fail to perform. Bryan Wynn would bring home another TQ and win, this time from Manny Flores and Zack Shuttenberg.
Formula final results:
1. Brian Wynn
2. Manny Flores
3. Zack Shuttenberg
4. Chuck Mackin
5. Ron Waugh
6. John Koblek
7. Geoff Ferron
8. Ron Mick
9. Adam Bucholtz
10.Wayne Gerber
In an attempt to turn around the persistent decline of 12th Mod in the U.S. due to unlimited power and grip with no battery management repercussions, a decision was made to make an attempt at implementing a limiting factor to the class. Due to the current state of the equipment available 6.5 blinky was the most efficient option available at this time. As expected, the fast guys were still fast but it also enticed stock racers to try it out. After Brian Wynn started pulling wheelies on the track in his main, it showed 6.5 blinky still had lots of power.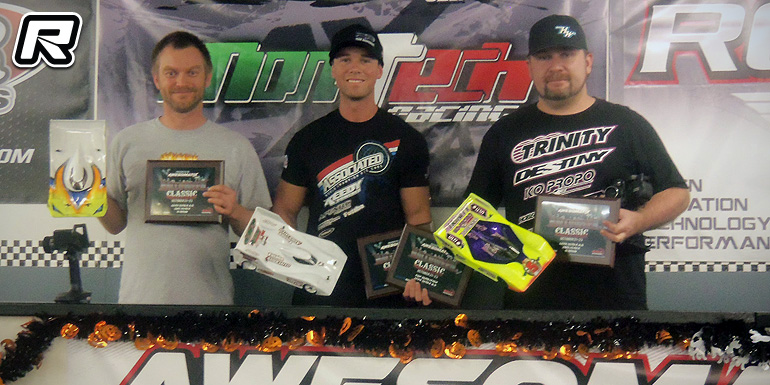 1/12th 6.5 blinky final results:
1. Keven Hebert
2. Josh Cyrul
3. Jari Taskila
4. Mike Hanulec
5. Mike Pulfer
6. Steve Radecky
7. Dana Bailes
8. Joe Trandell
9. Paul Ciccarello
John Wiita continued his pattern and was able to secure the top spot in
1/12th 13.5 qualifying with Joe Trandell also able to claim a 62 lap run, keeping the pressure on. The main however proved to be a challenge as early race contact shook the order up. Jeff Dayger was able to capitalize from the incident and ran a perfect race, earning the win.
1/12th 13.5 final results:
1. Jeff Dayger
2. Johnny Wiita
3. Joe Trandell
4. Mike Hanulec
5. Josh Cyrul
6. Tom Firsching
7. ari Taskila
8. Kevin Van Ert
9. Scott Jakes
10.Dana Bailes
In 1/12th 17.5 John Wiita TQ'd every round of qualifying but the main proved to be a challenge. While Wiita continued his strong weekend and lead the main, there was a freight train of 3 to 4 cars directly behind him keeping him honest, the drivers putting on a display of professional driving at its best. Wiita showed he had nerves of steel and finished his weekend with a win.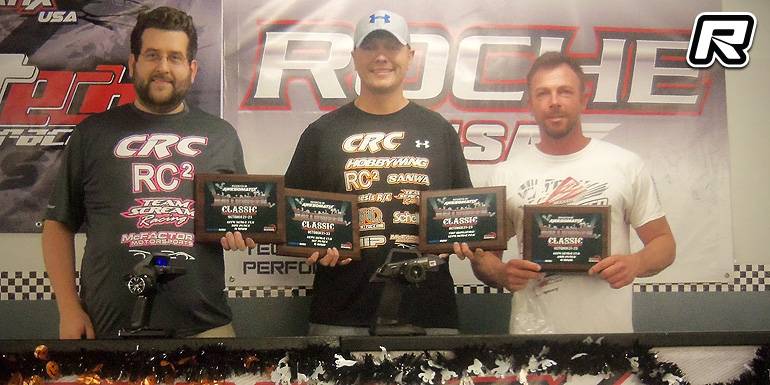 1/12th 17.5 final results:
1. Johnny Wiita
2. Joe Trandell
3. Kevin Van Ert
4. Dana Bailes
5. Chuck Lonergan
6. Wayne Gerber
7. Shawn Rayfield
8. Charlie Menard
9. Scott Jakes
10.Brian Wynn
Thanks to Nate Wagner for the report.
---