October 26, 2016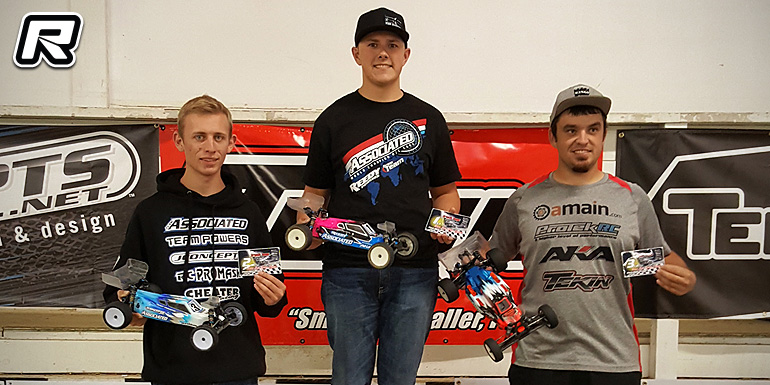 This past weekend Track Time Hobbies of Reno, Nevada held their annual Race for Your Lives event. Racers from as far as Arizona made the trek to Track Time Hobbies to race on the latest layout made with some of the most consistent dirt on the West Coast. Nearly 80 entries meant there would be some additional time and this would also allow for an additional 4th round of Ifmar qualifying for the racers who attended along with double A-main formats for the more heavily entered classes. Lower B-Mains were run first allowing the two bump up drivers to bump into their respective A-mains.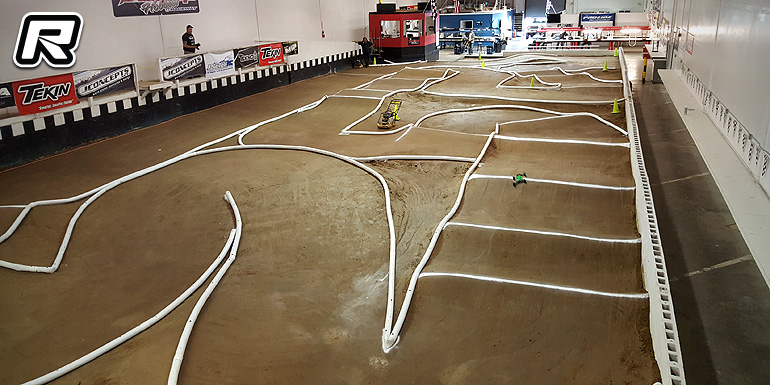 2WD Modified Buggy and A1 of two started off with factory Associated team driver Tommy Hinz on the pole. Kyosho's Chris Jarosz would be second and lining up behind him was his AE teammate and 2016 Stock National Champion Kyle Layton. At the tone Tommy would take off with Jarosz and Layton hot on his heels. 4th position was Justin Moon not far behind. Bad luck would strike Jarosz on lap 5 forcing him to drop out of the main. Moon would inherit the 3rd spot and would cross the line there whie A1 went to Tommy Hinz. A2 once again had Tommy Hinz take off from his pole position and never look back, breaking away early on with AE teammate Kyle Layton and Chris Jarosz. Jarosz getting by Layton to take over the 2 spot. Jarosz again would fall out of contention after a bad incident with a marshal. That put Layton back up to the second position with Justin Moon once again taking over the third spot. A replace of A1, the top 3 again would be Hinz, Layton, and Moon with the overall going to Tommy Hinz, 2nd to Kyle Layton, and 3rd to Justin Moon. The top 3 drivers all using the Team Associated B6 to take a podium spot.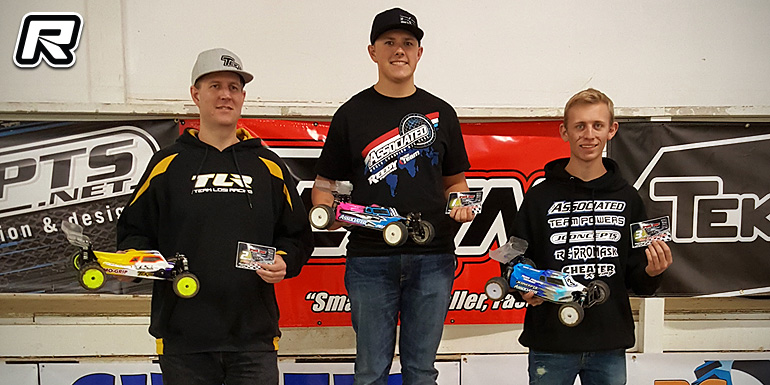 4WD Modified Buggy once again had AE factory driver Tommy Hinz start from the pole position. Lined up behind him was 2016 Stock National Champ Kyle Layton and behind him TLR factory driver Jason "Mo" Moberly. At the tone those three would begin to pull away from the field. Layton with a few early mistakes would come under fire from Moberly early on, but matching small errors meant the top 3 would finish in their qualifying order; Hinz, Layton, and Moberly. A2 and Tommy Hinz would again take off the from the tone with Layton and Moberly in tow. A quick mistake by Layton would allow Moberly to take the 2nd position. Moberly would mount a serious attack on Hinz around lap 13. Hinz would hold strong and slowly begin to pull out a gap and finish leading once again tone to tone. Moberly would get passed by Layton after a mistake only to pass him back at lap 14. The two would finish in that order; Hinz with the win, Moberly 2nd, Layton 3rd. The overall win going to Tommy Hinz, 2nd to Jason Moberly after a tie breaker, and Kyle Layton 3rd.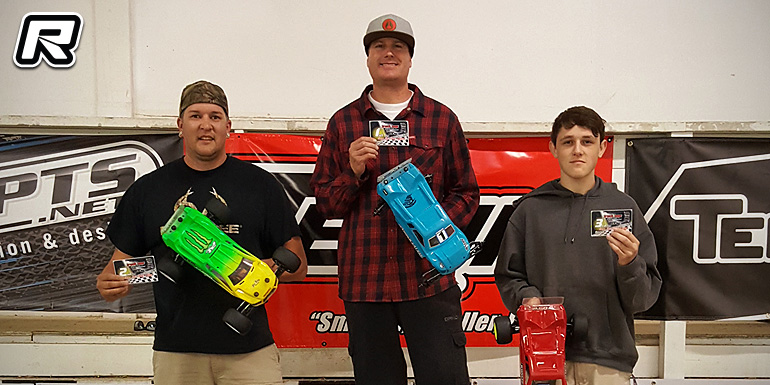 In the Modified Stadium Truck A-main TQ Brant Pradere would get out front and not look back. Wyatt Smith, Joe Trainer, and Dustin Salsby would battle nearly the entire 8 minute A-main. Trainer would pull an advantage and gap Smith and Salsby who would continue to battle for the final podium spot, with Wyatt Smith taking the final box position in the last 45 seconds of the race.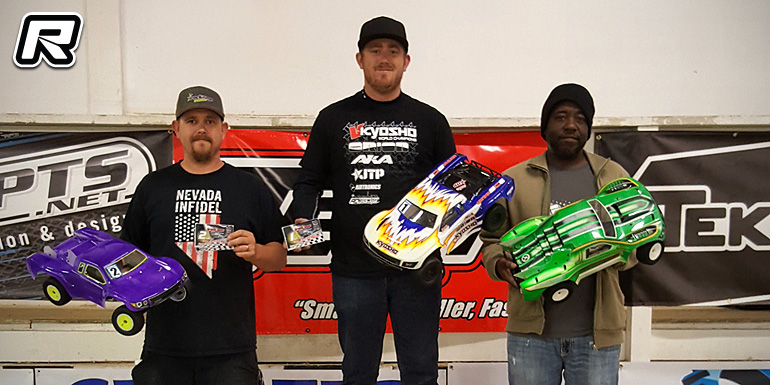 2WD Modified Short Course Truck had Kyosho factory driver Chris Jarosz dominated qualifying would start on the pole. He would lead the race tone to tone to take the win followed by Dustin Salsby and Rodney Teague who battled from start to finish never being more than 5 seconds apart for the entire 8 minute A-main.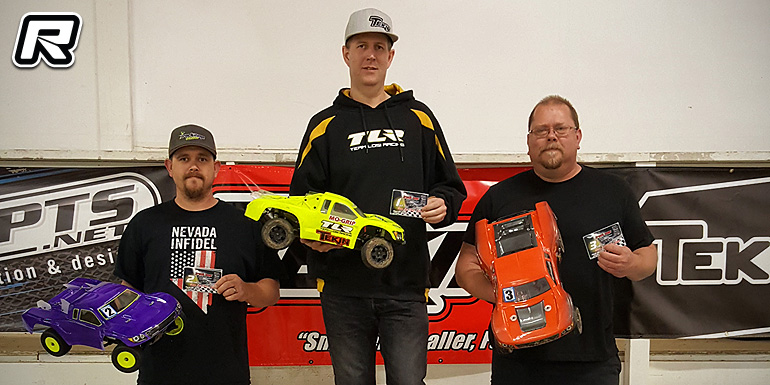 4WD Short Course Truck was dominated by Jason "Mo" Moberly in his TLR SCT truck. Dustin Salsby would take 2nd in convincing fashion followed by Kirk Wulff in the 3rd position.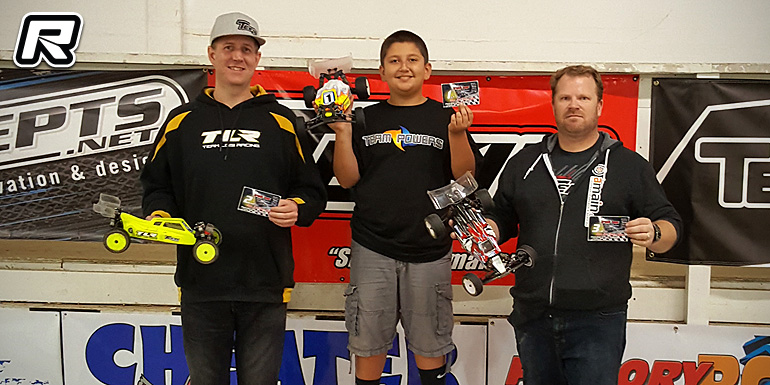 Next up was 2WD Pro Stock Buggy that had Antonio Counsil dominating qualifying and he would start on the pole for the double A-mains. Lined up behind him were Jason Moberly, Will Smith, Wyatt Smith, and Randy Pike.  Some of the closest racing of the weekend would ensue at the tone. Antonio would stay ahead of the charges brought on by Moberly and Wyatt Smith early on. A1 would finish in that order; Counsil, Moberly, W. Smith. A2 of Pro Stock Buggy once again had Antonio Counsil taking advantage of his TQ spot but this time, a cleaner start of the pack behind him meant he would not be under constant fire from Moberly, Ryan Brignali and Randy Pike early on.  Moberly would pace the young gun keeping the pressure on him. The top 4 guys coming through traffic cause a few issues but most getting through as well as can be expected. Pike would hit a rough spot around lap 5 but would battle up to the 3rd spot and fight to within 4 seconds of the top 2 guys who in the end were separate by less than 4 second between them. A tie breaker would decide the 3rd overall position on the podium; Antonio Counsil would take the overall win, Jason Moberly 2nd, and Randy Pike 3rd after the tie breaker.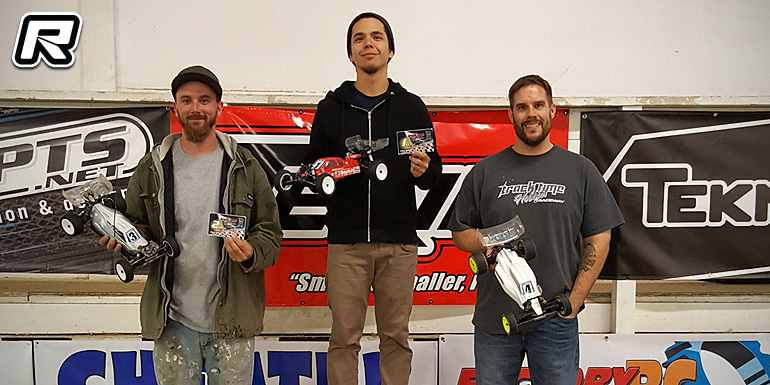 2WD Super Stock Buggy A1 would be some of the craziest racing all weekend. 17.5 with boost or 13.5 in spec mode gives racers a choice of power plant systems adding to the allure of this class at Track Time Hobbies. Mike Centolella would start from the top position but would make a few mistakes and fall back in the pack. Chris Yancey, Tom Fielding, and Ryan Ripley would battle for the top 3 positions and finish in that order for A1. A2 and Mike Centolella would take advantage of his TQ spot this time and rocket off the line. Chris Meeks would be hot on his heels for the first 9 laps trying to force an error. The top 2 now coming up through traffic would allow Meeks to get by only for Centolella to return the favor. The two would go back and forth exchanging the lead 4 more times each and every lap. Finally Meeks would run out front with Centolella behind him. A last lap error from Meeks was all Centolella needed to get by for the win in A2.  The final top 3 order of A2 would be Centolella, Meeks, and Yancey. After the points were tallied, the overall win would go to Chris Yancey, 2nd Mike Centolella, and 3rd Tom Fielding.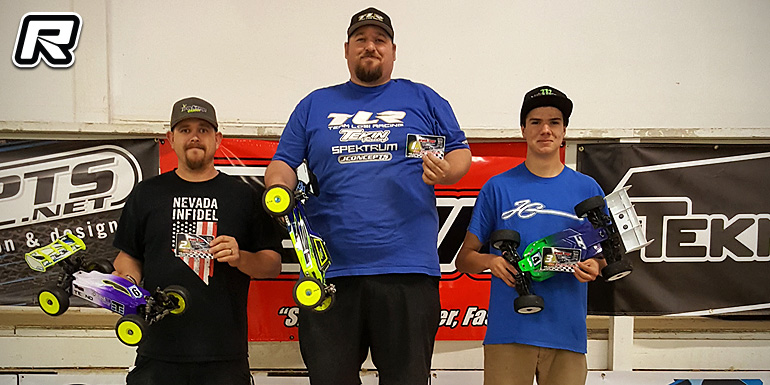 A new class 1/8 eBuggy Lite had TQ Kyle Linton leading tone to tone and gapping the field early on. Epic battle behind him between Dustin Salsby, Zachary Recheck, and Joe Trainer would ensue. The three drivers would engage in major battles between each other for the next 7 minutes of the 8 minute main. In the end, Dustin Salsby would take a hard earned 2nd overall, and Zach Recheck joining him on the podium in 3rd.
Source: Track Time Hobbies [tracktimehobbies.com]
---