October 10, 2016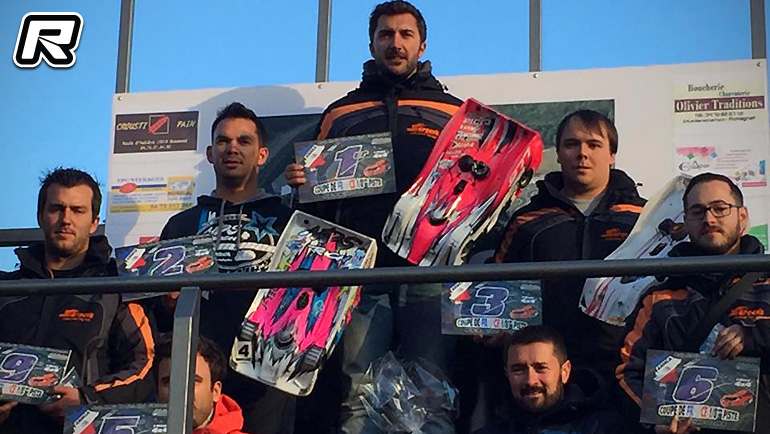 The popular Clermont Ferrand track played host to the French Cup this past weekend, offing racing in several nitro on-road classes. The 1/8th class qualifying saw Anthony Abisset (Serpent/Picco) coming out fastest from Leo Arnold (Xray/Team Orion) and Arnaud Mathieu (Capricorn/Team Orion). Richard Volta (Infinity/Novarossi) and Christophe Louis (Mugen/Nds) would round out the top 5.

In the main final Anthony, who also smashed the previous track record by about 0.7 seconds, would take a straight win from Christophe Louis and Benjamin Brasset (Serpent/O.S.) who completed the podium result.
Final result:
1. Anthony Abisset – Serpent/Picco
2. Christophe Louis – Mugen/Nds
3. Benjamin Brasset – Serpent/O.S.
4. Thomas Eytard – Xray/Max
5. Antoine Gaschet – Mugen/Nds
6. Gérald Colinet – Serpent/Picco
7. Richard Volta – Infinity/Novarossi
8. Arnaud Mathieu – Capricorn/Team Orion
9. Damien Thirion – Serpent/Picco
10.Jerome Papaconstantinos – Mugen/O.S.
In the 1/8 pan car class, veteran racer Rody Roem took the win from Jacky Mouton and Serge Christiany.
Source: Serpent [serpent.com]
---