October 10, 2016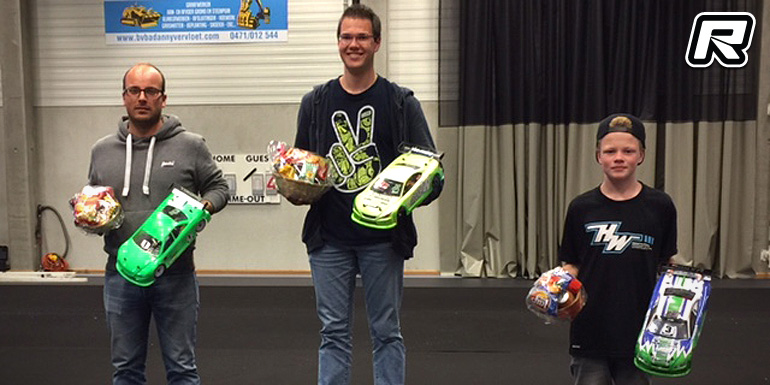 The opening race of the Belgium indoor on-road season was held at the Beerse sports centre near Antwerp on a purpose-built 40x20m track. Classes run were Touring Modified, Touring 10.5T blinky, Touring 17.5T blinky as well as a 21.5T Formula and a silver can beginners class. Practice would start on Saturday afternoon with the triple qualifiers and finals would be held on Sunday. In the Modified class, Thomas Stockman showed his class by placing his Yokomo on pole despite missing the practice on Saturday. Mitchell Van Es was in close contention while Florian Joos, Stefan Rommens and Athan De Witte qualified in fourth and fifth respectively.

The finals were great to watch with some intense battles and great respect between the drivers. In the end, Mitchell took the win with his VBC, followed by Thomas's Yokomo and Florian's Tamiya. Youngsters Athan De Witte (VBC) and Liam Van de Wauwer (Yokomo) finished in fourth and sixth while Stefan Rommens placed his new Team Magic to the 5th place.
The 10.5 blinky class was run under the same rules as the Belgian championship and so Muchmore Fleta controllers, Muchmore 10.5 zero timing motors and Volante 28 tyres with an FDR of 5.8 had to be used. The race saw the return of former Belgian champion Werner Broeckx. In qualifying, Florian Joos was the only driver to record 22 laps and he scored the FTD in front of Werner Broeckx, Vincent Van Gansen, Pasquinel Neys and Peter Degrande. Peter started racing again last year after a 10-years break, so this result was quite encouraging.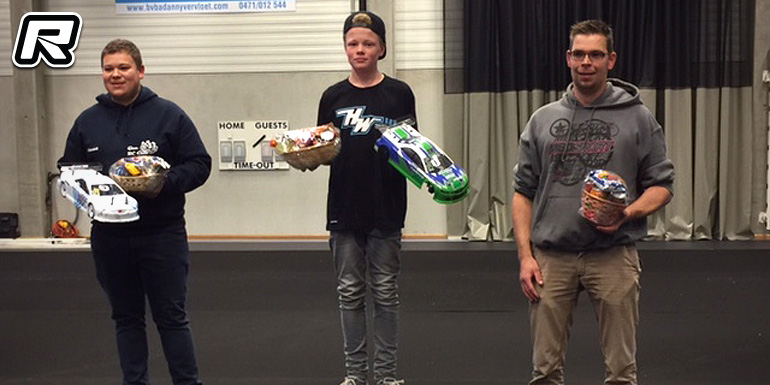 The finals were convincingly won by Florian Joos (Tamiya) while Vincent Van Gansen too his Spec-R to the second spot in front of Werner Broeckx's Yokomo. Pasquinel Neys (Team Magic) and Peter Degrande (Yokomo) finished in fourth and fifth respectively.
The 17.5 touring class was dominated by Dirk De Ceulaerde. Especially for this event, Dirk switched from a TRF418 to a TA07 and did so with great success. In qualifying, Dave Danneels was the only other driver to record 20 laps, albeit at 10 seconds off Dirk's TQ time. Herman Van Gansen took the 3 spot on the grid followed by young Matthias Van Laere and Bart Acda.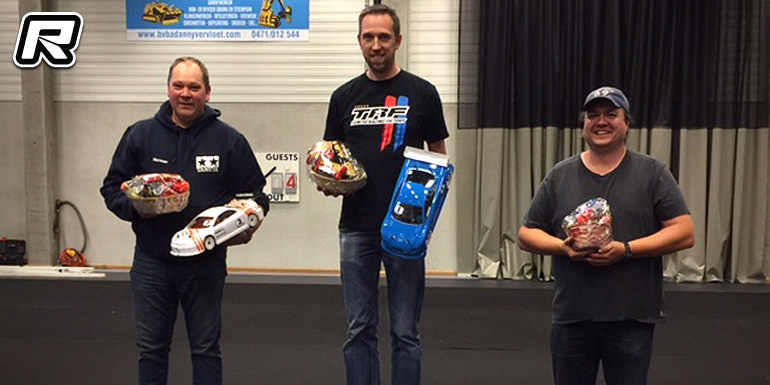 The finals were a walk in the park for Dirk as he won all three legs. Herman van Gansen took the second spot with his Yokomo, followed by Dave Danneels with a Tamiya. Matthias van Laere (VBC) finished fourth in front of Bart Acda (Tamiya).
The Formula class was run in blinky mode with 21.5 motors. Patrick Jongenelis was the only driver to record a 19-lapper in qualifying and he took pole position in front of Jannick Rommens and Steve Deblaere. Steve and Jannick were missed some track time because they weren't able to test on Saturday. Patrick won the three finals with his Serpent, followed by Steve's Serpent and Yannick with an Xray. The Xray's of Kris Vanbleu and Marc Knops rounded off the top 5.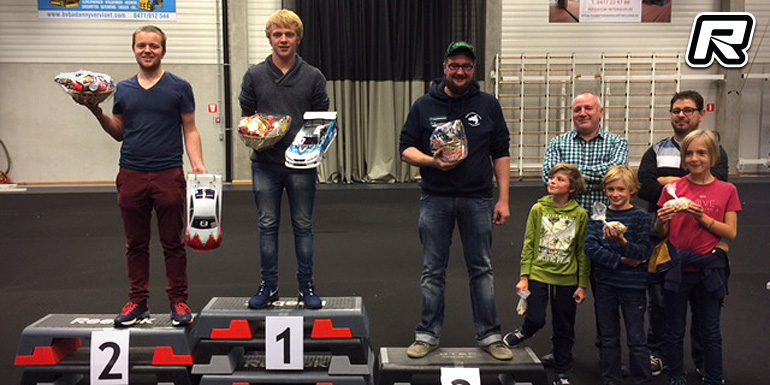 The 540 silver can class saw a mixture of very young and some older new-to-the-hobby drivers. Dutch driver Arne Van Hoorebeke took the TQ in front of Kevin van Laer and Kjell Coopman. Arne also won the triple finals with this Tamiya TT02R and was followed by Kevin Van Laer (Tamiya TT01E) and Graham Coopman (Tamiya TT01E). The top 5 was rounded off by up and coming lady driver Merel Vlemincx (Tamiya TA05) and young Kjell Coopman (Tamiya TT01E).
Source: T2M [t2m-rc.fr]
---