October 25, 2016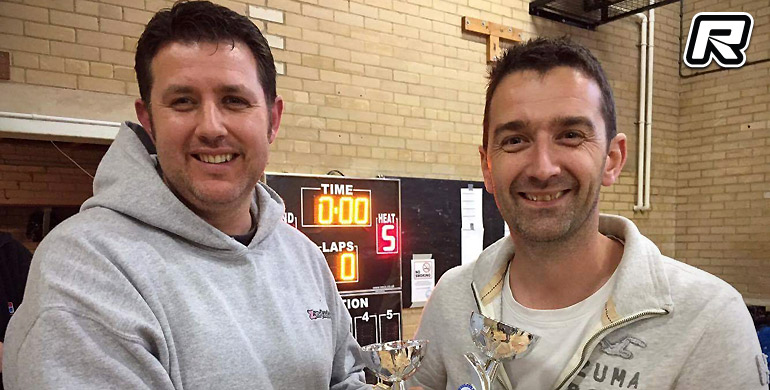 Last weekend saw the first round of the 2016/17 BRCA 1/12th scale Nationals take place in Eastbourne, UK. The events southern location resulted in a lower turnout than is normal for these events as some drivers from the north of England chose not to make the long trip south. Despite this the event promised to be very competitive with all of the main contenders for the series in attendance. This season sees a change to the classes offered, with a single 13.5T blinky class for everyone on Saturday while on Sunday drivers have a choice of 13.5T blinky and modified, which for this season sees the introduction of a 6.5T motor limit and "blinky" speed controllers.

In Saturday's 13.5 stock class David Spashett was top qualifier driving a Roche chassis and was joined on the front row of the A-Main grid by reigning class champion Olly Jefferies with his Xray. Rising star Ollie Payne was 3rd for Roche ahead of the Yokomo of Mark Stiles. In the A-final a first lap mistake by Spashett allowed Jefferies to snatch the early advantage, with Stiles making his way through to second place. Once the race had settled down Jefferies was beginning to extend an advantage over Stiles with Spashett closing up in third. At this stage it looked as if Spashett would be held up behind Stiles, but an uncharacteristic mistake by Mark allowed David to slip through into second place and set off in pursuit of Olly. With two minutes of the race remaining Spashett was on Olly's rear bumper and looking for a way past. He made his move at the end of the main straight and slipped through on the inside with a robust but fair move up the inside. That's how it remained until the end; Spashett eventually winning by one second from Jefferies with Stiles five seconds adrift in third.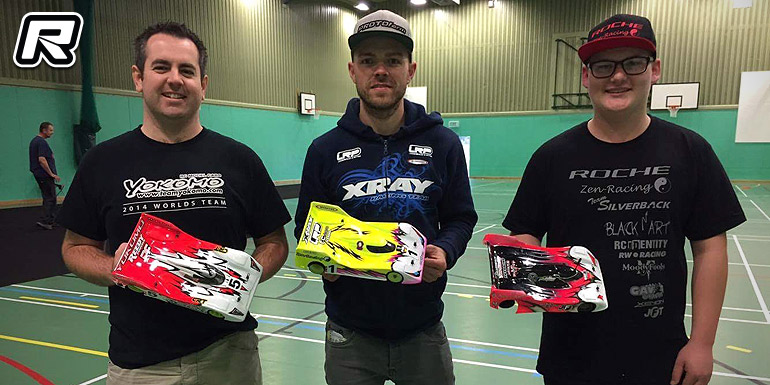 Sunday's 6.5T modified class saw a healthy entry of 30 cars, indicating that the change from open modified has encouraged more drivers to give the fast class a try. Qualifying saw domination from Olly Jefferies; he was top qualifier by six seconds ahead of Saturday's winner Spashett, with Adam catchpole an excellent third driving one of the five Roche cars to make the top-10. The A-final was a straightforward race for Jefferies; he led the race from tone to tone and was never threatened. Behind Olly, Spashett hit trouble at the start and fell down the field allowing Payne and Stiles to move up to second and third respectively. That's how it stayed until the end with Jefferies cruising to win by two seconds from Payne with Stiles six seconds adrift and nursing a damaged car.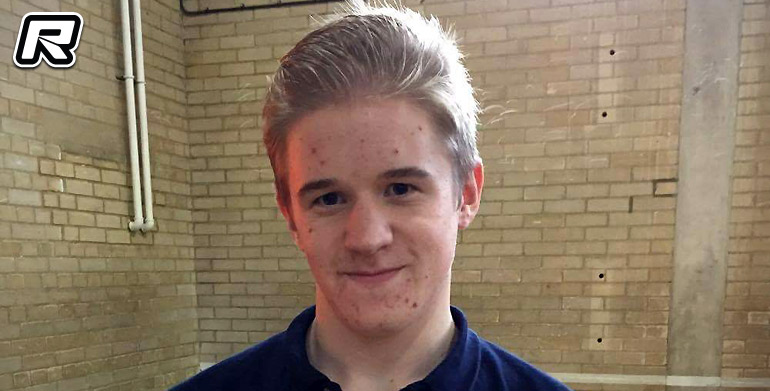 The 13.5 sport class saw a debut TQ and win for the new Schumacher Eclipse car in the hands of Aidan Ripley. This marked an impressive return to the 1/12 LMP class for Schumacher as they also placed three cars in Saturday's A-final as well as one in the modified A-final driven by designer Andy Murray. Round two of the championship will take place at MB Models Raceway in four weeks' time.
Thanks to Mark Stiles for the report.
---