October 19, 2016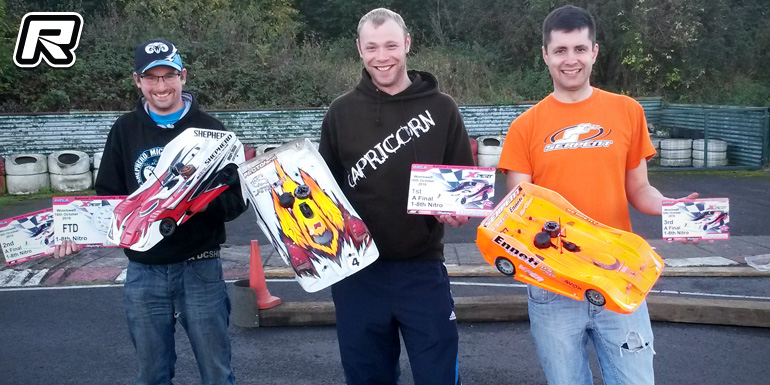 With the racing season drawing to a close, the BRCA 1/8th Circuit section headed to the northern venue of Wombwell Model Car Club, with rain forecast on the Sunday. Saturday practice stayed dry with Tim Wood, Andy Hastings and Neal King looking very quick. Come Sunday all the dry practice would be irrelevant as the rain arrived, very few drivers went out to set times in the early rounds of qualifying, it wasn't until round four when the track was starting to dry that all drivers went onto circuit to set their best times.
Qualifying top 10 results:
1. Andrew Hastings – 13/305.150
2. Tim Wood – 13/306.071
3. John Carr – 13/308.012
4. Neal King – 13/314.359
5. Richard Hicklin – 13/318.279
6. Steve Scott – 13/322.942
7. Andrew North – 13/322.191
8. Chris Simons – 11/305.225
9. Wayne Briggs – 11/311.725
10.James Healey – 11/313.886
Heading into the final the majority of the track was dry, yet the high speed sweeper onto the straight retained a few wet patches just off the racing line, this was to catch a few drivers by surprise, at one point during the final only five cars were running, Neal King was to finish victorious with an impressive drive to win the final with only three shock absorbers attached to his car.
Final results:
1. Neal King – 93/1802.605
2. Andrew Hastings – 92/1809.061
3. Tim Wood – 90/1805.482
4. Richard Hicklin – 82/1812.452
5. Chris Simons – 69/1451.942
6. Wayne Briggs – 62/1815.736
7. Steve Scott – 40/1800.562
8. Andrew North – 23/910.448
9. James Healey – 7/651.079
10.John Carr – 7/704.028
Overall in the series, Mark Green would walk away with the win in the GP1 category from Andrew Hastings and Neil King.
GP1 championship results:
1. Mark Green
2. Andrew Hastings
3. Neal King
4. Tim Wood
5. Richard Hicklin
6. John Carr
7. David Spashett
8. Clive Connolly
9. Michael Walton
10.Sam Snell
In the GP2 category Danuel Ludena took the overall from James Healey and Steve Smith while in GP3 Matthieu Dambrine came out on top from Ryszard Kozakiewicz and George Briggs.
Thanks to James Healey for the report.
---