October 26, 2016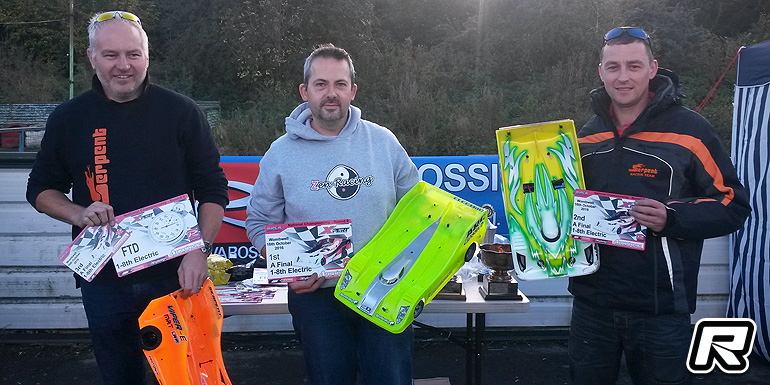 With the racing season drawing to a close, the BRCA 1/8th Circuit section headed to the northern venue of Wombwell Model Car Club. With Alex Thurston only having to take home 92 points to be 1/8th Electric Circuit national champion, it seemed as if Alex had both hands on the trophy all weekend. With Saturday dry and Alex setting the pace it looked ominous for other championship contenders, but come Sunday the weather was to turn wet and after four rounds of qualifying Paul Bellinger took the TQ from Franck Dambrine and Jamie Paton.
Qualifying results:
1. Paul Bellinger
2. Franck Dambrine
3. Jamie Paton
4. Ian Billett
5. Alex Thurston
6. Phil Hague
7. John Russell
8. David Gerard
With some drivers opting simply to complete one lap to qualify for the main final due to the low entry, this left the electric heats even more silent than usual. As the finals got under way Alex was unable to make the start of the first final due to having not water proofed his electrics properly during his installation lap qualifying efforts. The first final was won by Jamie Paton who put in a superb drive in the wet, also taking the fastest lap. The second final was won by Franck Dambrine with Alex taking second place securing the first BRCA 1/8th Electric national Title.
A-final results:
1. Frank Dambrine – 4 Points
2. Jamie Paton – 4 Points
3. Paul Bellinger – 6 Points
4. Phil Hague – 9 Points
5. Alex Thurston – 12 Points
6. Ian Billett – 13 Points
7. David Gerard – 13 Points
8. John Russell – 13 Points
Championship top 10 results:
1. Alex Thurston
2. Franck Dambrine
3. Gavin Clinch
4. Paul Bellinger
5. Mathew Baker
6. Jamie Paton
7. Ian Billett
8. John Russell
9. James Ellice
10.Phil Hague
Thanks to James Healey for the report.
---