October 7, 2016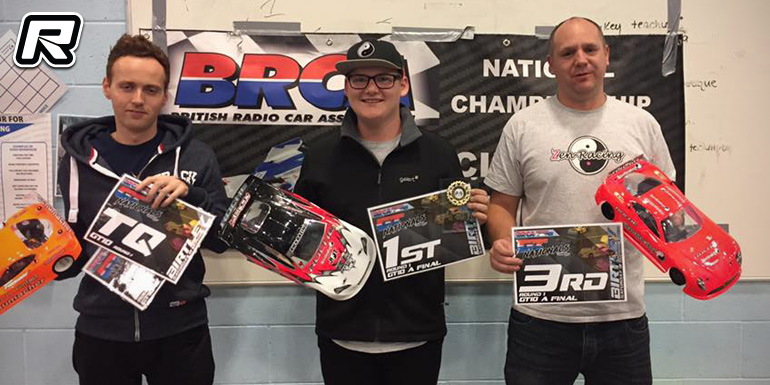 The 2016/17 BRCA GT Nationals got under way last weekend at a new addition to the calendar, the event was hosted by Barley Mow RC Car Club in Birtley just outside Newcastle. Like last year the the event was split into two days with GT10 and F1 on Saturday and GT12 on Sunday. The club laid a great track for the weekends action, praised by many drivers over the weekend, it had a good mix of corners from fast and flowing to tight and technical. Onto the racing, Saturday started with the GT10 class. It was Andy Murray who set the pace. He was closely followed by young Ollie Payne driving the Roche P10. As the day progressed grip levels improved and the times got better and better. Andy Murray would continue to top the results board being the fastest in all four rounds of qualifying. Ollie Payne challenged Andy in all the rounds but just lacked a little consistency, he would line up second, followed by Mark Christopher with his Xray, Craig Nutting was in the fourth spot with his Roche less than two tenths from third. Bob Hill completing the top 5 with his CRC.

Onto the final, Andy Murray lead the pack away after the buzzer, hot on his heals was Ollie Payne, never more than a meter or so away. Andy would lead the race for 5 minutes 55 seconds until drama on the last lap, less than half a lap away from the chequered flag, getting through traffic Andy would suffer a body tuck on the rear causing his car to spin out. Ollie was close enough to capitalise on Andy misfortune, sometimes this happens in racing. but nothing should be taken away from Ollie's win, he was always close enough to Andy in the race to apply the pressure. This is why you should never give up in the final. Craig would make his way past Mark to come in third and Bob staying in fifth.
GT10 final results:
1. Ollie Payne – Roche
2. Andy Murray – Hybrid
3. Craig Nutting – Roche
4. Mark Christopher – Xray
5. Bob Hill – CRC
6. Mark Barford – RC10
7. Vincent Formosa – Xray
8.Paul Avery – Roche
9. Lee Stokes – Xray
10.Adrian Parkes – Roche
In the Formula class it was James Greener who set the pace with is Exotek. Niall Cochran would be second in the first three rounds with his Roche. Unfortunately for Niall a grip roll in round four would put and end to any challenge to James with him slipping to fourth on the grid, James wright with his MD Racing chassis would put in a blistering last run to pop up into second only to finish about two tenths from James Greener. Also improving in round four was BRCA F1 Clubman champion Luke Lee with his Xray to line up third. Stephen Lander also driving the MD Racing chassis would finish off the top 5.
The final would see James Greener get a small gap from the start, the opening lap being very clean, with all drivers showing each other a lot of respect, with the cars having open wheels, trying to get through gaps can lead to some big accidents. As the drivers settled after the first few corners they could begin racing. A mistake by Luke on the opening lap coming onto the straight would see Niall move up into third, closing the gap to James Wright and applying some pressure for a few laps would see James turn in early coming into the infield section allowing Niall up into 2nd where he would stay for the rest of the race, unfortunately for James wright on the same lap his front wing would catch the tape joining the carpet, stopping his car and any comeback challenge retiring on lap 11. Whilst all this happening James Greener was extending his lead and would take the win by 8 seconds. Stephen Lander would complete the podium in third, Luke Lee made his way back to fourth and Aidan Ripley would complete the top 5.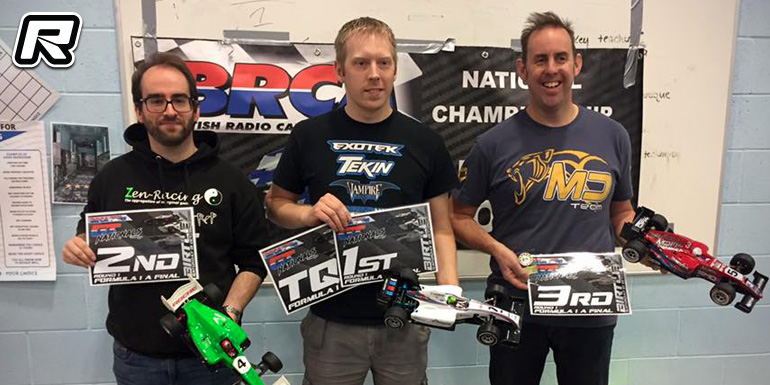 Formula final results:
1. James Greener – Exotek
2. Niall Cochran – Roche
3. Stephen Lander – MD Racing
4. Luke Lee – Xray
5. Aidan Ripley – Xray
6. Michael Lee – Xray
7. Rob Jackson – MD Racing
8. Antony Wade – MD Racing
9. James Wright – MD Racing
10.Javiel Jimenez – Yokomo
Onto Sunday the GT12 part of the championship would start with a healthy entry of 65 drivers coming from all over the UK. The new season would start as the last ended with Adam Catchpole taking his new Zen to the top of the time sheets, closely followed by his team mate Ollie Payne. The two Schumachers of Craig Mawson and David Gale would be 4 and 6 seconds back respectively. Round two Ollie Payne would set the fastest time, he would continue to do so for the rest of the qualifiers. He was in a league of his own. The only time to really challenge Ollie would be in round four when Kieren Manders would get second with his Zen but still be some 3.5 seconds adrift. David Gale would line up third, Adam Catchpole fourth and Craig Mawson would complete the top 5. Championship contender last year, Andy Murray would only manage seventh.
The Final got off to a clean start with Ollie leading the pack, Kieren keeping him honest for the first few minutes. David maintaining third and Adam chasing hard in fourth thus leading to a small mistake that would cost him a couple of seconds, giving David some space. Adam quickly made the time up and closed on David, leading to a mistake by David that let Adam through into third. Ollie managed to create a gap to Kieren and Adam closed in. The team mates raced hard for a few laps with Adam trying to overtake, drama ensued as Adam made contact with Kieren which promoted David back into 2nd, Kieren would rejoin in third. Ollie would cross the line for the win leading the whole race, David maintaining 2nd, with not enough time left Kieren could not mount a comeback and finished third, Barry Lynch progressed into fourth and Adam finishing off the top 5.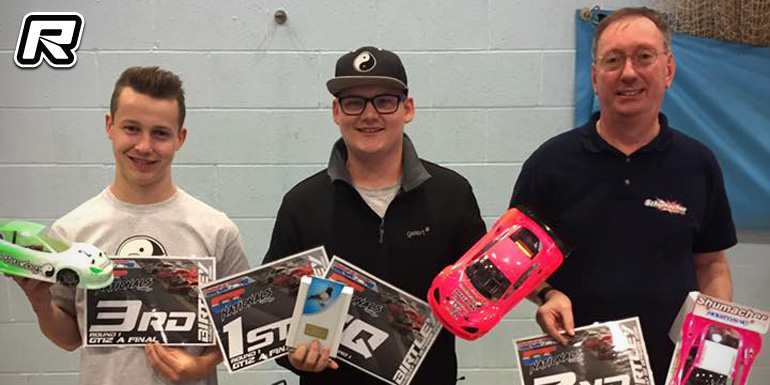 GT12 final results:
1. Ollie Payne – Zen Racing
2. David Gale – Schumacher
3. Kieran Manders – Zen Racing
4. Barry Lynch – Zen Racing
5. Adam Catchpole – Schumacher
6. Aidan Ripley – Schumacher
7. Mark Jewitt – Zen Racing
8. Craig Mawson – Schumacher
9. Niall Cochran – Zen Racing
10.Andy Murray – Schumacher
Source: BRCA [brca.org]
---