October 27, 2016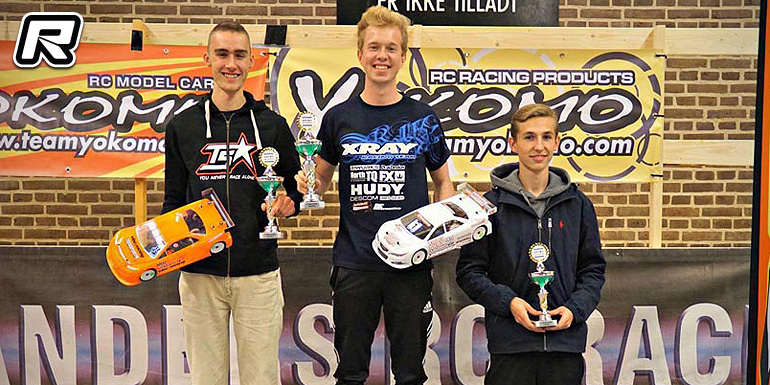 First opening round of the Danish DRCMU Nationals was hosted by the Randers RC club on a technical track laid out using grey ETS carpet. In the Superstock class the opening qualifier was won by Patrick Folman from Mike Gosvig, the latter suffering from strangely feeling tyres. Round two then had Mike coming out fastest from Frederik Broløs and also the third qualifier went to Mike from Frederik.

In the opening A-main Patrick soon put pressure on Mike but the final lap would bring the decision when Mike touched a curb, allowing Patrick to get past on the straight only to ran wide in the following corner which allowed Mike to regain the lead with an aggressive move on the inside. Mike then was able to cross the finish line in the first place while Folman clipped a curb, allowing Broløs to snatch the 2 spot. For A2 Mike adjusted the timing of his motor to get more straight line speed and this gave him the advantage needed to take an easy win in A2some four seconds in front of Folman and Broløs. For the final A-main Mike tested some more things and this time he won the final with a seven seconds marking from the fighting duo of Folman and Broløs with Broløs ultimately taking the runner-up spot.
Superstock final results:
1. Mike Gosvig – Xray/R1 Wurks
2. Frederik Brolos – Yokomo/R1 Wurks
3. Patrick Folman – Xray/R1 Wurks
4. Kevin Nielsen – Xray/R1 Wurks
5. Patrick Danielsen – Xray/R1 Wurks
6. Pelle Culmsee – n/a/R1 Wurks
7. Steven M. Olsen – Xray/R1 Wurks
8. Stefan Finnich – Schumacher/Reds Racing
In the Modified class Mike Gosvig was the man to beat and he took the opening qualifier with a 4-seconds margin on Frederik Hovgaard, and Michael Hovgaard in 3rd. The second round saw Mike winning with an 8-seconds margin while Frederik made a last lap mistake. The third and final qualifier again had Mike coming out fastest but this time he was "only" three seconds in front of Frederik as Mike made some small mistakes. The opening A-main then went pretty well for the TQ holder. He jumped into the lead and never looked back to take the win with a 3-seconds margin. In the second main disaster stroke for Mike as the rear belt of his car broke while being in front by five seconds, allowing Frederik to grab the win. In the third and decisive main things went to plan for Mike who easily pulled away to take the win from Frederik.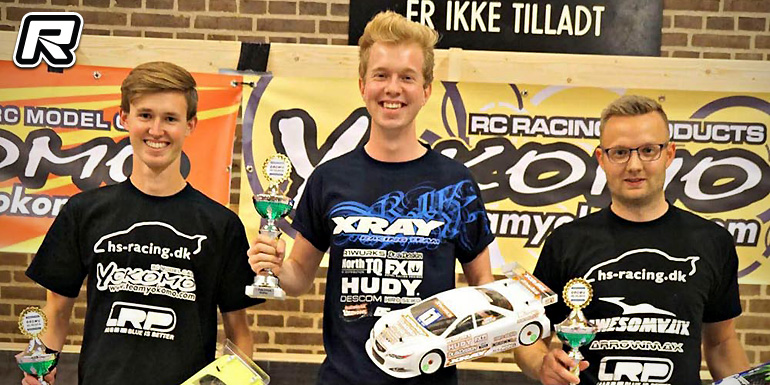 Modified final results:
1. Mike Gosvig – Xray
2. Frederik Hovgaard – Yokomo
3. Michael Hovgaard – Awesomatix
4. Morten Iversen – Schumacher
5. Rasmus Callesen – Serpent
6. Mike Hansen – Schumacher
7. Christian Lassen – Schumacher
Source: Xray [teamxray.com] / Images: Isabella KK

---