October 17, 2016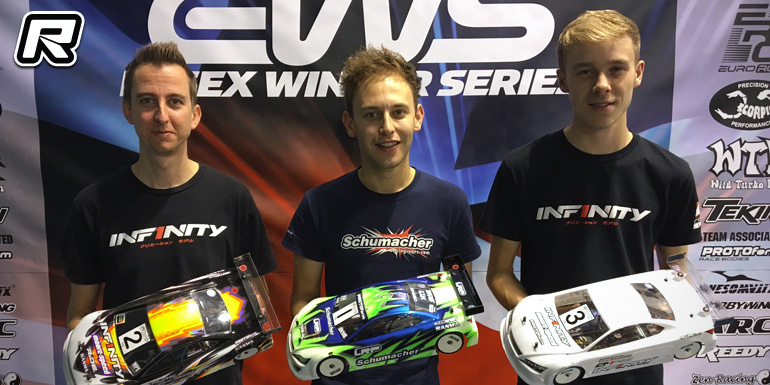 The first round of the Essex Winter Series took place this weekend.  Another packed entry descended on the EWS venue in the south-east of England, to be greeted by a completely re-vamped track. Brand new ETS-style carpet was in use this year, expanding the track size to a massive 34×24 metres, and Sweep Racing were now on board as the presenting partner, with all drivers using the EWS-spec Sweep carpet tyre, and hand-out additive. This new combination, combined with an improved level of branding and presentation, impressed the drivers and left everyone keen to get their winter season off to a good start.

In the Modified class, defending series champion Elliott Harper got off to a great start, setting the best time in the opening two qualifiers. Behind him, Infinity team mates Andy Moore and Kyle Branson kept Elliott honest, with Kyle second in the first round, and Andy second in the second. Alan Bickerstaff and Matthew White were flying the Team Associated flag in the absence of BRCA Champion Chris Grainger, who was struck down with sickness this weekend, and were also knocking on the door of the top three. Andy showed that Elliott wasn't going to have it all his own way by taking Q3, but the defending champion secured pole position over the former World Champion by bouncing back in the final round.
The A-final saw Andy fighting with Elliott from the tone, the pair of them running less than half a second apart. But, form the half way point, Elliott started to pull away, leaving Andy to worry more about the attentions from his Infinity team-mate behind. Alan had a very solid drive to fourth, never quite looking close enough to challenge Kyle, but in contention if the nitro specialist were to make a mistake. Behind Alan, a great drive from top Junior Harley Eldridge moved her up from 8th on the grid to take fifth at the end.
Modified final results:
1. Elliott Harper – Schumacher/LRP – 19 / 307.76
2. Andy Moore – Infinity/Xray/LRP – 19 / 309.94
3. Kyle Branson – Infinity/Xray/LRP – 19 / 310.22
4. Alan Bickerstaff – Associated/Reedy – 19 / 311.45
5. Harley Eldridge – Yokomo/LRP – 18 / 301.90
6. John Pape – Yokomo/LRP – 18 / 303.21
7. Paul Pinkney – Schumacher/Hobbywing – 18 / 303.58
8. Matthew White – Associated/Reedy – 18 / 306.78
9. Andrew Smith – Xray/Hobbywing – 18 / 309.01
10.Stefan Chodzynski – Capricorn/LRP – 18 / 309.27
In the Super Stock class, the defending champion and IIC Las Vegas podium finisher Jimmy Maddison was away on Xray duty, which left the door open for someone else to take an early championship lead. Close times, a typical product of super stock racing at EWS, were a feature throughout all four rounds of qualifying. The opening round went the way of the Xrays of Tony Broad, ahead of Jamie Hickin and Ricky Copsey. Q2 saw Ricky on top, with Ashley Wiffen moving his Schumacher into second ahead of Tony. The third round again saw Ricky fastest, with Tony in second and Ashley third, whilst it was Jamie back on top in the final qualifier, in front of Tony and of Tim Hancock.
The A-final saw a clean start up front for the first few corners, until the close racing led to an unfortunate first lap incident involving the front half of the field. This left Tony Broad out in front, with a lead he would utimately never be in a position to lose. The big beneficiary of the opening lap scraps was Keith Dempsey. A long-time supporter of EWS, regularly making the trip over from Ireland to compete, he moved up to second from eighth on the starting grid. Tim Hancock was also a beneficiary, moving from fifth to third. But the action of the A Final focussed on the pole sitter, Ricky Copsey. Ricky dropped as low as eighth, and worked his way back up the field, clearly setting some of the fastest laps of the race and the meeting. By the end, he had closed on Keith and Tim, but time ran out as he edged closer and began looking for a way through, Keith holding onto second ahead of Tim, and second to fourth covered by less than one second at the finish line.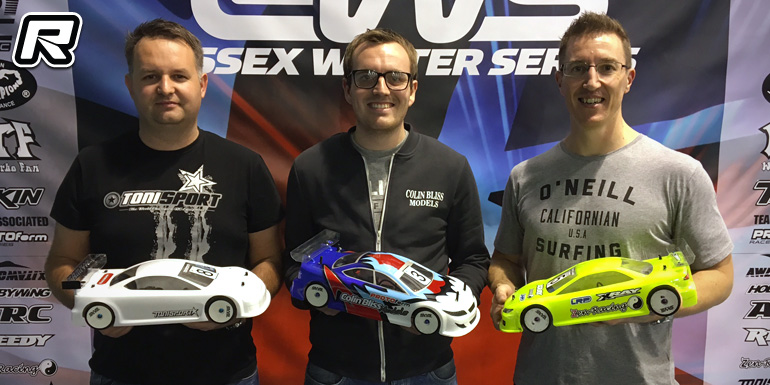 Super Stock A-final results:
1. Tony Broad – Xray – 18 / 308.30
2. Keith Dempsey – Tamiya – 18 / 311.78
3. Tim Hancock – Xray – 18 / 312.10
4. Ricky Copsey – Xray – 18 / 312.65
5. Chris Page – Xray – 18 / 313.85
6. Scott Scholey – Yokomo – 18 / 314.59
7. Ashely Wiffen – Schumacher – 18 / 316.57
8. Jamie Hickin – Xray – 18 / 316.66
9. Daniel Booker – Tamiya – 17 / 300.19
10.Richard King – Awesomatix – 17 / 300.77
The top Juniors at this meeting were Harley Eldridge in the Modified class, and Thomas Gill in the Super Stock class. The series continues with round 2 in November, which is due to feature the return of multi-time winner Olly Jefferies, nitro World Champ Alexander Hagberg, and defending EWS Super Stock champion, Jimmy Maddison to add to the competitive entry lists.
Source: EWS [ewsevents.co.uk]
---