October 24, 2016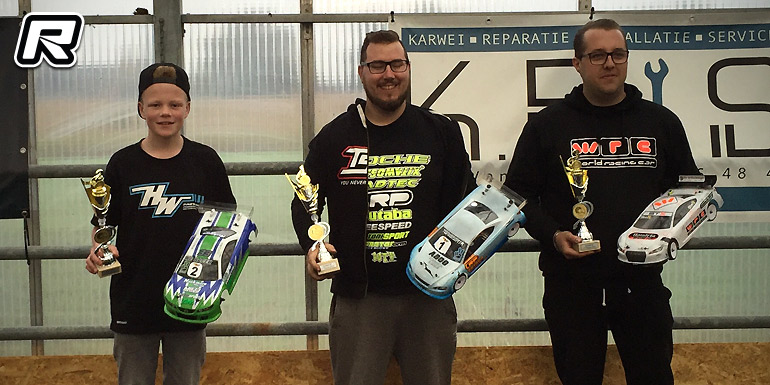 The Lovan RC Challenge kicked off this past weekend with the opening round taking place at the new Velocitatem Arena, a permanent and pretty technical indoor track in Ingelmunster, in the western part of Belgium. The series is run in the four classes of Touring Superstock 10.5T blinky, Touring Stock 17.5T blinky, 1/12th scale 10.5T and Formula 21.5T. Tyres are limited to one set of Ride tyres for the Formula class and a set of Sorex, Volante, Ride or LRP tyres for the Touring classes. As for the schedule, an opening round of qualifying was held on Saturday with the remainder of the qualifiers were run on Sunday followed by triple mains for everyone. In Superstock Awesomatix's Ollie Bultynck took a convincing pole position, one lap in front of Florian Joos (Tamiya), with the latter suffering transponder issues, and the Xray of Eric Denolf. The finals were a bit more exciting and Florian would put his Tamiya a bit closer to Ollie's Awesomatix but ultimately Olivier would take the win from Florian while Kristof Dehert, an off-road aficionado, took his brand new WRC to a fine third place overall, all three running Volante 28 tyres.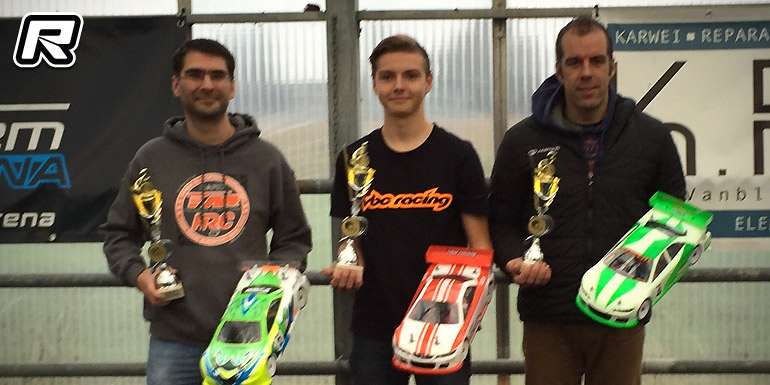 In Stock, Peter Roeygens took the pole position in front of Christophe Libeer and young Mathias Van Laere. The first final was won by Christophe in front of Tokke Adams and Peter. Unfortunately Mathias had a DNF while sitting in second. Christophe was eager to wrap it up in the second final, but Mathias took the win. He was able to repeat this performance in the third and decisive final and took his VBC to the overall victory in front of Christophe Libeer (Team Magic) and Tokke Adams's Serpent. With this being Mathias's maiden victory he was extremely happy about it.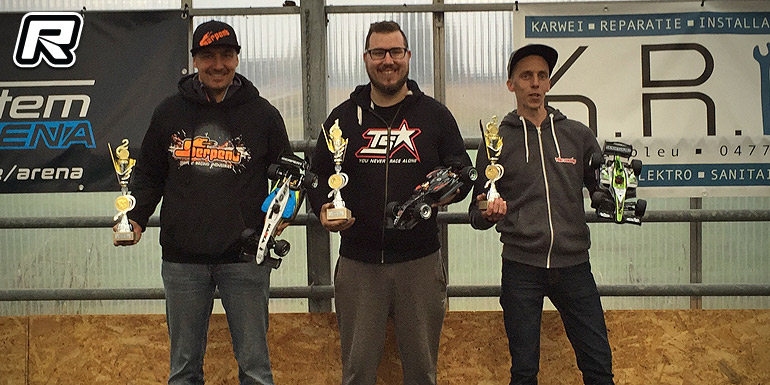 In Formula, the battle was again on between Steve Deblaere and Olivier Bultynck. In the first two qualifiers, Ollie was a tad faster than Steve as they battled it out for pole. In the third qualifier, Ollie found some more speed and took the TQ by 7 seconds. Behind the two, Kris Vanbleu put his Xray third on the grid. Steve then tried his best to hang onto Ollie in the finals, but Ollie took his Roche to a convincing win by claiming the three finals in style. Steve finished on a fine second place with his Serpent in front of Nic Desmet who scored his first Formula podium with his VBC.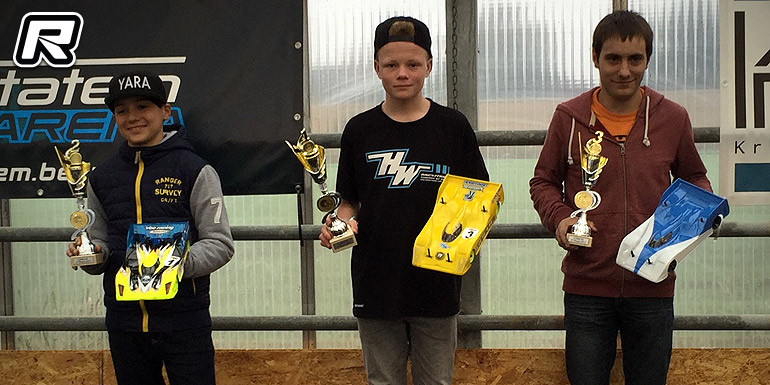 Because the Velocitatem Arena is a technical track, it is popular amongst 1/12th scale drivers and so some 13 drivers entered this class. The racing proved them right as these cars seemed to be ideally suited for the track layout. Local driver Stefan Rommens set a blistering time on Saturday and held the provisional pole. The third qualifier though was won in an impressive manner by young Athan De Witte. Athan missed the qualifier on Saturday but improved Stefan's time by a lap. He put his VBC on pole in front of Stefan's Corally and Florian Joos's Onpoint. During the lunch break, Roche factory driver Olivier Buyltinck finalised a new Roche Rapide for Florian who then did two warm-up laps, put the car on the grid and won the first final convincingly. He went on to take the overall victory in his maiden 1/12th scale race in front of Athan (VBC) and Stefan (Corally).
Source: T2M [t2m-rc.fr]
---